XCLEA H30 with suction station: Huawei Honor's first vacuum robot?
We know Huaweis' subsidiary Honor as a producer of smartphones, notebooks and smart watches. With the brand Honor Choice, Honor has already expanded its product portfolio and offers other manufacturers the opportunity to publish products under the brand. This could now be the case with the new XCLEA H30, which will soon be crowdfunded by Indiegogo.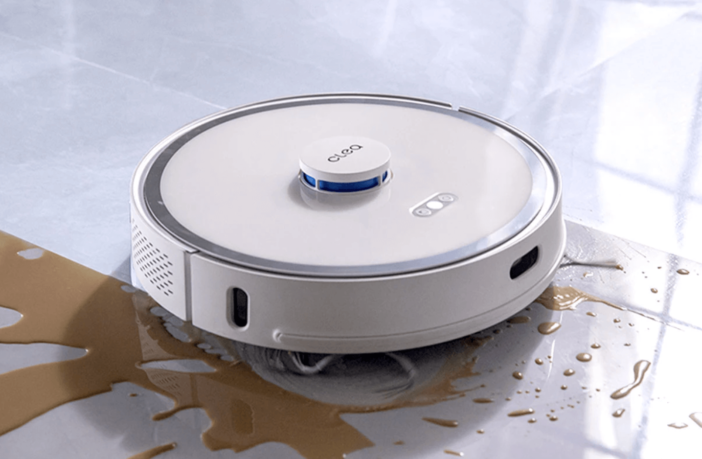 This suggests that there is at least some cooperation between Honor, Huawe's subsidiary, and XCLEA. This is also conceivable because Honor is currently launching many products from other manufacturers under its own flag. Something like Lenovo with the X1, which is actually the Qihoo 360 S7. In this case, however, it is more like the Simum 6, which is actually a Tesvor S6 without wipe function. Or with the TAB Tabot, which Haier co-financed.
In short: Just because there are many entries on the internet with the presumption of cooperation and a Chinese company that writes on its homepage, it is far from certain that a large manufacturer like Honor has its fingers in the pie. But this does not make it any less likely and often these rumours do come true.
Visually, the H30 reminds me very much of the Neabot NoMo due to the extraction station, even the previously known data is similar. But there are a few differences in favour of the XCLEA: It has a wiping function including an electric water tank, the suction station makes a higher quality impression (even with a small OLED display) and several cards can be stored. This allows the user to use the robot on several floors of a house, including live mapping.

This live-mapping (live = traceable from anywhere in the app at any time during a cleaning session) enables selective room division. This means that the robot automatically divides the individual rooms into areas. The automatically detected room demarcations can also be adjusted afterwards if one is dissatisfied with the result.
How well the wiping function works can of course only be guessed at from a distance, after all the water tank with a potential filling capacity of 0.25L is electric. This allows you to determine the water flow rate in the app (usually "low, medium, high"). Even better would be a vibration water tank exerting pressure on the floor.
More and more manufacturers are considering extraction stations as a promising option, and not only Proscenic or Ecovacs have jumped on the bandwagon. The reason for this is obvious: the more autonomously the suction robot works, the more time the owner saves. You can empty the dust chamber manually over the rubbish bin after each cleaning – or you can want to do it only every 30-60 days (depending on the use and condition of the four walls).
You have already read about most of the features here on the blog and we will provide you with more details when crowdfunding starts. But you will not have read many of them here yet: The H30 should be able to connect to both 2.4 and 5 GHz networks. This simplifies the WLAN connection, which many people despair of, immensely.
Not everything about the product is known yet, but this will change in the next few days when the Indiegogo campaign starts. It stands or falls with the price, which has not yet been fixed. Although the XCLEA H30 is a very interesting model in terms of specs and features – everything you need and even don't need is in it – if it costs 600€ upwards, you'd rather go for the Proscenic M7 Pro for under 400€. You might have to do without one or two conveniences and functions, but in case of doubt you'll have more money in your pocket and still a clean floor with an extraction station.
Of course, some will rightly ask themselves: If Honor is involved, why does XCLEA use crowdfunding? Quite simply: market research. Before launching a product on the market, tech producers want to know in advance how customers like the device, what they want and where they can make improvements. Especially the last point can be of advantage for the consumer, but of course it is also pure calculation of the manufacturer.
On September 10, 2020 at 6pm, XCLEA, a new cleaning brand from China's Huawei Technologies, will launch its first "intelligent dust collection" robot, H30 PLUS, on Indiegogo, a crowdfunding platform overseas.