Xiaomi Black Shark Skywalker with Snapdragon 855
According to a report in GeekBench, Chinese technology giant Xiaomi is working on a new phone made especially for games, named Xiaomi Black Shark Skywalker. After launching the Xiaomi BlackShark and BlackShark Helo devices, the company decided to surprise its users with a new device.
According to information in GeekBench about this new phone, the Xiaomi Black Shark Skywalker will be powered by Qualcomm's Snapdragon 855, although it's not yet clear whether it will have the 5G network.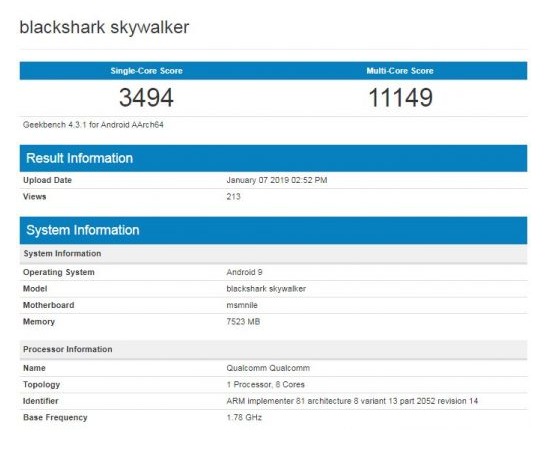 On the device, this processor supports 8GB of RAM, and the benchmarks it achieved are quite impressive. It's worth remembering that the first generation of Xiaomi BlackShark was on the AnTuTu list for many months. The new Xiaomi BlackShark Skywalker scored 3,494 and 11,149 in the single-core and multi-core tests respectively, which is very much in line with GeekBench's lists of Snapdragon 855 phones.
It is very necessary to bear in mind that not all phones with the Snapdragon 855 chip can support the 5G network, because the SD855 must come with a Snapdragon X50 LTE modem to be compatible with this type of network. If a device with the SD855 comes with an X24 LTE modem, it will only be compatible with 4G LTE, although it will have first class performance. With respect to the official release date, price and design that will come with this device, no information is yet available.