Xiaomi Gaming Keyboard with RGB Flashback
The Xiaomi Gaming mechanical keyboard is made of high-quality materials with ergonomic arrangement of keys. Has RGB backlight with 16.8 million colors, a powerful ARM processor, instant signal transmission. Instant response. 33 simultaneous keystrokes.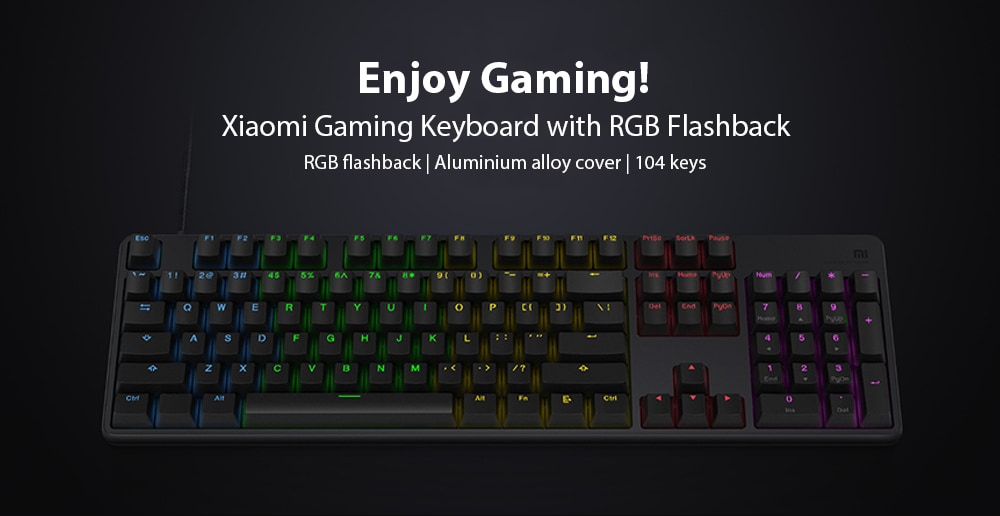 New mechanical switches
Designed specifically for gaming, the new TTC mechanical switches feature an optimized set of trigger points and reset points. You just have to sharpen your skills at unprecedented speeds and with lightning speed. Such keys, optimally transmitting tactile sensations, help to react faster and more accurately in critical game situations.
RGB backlight
Xiaomi Gaming Keyboard has individually programmable backlit keys with 16.8 million colors and simple setup. From the ready-made backlight templates for different types of games to your own programmable palette – we have provided everything so that you get the most out of the game experience.
Aluminium alloy
The metal case of Xiaomi Gaming Keyboard is made of aluminum (5052), giving it a unique laconic look of cold steel. The metal plate is specially processed and there are no traces of fingerprints on its surface.
Powerful ARM processor
The Xiaomi gaming keyboard uses a 32-bit MCU ARM processor with a frequency of 48M and a return rate of 1000 Hz. It instantly processes all kinds of data, providing the highest speed and reliability to guarantee your victory.
Adjustable tilt angle
Specially designed for Xiaomi Gaming Keyboard, two sets of stands, low and high, allows players to choose the angle of the keyboard according to their habits and provides comfort even in the most intense game marathons.
33 simultaneous keystrokes
Instantaneous signal transmission. Instant response. 33 simultaneous keystrokes. When the switch is triggered, a new instantaneous trigger technology instantly sends a signal to the system, preventing the need for a delay to suppress false repetitions. Thanks to the direct response, you get the industry leading speed to get an undeniable advantage, regardless of the chosen game.
Long service life
Long service life. Mechanical switches are made using two-color casting technology, made of materials such as PBT and PC. The keys provide the highest speed and reliability to guarantee your victory. The switches also provide durability up to 80 million taps.
If you are looking for a full-size keyboard, then this Xiaomi product is exactly what you need. It has everything you need for a computer game: reliable key switches Cherry Mix, a physical volume control, a solid steel frame and a removable cable. It will suit both professionals and fans of shooters.
The gaming keyboard boasts a solid metal frame, thanks to which it has acquired a special strength, durability and stability of the design. This product is made in a minimalist design. Available with four key switches Cherry Mix Speed, Blue, Brown and Red. This gives the user the opportunity to choose a suitable pressure for himself, linear stroke, response, etc. In addition, it requires little storage space, and a detachable cable makes it possible to avoid possible damage to it.
Key advantages of the new Xiaomi Gaming keyboard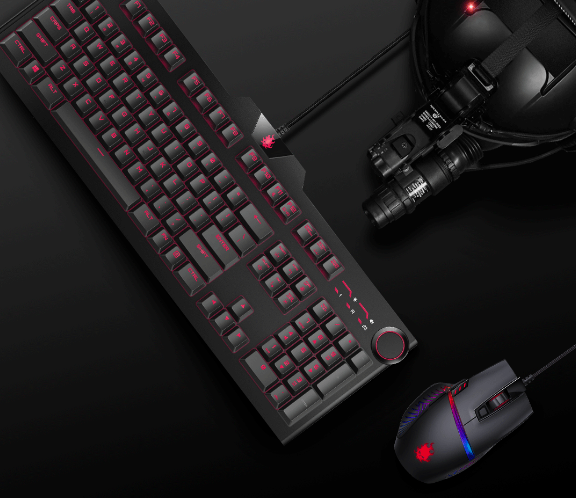 So, let's list the advantages of Xiaomi Blasoul Y520 Professional Gaming Keyboard. Among them we distinguish such features:
– Solid steel frame,
– Physical keyswitches Cherry Mix,
– Portable design with removable cable,
– Volume control elements,
– Keys with red illumination and dynamic light effects.