Xiaomi Mi 4C Wireless Router 2.4GHz / 300Mbps / Four Antennas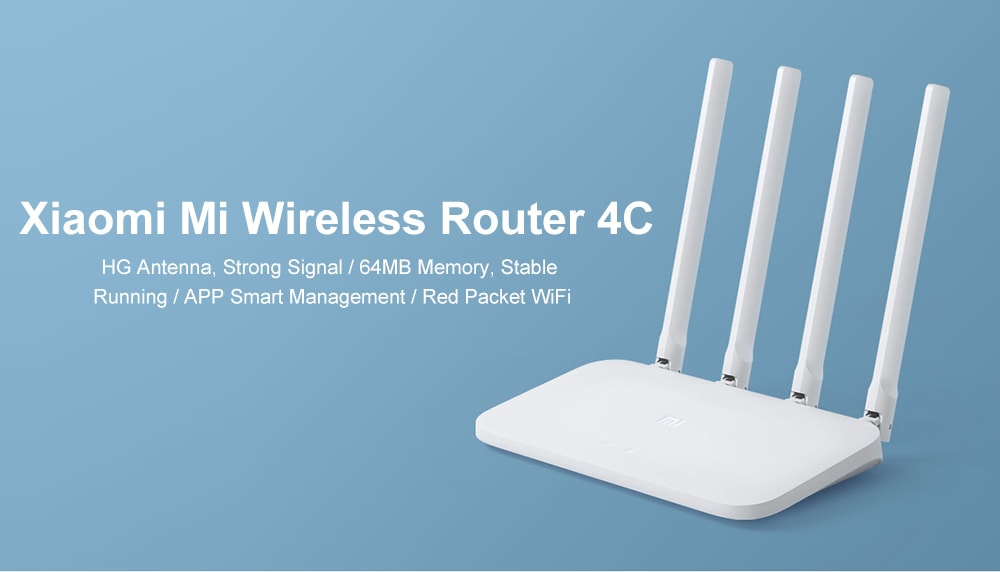 This Xiaomi Mi 4C Wireless Router comes with 64MB of on board memory and alongside a smart APP management. Features 4 omni-directional antennas which is similar to the Mi Router 4. It supports for single-band (2.4GHz) Wi-Fi 802.11 b/g/n, 2X2 MIMO technology, and speeds of 300Mbps. It supports apps on Android, iOS, and Web.
Is your router ready?
On all sides, various companies talk about "fast and affordable Internet", so 100-megabit routers and fiber-optic devices are already widely used. However, in our lives more and more are smart devices that also need access to the Internet. Following in the trend of technology development and speeding up the speed of ports, Xiaomi has launched a completely new Mi 4C Wireless Router.
Work faster than 100-megabit
The higher the speed of the ports, the more powerful the router is required. Xiaomi Mi WiFi Router 4C uses all the advantages of gigabit ports in both the home and the public network, providing a speed comparable to a fiber-optic connection.
Support for 802.11ac
One router can create a single network that simultaneously operates on two WiFi frequencies independently of each other and does not interfere with each other. The frequency 2.4 GHz is ideal for conditions with a lot of obstacles and long distance data transmission. The frequency of 5 GHz does not cause interference and provides a stable signal, as well as high speed and support for 802.11ac.
Effective data transfer
Xiaomi Mi WiFi Router 4C is equipped with four omni-directional antennas with high gain. Due to the precise measurements, the antennas are ideally optimized for internal filling of the router and provide the most efficient data transmission at the highest speed. And all this pleasure – without a single cliff.
MIOT protocol support for fast WiFi
Especially for intelligent devices Xiaomi and Mijia, a MiNET button was created, and the MIOT protocol itself was implemented in the router itself. When the first smart device is connected for the first time, it is enough just to press the MiNET button, and it will automatically connect to a single platform of smart Xiaomi devices.
Up to 128 connected devices
If your home has many smart devices, will they be able to influence the speed of Internet connection of a computer, smartphone or tablet? And in general, "a lot" – this is how much? Xiaomi Mi WiFi Router 4C can provide access to the network for 128 connected devices at the same time, so that even in a large Internet family there will be enough for everyone.
Powerful "iron" will not fail
Dual-core processor MT7621A with a frequency of 880 MHz provides a stable connection to the Internet further under high load. You can safely upload photos, watch videos and movies in high quality or participate in fierce battles with many other players, and Xiaomi Mi WiFi Router 4C allow you to do all this without worrying about sudden clipping or falling speed. 128 MB of FLASH-memory and 128 MB of RAM guarantee a stable connection to the network of multiple devices.
More features with Mi WiFi
In the Mi WiFi application, you can measure the connection speed, configure WiFi and make even more than a dozen useful actions in just a few clicks. Through the application you can manage smart devices, set speed limits, change connection settings and generally do everything the way you want. Download Mi WiFi application and find out about all the available functions.
Professional protection and guest access
You can at any time see the connected devices from your smartphone or computer and by pressing just one button you can prevent them from accessing the network. In addition, when a suspicious device is detected, the router will automatically notify the owner, and in just a second you can get rid of uninvited guests using the application. In Xiaomi Mi WiFi Router 4C, you can configure a white list of MAC addresses that will allow access to the network only to specified devices and no one else. In addition, the router can create a separate guest network for secure connection.
Effective cooling for stable operation
Specially for dissipating heat in the body of the router, a radiator plate made of aluminum-magnesium alloy is installed, covered with a special adhesive with high thermal conductivity. The bottom surface of the router is dotted with holes, which together with the holes on the rear end surface create air circulation and further increase the efficiency of the heat sink. Due to the complex solution, the heat generated by the elements of the structure is quickly removed from the outside of the hull of the router, guaranteeing it a long service life.
A minimalistic design fits into any interior
Housing of Xiaomi Mi WiFi Router 4C is made of polished white plastic without the use of paint or varnish. Its simple geometric shape easily fits into any interior.