Xiaomi MIIIW MWSP01 Smart Qi Standard Wireless Charging Mousepad RGB Light Mouse Pad
That the Qi charging technology has a lot of potential can already be seen in gadgets like the MGeek cup with Qi charging station. But still it hasn't become the standard in smartphones. But now we have noticed the MIIIW Smartpad MWSP01 in the China shops: a mouse pad with integrated Qi charger.
Despite the "smart" function, the MWSP01 mouse pad also looks like a mouse pad for now. With dimensions of 42 x 26 cm it is rectangular and relatively large. The manufacturer keeps it all in black. At first glance, only the round addition in the top right corner, which is the connection option to the PC, is noticeable.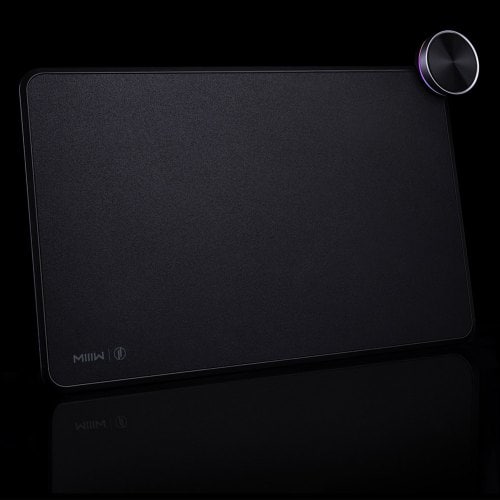 The underside is made of plastic (TPU) and is non-slip. The round unit in the upper right corner is a rotary knob made of aluminium, which is additionally equipped with LEDs. The rotating mechanism allows you to choose between different colours, but this will only create an exciting effect in the dark.
The fact that the smart mouse pad can display the Red Dot Design Award can be safely ignored. After all, this is a questionably awarded prize, which one can question with a clear conscience (keyword: payment for the prize).
The actually "smart" thing about the MWSP01 mouse pad is the Qi load capability. For example, you can charge smartphones that are Qi-chargeable (Xiaomi Mi Mix 3) wirelessly with the mouse pad. This is done with an output power of 7.5W, while over 10W input is required. If you've used Qi-Laden yourself before, you'll know it's not a fast process. Wired charging is still much faster!
In addition MIIIW has installed a smart chip, which should recognize if the smartphone should become too warm and which recognizes if the device is fully loaded and thus automatically stops the loading process. However, obviously not the entire surface of the mouse pad offers the Qi charging option, for this you have to position your smartphone on the right edge of the marked surface.