Xiaomi Ninebot N1KB18 18 Inches Aluminium Alloy Frame Children Bike Kids Cycling
The Ninebot N1KB18 is a high-performance sports mountain bike with a frame made of aerospace aluminum that is lightweight, sturdy and resistant to rust. It is equipped with a 40mm large stroke shock absorber front fork and one-piece sports seat cushion, which can effectively reduce the vibration caused by road bumps. In addition, the 18-inch large-grain inflatable mountain tires can be easily handled regardless of the gravel road, the complex mountain road or the continuous over-speed belt.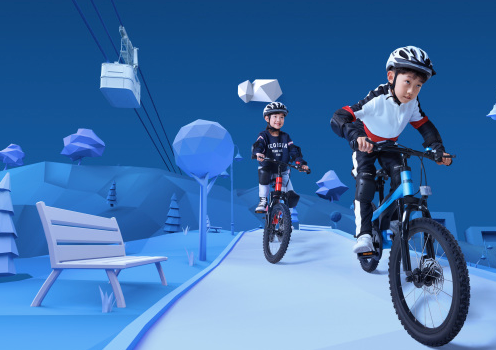 In terms of safety, the Ninebot N1KB18 uses a fully enclosed silent chain cover to prevent possible damage during the riding process. The front and rear wheels are equipped with a dual disc brake system for quick braking, which greatly improves the safety of the brakes.
In addition, the two products are aimed at children of different ages, and the Ninebot N1KB12 children's slide bike is suitable for children aged 2-5 years old, which can fully exercise the balance of the baby. The Ninebot N1KB18 bike provides better braking performance and a more comfortable riding experience for children aged 5-10 years, meeting parks, mountains, seaside and more.