Xiaomi Mijia Smart Washing Machine
Even in the hustle and bustle of the holidays, Xiaomi does not stop producing new products. For this new year, the Chinese company offers clean and warm clothes thanks to a washing machine that has been introduced, this has been called Xiaomi Mijia Smart Washing Machine and comes with "intelligent" components and a drying function.
The Xiaomi Mijia Smart Washing Machine is equipped with an AC motor that guarantees stable, efficient washing, as well as energy savings and silent operation. The maximum speed is up to 1400 rpm, which provides one hour of washing and drying. Xiaomi emphasizes the quiet and efficient brushless motor that, in collaboration with the suspension system, will eliminate tremors and vibrations even at maximum drum speed. According to the manufacturer, hot air condensation drying technology allows simultaneous processing of several things.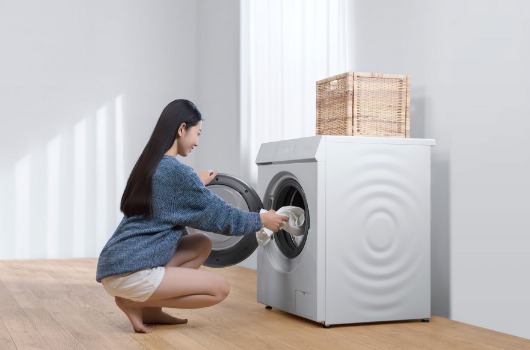 The machine can simultaneously wash up to 10 kg of laundry in standard mode. If the user wishes to use the built-in drying, the weight limit will be reduced to 6 kg. Among other things, users will be able to choose one of the 21 wash programs, the process can be managed from the panel on the device itself or managed via a mobile application via their smartphone. Constant temperature control will allow dry clothes to be tidied up during drying. The class of energy efficiency and wash quality is excellent.
Xiaomi Mijia's new washing machine and dryer can be pre-ordered in China from 4 January. First-time buyers will be able to get a discount and pay $290 for the Xiaomi Mijia Smart Washing Machine, the rest will have to pay about $365. What is not yet reported is the availability of the device in other markets.