Populele 2 LED Bluetooth USB Smart Ukulele from Xiaomi
Populele is a new brand launched by Xiaomi. Its main purpose is to adopt the method of "Smart Hardware + APP", and it is hoped that the friends who study music can complete the process of "Gaming and self-learning of music" in a pleasant environment.
One of the surprise gadgets of the last years is certainly the Populele. A smart ukulele from Xiaomi sub-brand was probably missed by only a few, but the instrument met with a lot of interest and many fans. Now the successor, which is simply called "Populele 2", comes onto the market. Are there some new features besides the redesigned look?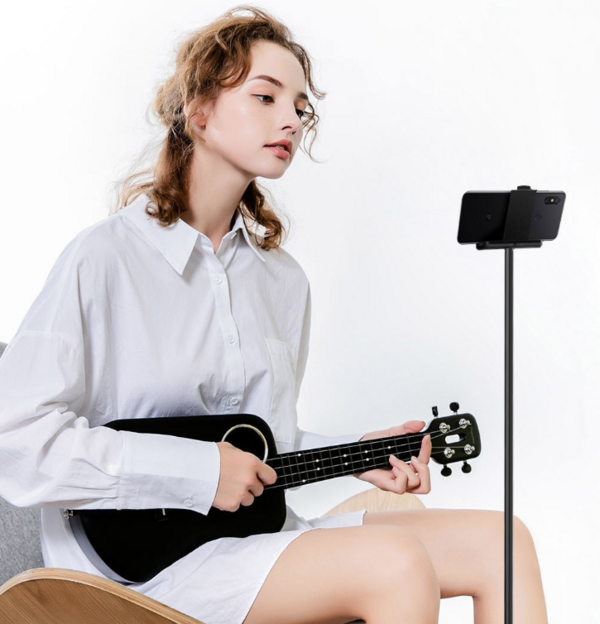 The name "Xiaomi Populele" quickly became established for the ukulele, even though the Xiaomi or Mijia logo cannot be found anywhere on the instrument. Instead, it is produced by PopuMusic, but sold via Xiaomi Youpin in China.
Instead of being made of wood as before, the new Populele is now made of plastic, or more precisely of SAN (styrene-acrylonitrile copolymer). Instead of light wood, the populele is now available in black or white. The sound hole moves to the left side and the shape of the body has changed significantly. Probably one wants to achieve a modern appearance, but we are not yet convinced by the changes; we liked the more classic look of the small guitar better. The strings of the mini guitar are carbon strings, in contrast to the nylon strings of the first Populele.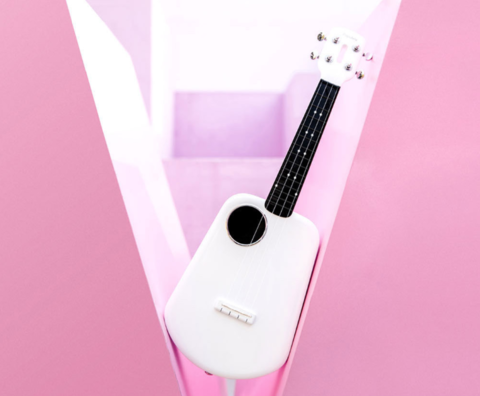 But beauty lies in the eye of the beholder. Please tell us what you think of the design decision in your comments.
Another innovation is the power supply. As before, the ukulele can be connected to your smartphone via Bluetooth, and there are LEDs in the fingerboard (which will help you learn/practice later). This of course requires energy. Unlike before, the ukulele is no longer charged via a micro-USB cable. Instead, there is a small, removable battery compartment for two AAA batteries. There is also the power button.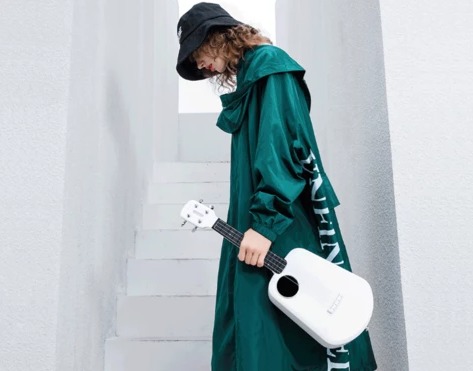 There is no real information about changes to the app. The Populele 2 can be used again with the Populele Smart Ukulele app. Here you can learn in single lessons the different chords and later first songs. The Populele 2's illuminated fingerboard will help you learn how to grasp.
After the apparent success of the first generation (and already a model with a new design) the Populele 2 is probably the next logical step. But there are no real innovations. The sound should differ considerably due to the other material, the changed shape and the carbon strings, but how the Populele 2 really sounds can only be judged if you play it yourself.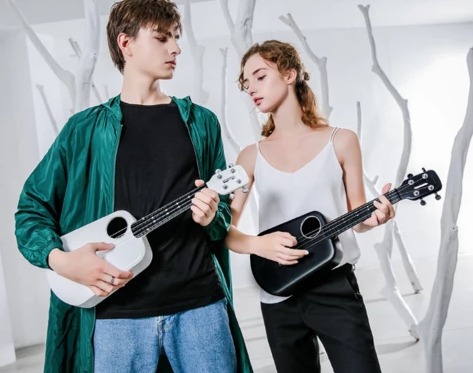 Are the new features enough for you? Do you like the new design, or do you prefer the more classic look of the first Populele? We're still hesitant whether it's worth trying this version of the ukulele for yourself.