In recent years, laser engraving has become increasingly popular among artists, craftsmen, and DIY enthusiasts. It's a versatile and precise method of creating intricate designs on various materials, such as wood, leather, acrylic, and more. If you're looking for a high-quality laser engraver that combines power, speed, and convenience, the Atomstack S30 Pro laser engraving machine 33W optical power laser engraver with an automatic air-assist system is worth considering.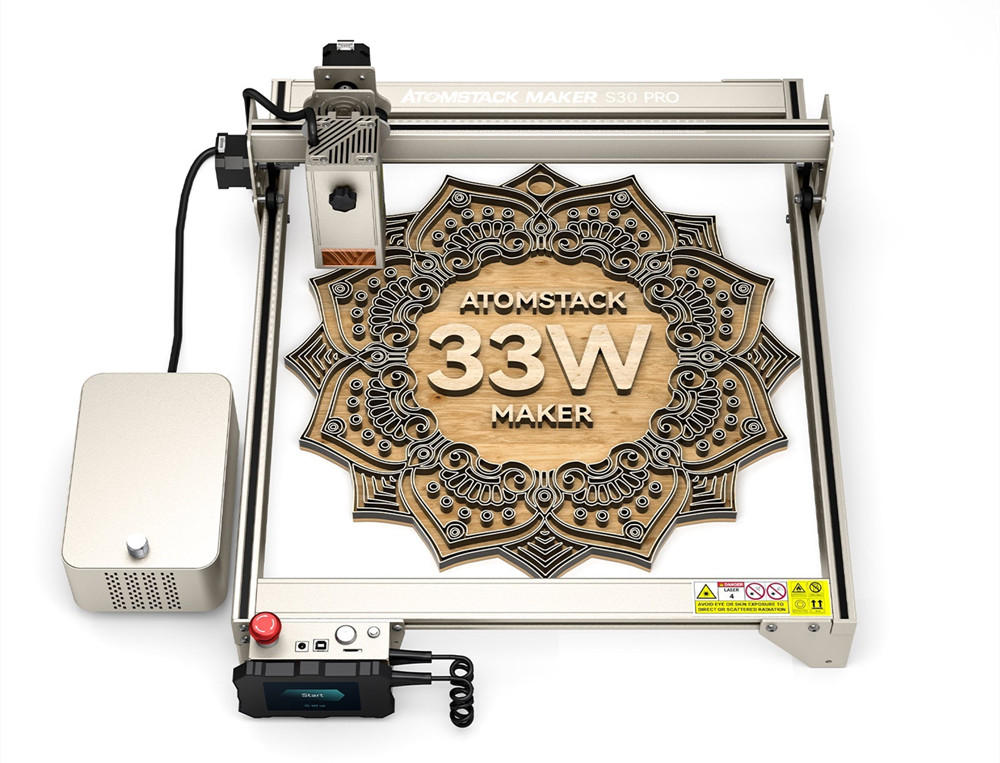 The Atomstack S30 Pro is a 160W 6-core laser engraving and cutting machine with a working area of 410x400mm. It features a laser power output of 33-36W and a laser wavelength of 455±5nm, providing an engraving precision of 0.01mm. The S30 Pro is designed for professional use and offers a range of features that make it a powerful and versatile engraving machine.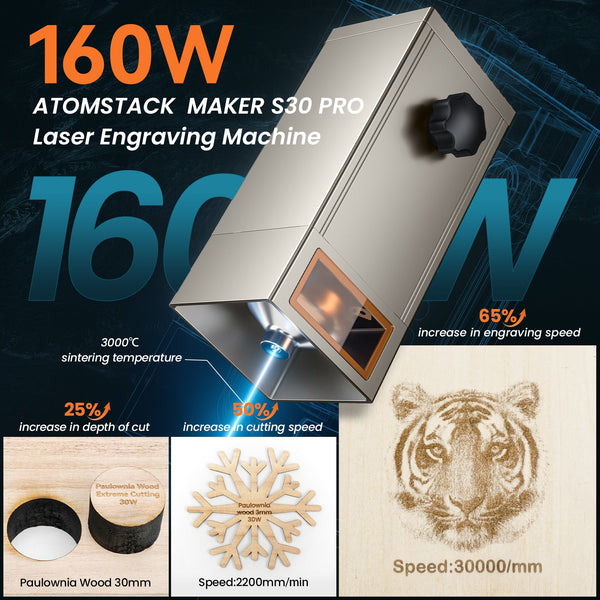 Ultra-high power: The S30 Pro is the world's first laser engraver with an output power of 33W, coupling 6 beams of 6W laser. This powerful machine can cut 18-20mm wood board and 30mm black acrylic board easily. It can also directly engrave on mirror stainless steel, ceramic, and opaque glass.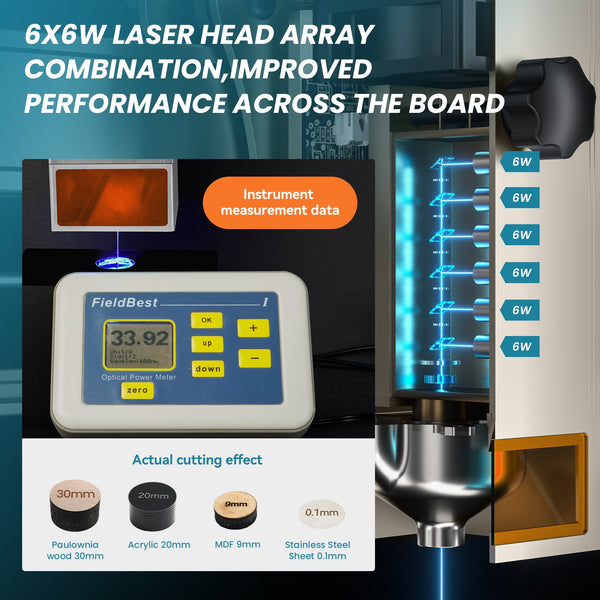 High working efficiency: Compared to a 10W laser engraver, the cutting speed of the S30 Pro is improved by 200% and the cutting depth is increased by 150%. When compared to the Atomstack S20 Pro, the cutting speed is improved by 50% and the cutting depth is increased by 25%.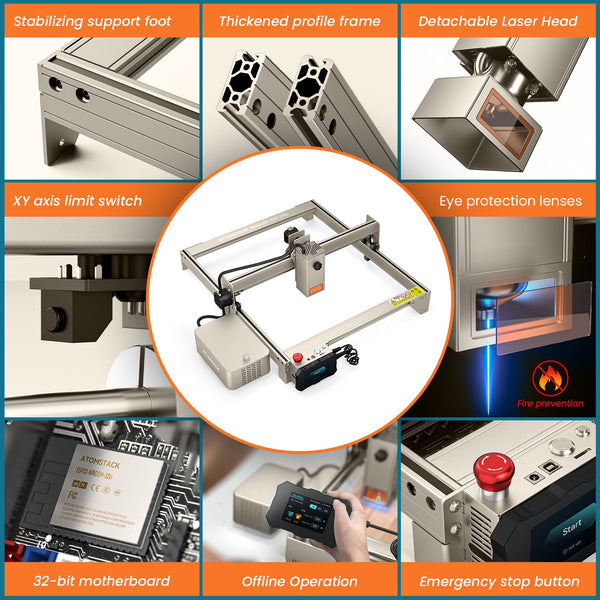 Upgraded F30 Pro air assist kit: The F30 Pro air assist kit greatly improves the cutting ability, cutting accuracy, and cutting effect of the S30 Pro.
Newly updated 32-bit mainboard: Atomstack has developed a 32-bit motherboard with 256-bit color levels, resulting in finer engraving results and higher contrast.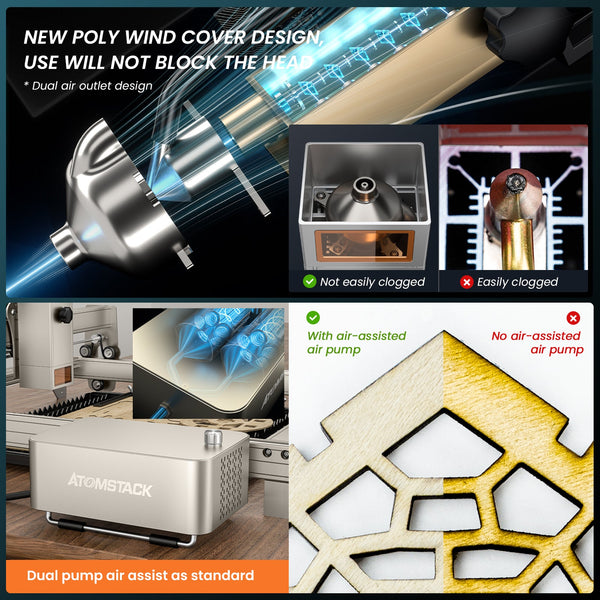 Atomstack mobile app: The Atomstack app is available on Android and iOS app stores, providing a new control experience for users.
Panoramic filtered glass eye protection: The S30 Pro features panoramic filtered glass that protects users' eyes by filtering 97% of UV light, allowing users to watch the laser engraving process without wearing goggles.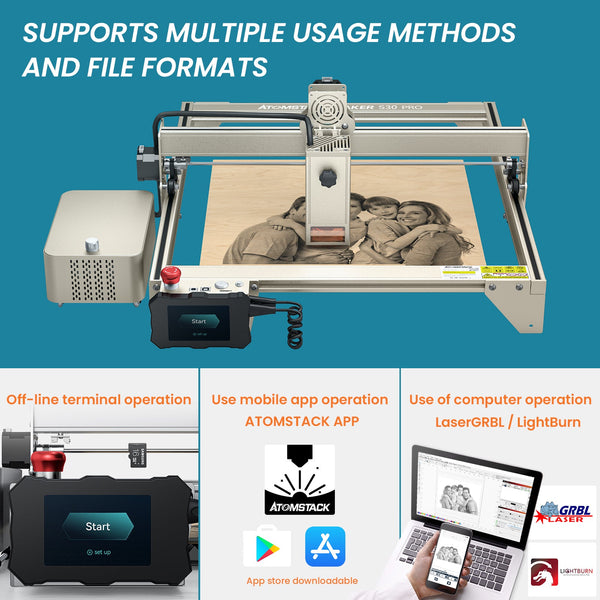 Off-line work: The S30 Pro is equipped with a terminal control panel that supports off-line engraving, allowing users to work without the restriction of a computer.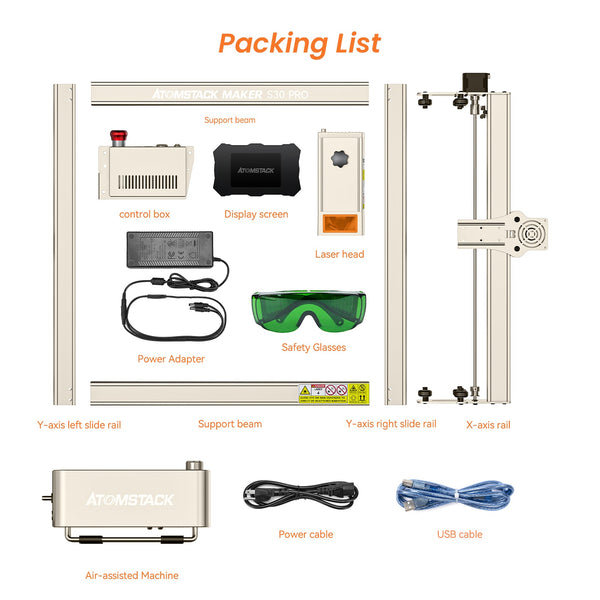 With its high power output and precise accuracy! this machine can easily handle a wide range of materials, including wood, leather, acrylic, and more. Moreover, buying from Atomstackofficial.net at €749 with the discount coupon AtomS30C500! ensures that you get the best value for your money and a fast delivery time. So, if you're looking for a reliable and high-performance laser engraver! the S30 Pro Laser Engraver is definitely worth considering.