Alfawise V8S PRO - Coupon
Gearbest coupon:ALFAVCPL001  Price: $169.99  Warehouse: Fast-08  Time: 2020-3-31
Alfawise V8S PRO E30B Robot Vacuum Cleaner with Smart Mopping
Another suction robot? Alfawise again? Yes exactly! The Alfawise V8S PRO suction robot with wiping function comes with 1800 Pascal and a very reasonable price! As we can see from the table, the V8S Pro is clearly superior to its predecessor models in some areas. The performance is really good with 1800 Pascal. Above all, the smaller dimensions make it easier for the small vacuum cleaner to go anywhere in any situation. With 7.6 cm, it even checkmates Xiaomi in terms of compactness!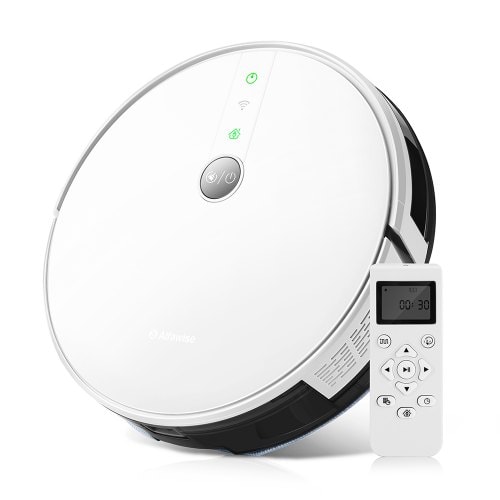 The V8S Pro comes with an Epson gyroscope and an ARM chip. In the end, this means that it scans and remembers everything in the room very quickly. So he can work precisely and quickly. It is also possible to clean only certain areas or to omit areas. Furthermore, in contrast to its predecessor, the V8S Pro, the V8S is controlled via App AND via Alexa or Google Home. Furthermore a remote control is included. So you can simply order the little vacuum cleaner to stop listening via voice or just start cleaning! With the two containers you should be able to clean up to 150 square meters in one go.
The wipe function of the was completely revised. The wipe function itself is now also "smart". This means that the V8S Pro takes care not to use too much water and cause puddles. In addition, the vacuum cleaner notices when it comes on a carpet and then interrupts the wiping and starts only to vacuum! In any case a step in the right direction.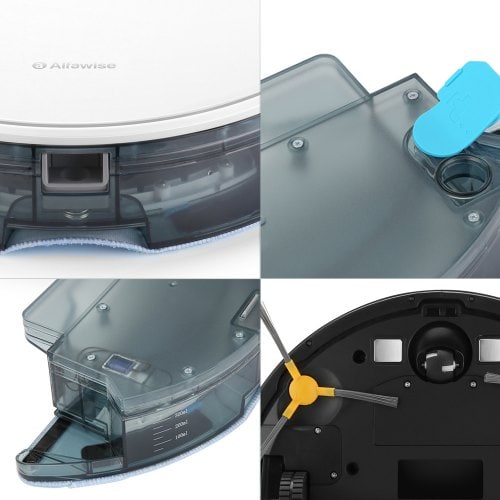 The Alfawise V8S Pro looks convincing, we can of course only say more when we have tested it. But the wipe function, the control via App and Alexa and the high Pascal number are definitely a big step! Maybe the small one can even compete with the big one! It would be desirable with the price!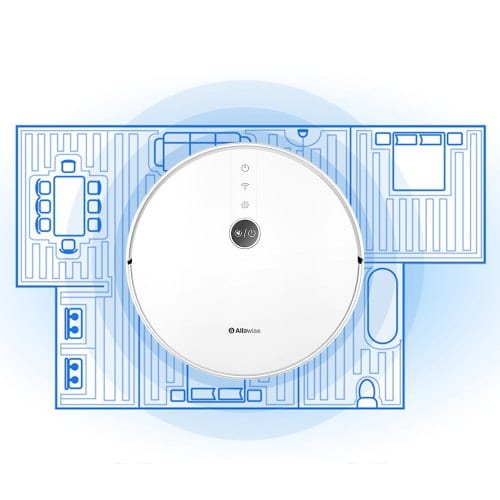 Let's get back to the technical data first, here in comparison with 2 predecessors from Alfawise.
Surname
Alfawise V8S
Alfawise X5
Alfawise V8S PRO
Suction
1300 years (Pascal)
1000 years (Pascal)
1800 pa (pascal)
Volume
> 65dB
> 60dB
> 65dB
Battery pack
2600 mAh
2600 mAh
2500 mAh
Working hours
90-120 minutes
100-120 minutes
100-120 minutes
Charging time
4-6h
kA
kA
Dust container
0.35 L
0.3 l
0.6 l
Water tank
No wiping function
0.3 l
0.35 L
Slopes
15 ° up to 1.5 cm edges
kA
15 ° up to 2 cm edges
Dimensions
32 x 32 x 8 cm
32 x 32 x 8,8 cm
33.0 x 33.0 x 7.6 cm
Weight
2.6kg
kA
2.7kg
CE mark
?
?
Miscellaneous
– Gyroscope
– PSD position sensor
-Gyroskop
-Wischfunktion
-Epson Gyroscope
wiping function