Amazfit HomeStudio Smart Home Gym
On January 8, Huami Technology held the Amazon Global New Product Launch Conference during CES2020, releasing two treadmill products, Amazfit HomeStudio and Amazfit AirRun, the largest products in Huami's history. The time and selling price of the two products have not been announced.
Amazfit HomeStudio is made up of Smart Gym Hub, an intelligent fitness base station, and a high-end crawler running mechanism.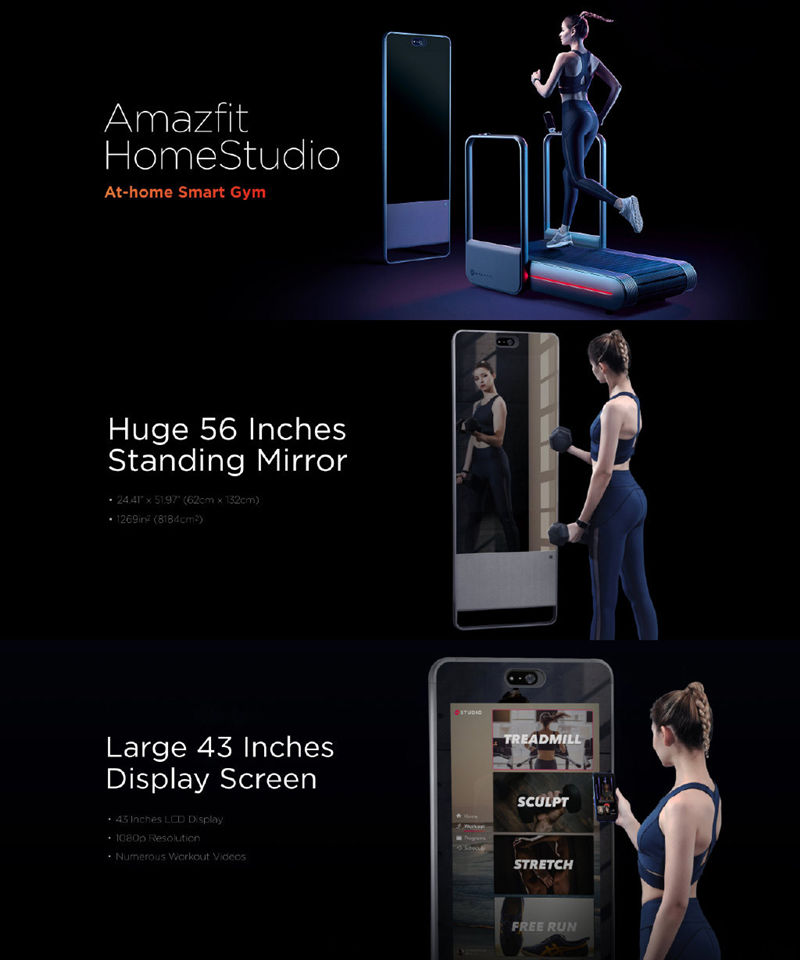 For the treadmill part, Amazfit HomeStudio has chosen the crawler-type running belt commonly used in high-end commercial treadmills. The 1350 mm × 510 mm super-large running belt consists of 55 thickened rubber coated aluminum plates, with a maximum speed of 20KM/H and a maximum slope of 7 degrees.
Smart Gym Hub is Amazon HomeStudio's intelligent brain, with a 56-inch super-large floor mirror on the front and a 43-inch LCD HD display built in behind the mirror, with a resolution of 1920 × 1080. Through the screen, users can not only view the training plan and training video, but also monitor scores by using the displayed exercise data such as exercise time, exercise heart rate, exercise mileage, heat consumption, etc.
Above Smart Gym Hub, Amazfit HomeStudio has built-in a set of 3D TOF system, including TOF camera and infrared camera, which can accurately identify motion posture through 3D modeling, correct wrong movements in time, improve motion quality and reduce motion injuries. Smart Gym Hub will also connect wearable devices such as watches, bracelets and headphones to synchronize heart rate data so that users can have a more comprehensive grasp of their physical conditions in various sports.
Amazfit HomeStudio is also equipped with JBL Surround Sound Speaker blessed by Harman Sound Effect Algorithm, which can provide high-level sound quality like that of the scene without wearing headphones when running. In addition, Smart Gym Hub has a built-in microphone array, and will try to access a third-party voice assistant in the future to form a linkage with smart home.
Smart Gym Hub is equipped with a 3DTOF system with a 56-inch floor mirror embedded in it, of which 43-inch area is a display screen. It also provides JBL surround sound box, which can connect users' wearable devices and control smart homes. It is expected to connect more third-party fitness equipment in the future.
Amazfit HomeStudio was actually developed jointly by Huami and Studio, a fitness start-up. According to Studio founder and CEO Jason L. Baptiste, Amazon HomeStudio's selling price is incredibly cost-effective compared with its competitors (referring to the Peloton Tread treadmill, which starts at nearly 30,000 yuan). What is really used to cash in is the content of this immersive fitness system, with a monthly fee of 34.99 US dollars, or about 243 yuan.