Beelink GK Mini Office Mini PC
If you have decided to create a multimedia workstation in your living room, which does not really give up anything, because it is based on Windows, then maximally versatile, here is Beelink GK Mini, the Mini PC among the smallest in the world, with 4K support, which really lacks nothing.
It proposes inside a Quad-Core Intel Celeron J4125 CPU with a base frequency of 2.00 GHz, up to 2.70 GHz. The mini desktop computer is equipped with an Intel UHD Graphics 600 graphics card with support for 4K UHD video at 60Hz. In terms of memory it offers a ROM of 512 GB.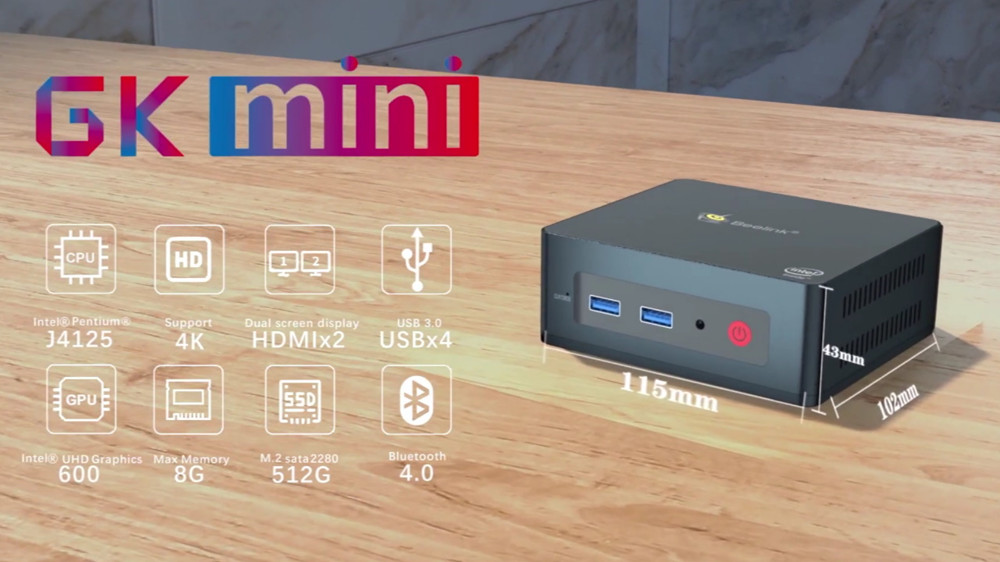 The mini PC in question fits in the palm of your hand, and can also be easily carried in a jacket pocket. It is equipped with a silent cooling fan, which manages to cool the compact body of the PC and offers more than enough hardware to support 4K media, so for optimal operation both at home and also productive for the office.
The Mini PC's body is really small in size, amounting to just 12.40 x 11.30 x 4.10 cm, weighing less than 300 grams. Although the body is compact, it has a full connectivity interface, with four USB-A ports, as many as two HDMI, 3.5mm headphone jack, and MicroSD expansion port, USB-C input.
It supports dual band wireless connections, so 2.4G and 5G, as well as being equipped with Bluetooth 5.0, to connect keyboard, mouse, Bluetooth speakers and other peripherals.
Beelink GK Mini, the mini office PC with 8 GB of RAM at just over 170 euros in flash offer
The power consumption is really minimized, thanks to the processor, with a standby power consumption of only 12W. It enjoys VESA mount, to install it on the back of a monitor or TV and arrives at home with Windows 10 pre-installed. Also inside is 8 GB of LPDDR4 RAM and 512GB of SSD storage, expandable via MicroSD.