BEELINK GS-KING X IS A TV-BOX THAT PLAYS NAS
The Beelink GS-King X is an interesting novelty even if I'm not sure of its total relevance at the moment. The brand has mixed a high performance ARM SoC and the possibility of two 3.5″ SATA hard disks connector in a large case. If it will be useful to offer such a capacity in a device connected to your TV set, its impact in a living room will not be as harmless as that.
The Beelink GS-King X TV-box will feature an Amlogic S922X-H SoC, a solution already used on the GT-King Pro, which uses 6 cores consisting of 4 Cortex-A73 at 1.8 GHz and two Cortex-A53 at 1.9 GHz. It is supported by a Mali-G52 video chipset and an Amlogic Video Engine AVE-10 VPU. The set will be able to decompress any type of video media with advanced functions in UltraHD like HDR10, HDR10+ or Dolby Vision… Delivered under Android 9.0, the box is HDCP 2.2 certified and supports Widevine L1 DRM. It is associated with 4 GB of RAM and offers a basic internal storage of 64 GB of eMMC. It will be possible to extend this first storage thanks to a MicroSDXC card reader.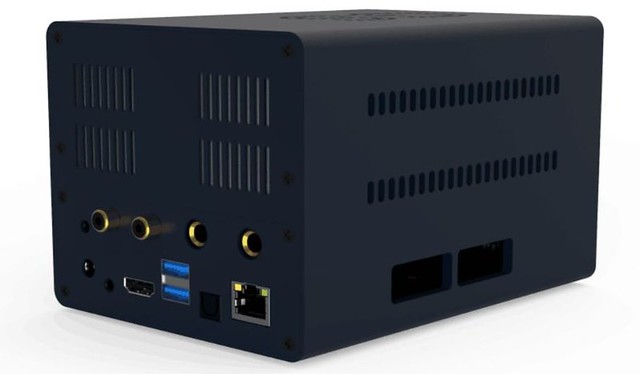 Where this TV-Box stands out is in the possibility of adding two SATA 3.0 disks from 3.5″. In view of the current models, Beelink estimates that the GS-King X will be able to accept 2 x 8Tb disks to offer 16Tb of internal storage. The idea is excellent on paper, but quickly raises a few questions. The first one being its impact in terms of nuisance. TV-Boxes have a natural environment that is generally quite small, that of a radius of a few meters around a TV set. We can always hide as best as possible this large box in a suitable piece of furniture so that it is not in front of the eyes, it will probably be less easy to hide than a small TV-Box usual. But above all, the presence of two 3.5″ hard disks will generate a noise when they are in operation. Noise which will not necessarily be too important but which will have to be managed as well as possible so that it does not invade the living room.
The most practical solution, the most advantageous and obviously the most expensive that we usually retain when we look for this kind of capacity for multimedia, is to use a NAS on one side and a TV-Box on the other. This way, the storage can be located in a different place from the place where you enjoy its content. For the moment we have no information about the possibility of controlling the disks in a more advanced way. The idea of being able to drive the Beelink GS-King X as a NAS itself would of course be a huge advantage but I'm not at all sure that this will ever be possible. Neither at the launch of the machine, nor with a future evolution under Android. It's possible that the machine will one day run under a Linux distribution, which would change the game, but betting on this point seems very acrobatic at the moment.
The rest of the machine is pretty standard with Wifi5 and Bluetooth, a single Gigabit Ethernet port, two USB 3.0 Type-A ports, 3.5 mm audio connectors and S/PDIF optical output as well as a 6.25 mm RCA output. An HDMI 2.0b connector is present to drive a 60 frames-per-second UltraHD stream while supporting HDR and Dolby or 7.1 sound. The unit will come with a voice-activated remote control to control content by voice.
Scheduled for release at the end of May, the Beelink GS-King X should cost less than $200. The solution could be of interest to some, those who, for example, can take advantage of a technical room that allows them to easily isolate the box from the rest of their multimedia equipment. It could also find its place in other places or to recycle old 3.5″ hard drives as backup storage. The project remains interesting to follow.