Chuwi Herobook Pro is a tri-side bezel-less chinese laptop
The Chuwi HeroBook Pro is recently being advertised on the manufacturer's website, as many of the vendor's products previously did, and within the next few weeks an IFA 2019 is scheduled to launch to market the new laptop. Above all, the low price is to entice customers here: Chuwi promises an entry starting at $299.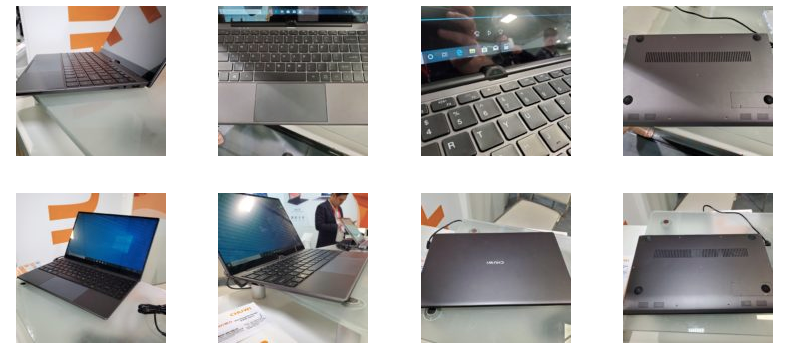 It is a 14-inch IPS display, which offers a pleasant high resolution with 1920×1280 pixels and is in 3:2 format – just like the Surface Pro from Microsoft. Also touch support is offered again and it is planned to offer a capacitive stylus that makes typing and drawing possible.
Under the hood, the new tablet features the Intel Celeron 3867U with two cores at 1.8Ghz, Intel 610 UHD graphics, for more performance. The chip is passively cooled and is HyperThreading capable and should provide a better overall performance than the previous generation SoCs used in various other affordable tablets, even though they are very similar processors. Who has the Surface Pro in its basic version in mind, comes here at the same size and performance probably cheaper way.
Chuwi combines the chip with 8GB of RAM and wants to offer variants of the HeroBook Pro with 128 or 256 GB SSDs. These will be SATA models that will provide transfer rates around 500 megabytes per second. The battery is based on a model with 37 watt-hours, which should ultimately allow running times of about 10 hours.
In terms of connectivity, the HeroBook Pro offers a USB Type-C port, two USB A 3.0 ports and a MicroHDMI output. In addition, there is also a jack for headphones or headsets. With a thickness of around nine millimeters, the tablet is supposed to be at the level of the Surface series. For easy placement on the desk, the HeroBook Pro has a built-in stand that can be freely folded up to an angle of 145 degrees.
Of course you can also use a keyboard cover here, which is magnetically docked at the bottom. Incidentally, the weight is given as 780 grams, giving you a very mobile companion. The Chuwi HeroBook Pro runs on Windows 10 in the home version.