Creality Falcon2 22W Laser Engraver
Last year, Creality released the first generation of their CR-Laser Falcon series of laser engravers with 5W and 10W laser output respectively. To be honest, the market for both 5W and 10W laser power was very competitive and consumers had a wide range of brands to choose from. In February 2023, Creality launched the second generation Falcon2 unit with a newly designed unibody frame structure and a 22W laser module, which all looks great.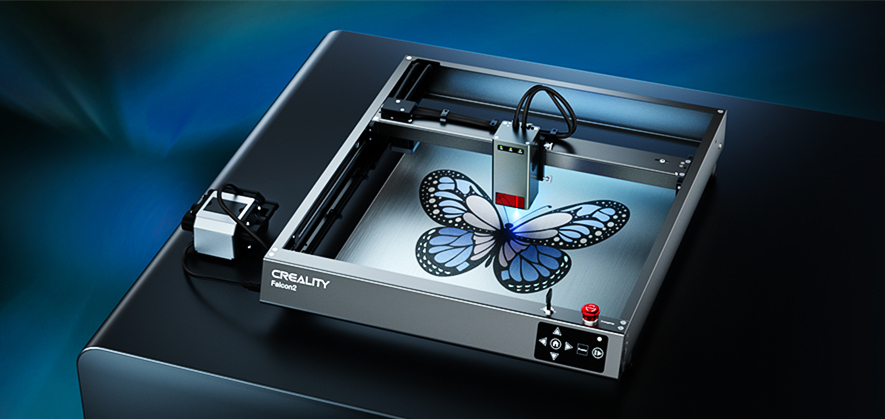 The Creality Falcon2 not only brings us a more powerful laser, but also brings us very innovative features. 22W laser is internally coupled by four 6W laser sources, thus the energy is also superimposed. The Creality official claim is that it can cut 15mm wood in one-Pass, 10mm black acrylic resin in one-Pass, and 0.05mm stainless steel in one-Pass. Therefore, we have reason to believe that the 20W class laser module is a step up from the 10W class laser module in terms of cutting capability.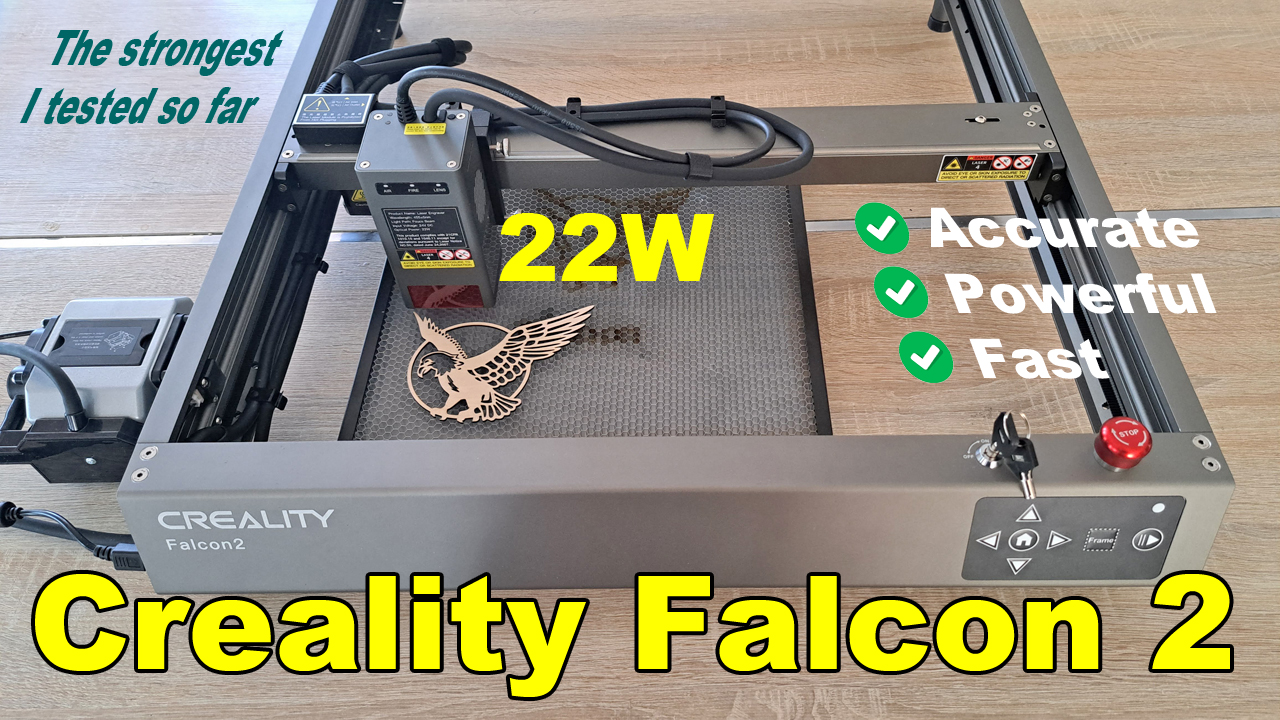 In terms of engraving speed, Creality Falcon2 has also improved the speed of 25000mm/min, which saves the user a lot of time. It is faster than the xTool D1 Pro and the Ortur Laser Master 3, which have an engraving speed of 24000mm/min.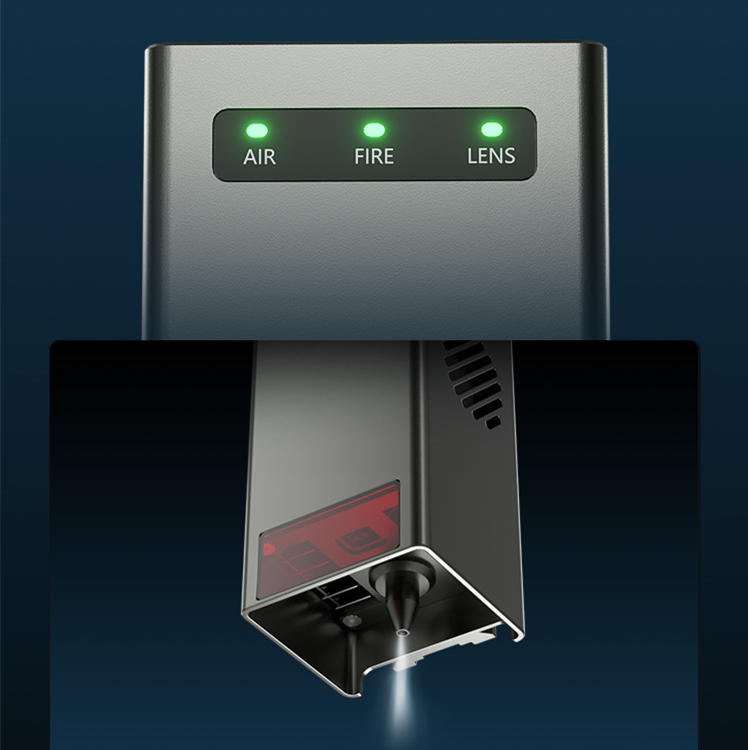 Air assist contributes greatly to the performance of the engraver. When you use the Creality Falcon2 22W laser engraver, you can adjust the air assist manually and steplessly with a knob, or you can adjust the airflow automatically with LightBurn to remove smoke and protect the laser lens, bringing cleaner results. You can use weak airflow when doing engraving work and strong airflow when doing cutting work.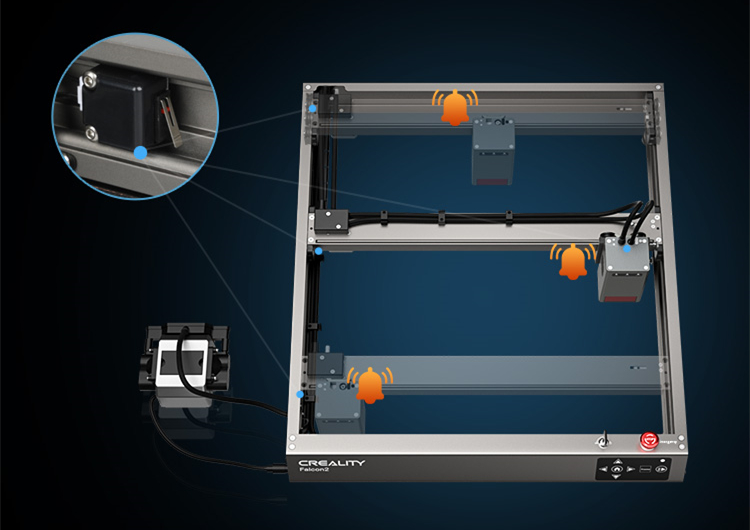 In fact, what attracted me most was the exterior design of the Creality Falcon2. It has a wrap-around frame design with cables hidden in slots, and the machine looks neat, without the feeling of cable clutter. In addition, there is an integrated offline control button on the front X-axis, similar to the function of Atomstack's touch screen.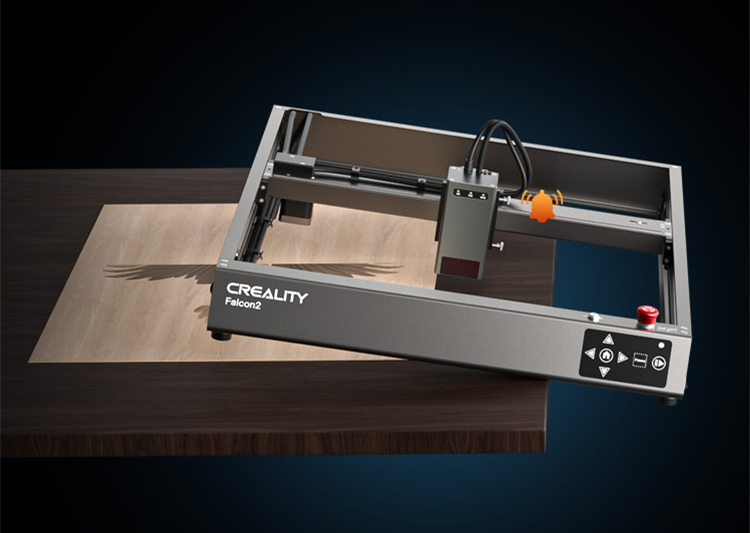 Finally, in terms of safety use, Creality Falcon2 is also sincere, providing five kinds of protection measures, they are: Bidirectional Limit Switch, Active Stop Function, Security Lock Design, Emergency Stop Button, Laser Protective Cover. Safety is above all else, and I believe consumers feel the same way.
Creality is giving a $200 discount on its latest Falcon2 22W Engraver. The engraver cum laser cutter which retails for $1199 will be available for pre-sale at a discounted price of $999. Also, you can get an additional $50 discount by using the coupon code: Falcon2. Thus you can buy Creality Falcon 2 for as low as $949. Please note that this pre-sale offer starts on February 14, 9 AM, EST, and ends on February 22.