With the R9 Pro, we already had a rather inexpensive notebook from the Chinese manufacturer DERE. The DERE TBook T10 even comes fully equipped with an Intel i7-1065G7, 16 GB of RAM and 512 GB of SSD storage. What does the laptop with built-in touch bar have to offer?
The 15.6-inch notebook comes in a silver metal casing. Like the R9 Pro, the TBook T10 has a Full HD display and a narrow display edge of 5 mm, but here too the chin of the screen is significantly thicker. The screen is infinitely adjustable and can be moved up to an angle of 180°.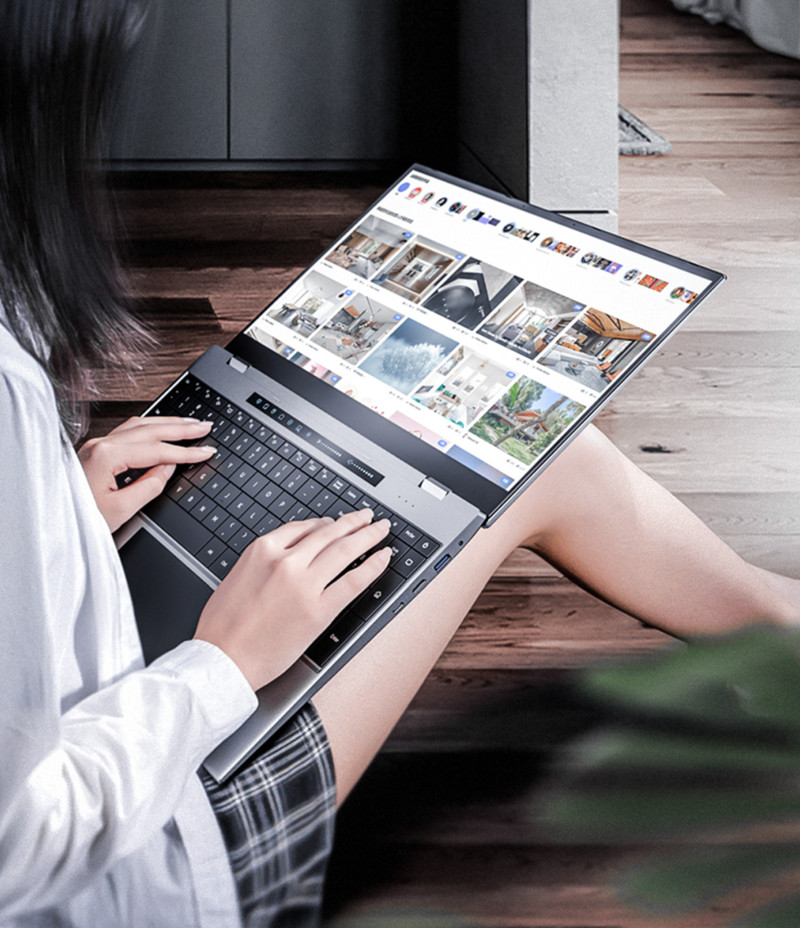 On the underside, we find the touchpad and a touchbar next to the illuminated QWERTY keyboard including number pad. With this touchbar, we certainly want to imitate the MacBooks, which have a touchscreen instead of the F-keys. Here, however, the touch bar is above the F-keys and offers some fixed settings. You can use it to change the volume and brightness, for example, but also to maximise a window or lock the laptop. However, it does not adapt flexibly depending on which window you have open.
There are three different hardware configurations, which differ both in terms of the processor and the memory configuration. If you opt for the smallest option, you get an Intel i3-1005G1 with 8 GB of RAM and 256 GB of SSD storage. In the middle is the Intel i5-1035G1 with 8 GB RAM and 512 GB SSD storage. The most powerful configuration then comes with an Intel i7-1065G7 with 16 GB of RAM and 512 GB of SSD storage.
Even if these are not the most powerful processors, they are still significantly faster than an Intel J1425, which we increasingly find in Chinese laptops. This makes them definitely suitable for surfing, office work and all kinds of software. With 8 GB of RAM in the smallest version, there is also enough memory for multitasking and some tabs.
Depending on the processor, you will also get a different graphics card, as only the one integrated in the processor is used here. With the i3 and i5, this is the Intel UHD Graphics G1, which is only very sparsely usable in games and is therefore more intended for media consumption. The Intel Iris Plus Graphics G7, which comes with the i7 processor, is also too weak for most games, but can often reach 30 FPS, which ensures playable performance.
Unfortunately, DERE does not provide any information about the battery life, only the size of the battery is known, which is 5000 mAh in each version.
There are also a few ports on the sides of the notebook. On the right side, there is a power port, a USB 3.0 port, a mini-HDMI port and a USB-C port. On the left side you will find a now neglected Ethernet port, a 3.5 mm jack, an SD card reader and another USB 3.0 port. This provides a multitude of options, especially since you also have wireless connectivity. There is Dual Band WiFi and Bluetooth 4, which can be used to access the internet or connect a mouse.
In addition, it is advertised with Hi-Fi audio and an HD webcam, which are probably rather mediocre. Nevertheless, a webcam is of course important in times of many video conferences.
With the TBook T10, you get more performance than is usual with many Chinese notebooks. This makes it quite suitable for school, university or the home office, but it lacks a bit of performance for complex programmes such as editing programs. What do you think of the TBook T10?