DOOGEE N20 Pro Helio P60 128GB ROM Global Android 10 OS Smartphone
DOOGEE introduced its new Mid-level N20 Pro smartphone in mid-July. The device already offers a Quad camera, a FullHD+ display with mini notch as well as 6 GB RAM and 128 GB capacity at a low price.
DOOGEE is a Chinese manufacturer that has so far concentrated primarily on the entry-level market in terms of price. They prefer to place their smartphones between 100 and 200 euros. The Doogee N20 Pro competes, for example, with the Elephone A5, Umidigi S5 Pro or the CUBOT X30 when compared to other smartphones from China that are about the same price. Doogee uses a Quad camera that is inserted into a square camera recess in the back. It offers 16 + 8 + 5 + 2 MP. On the front we find a camera for selfies with 16MP. It's housed in a small notch, a design feature that is always a talking point.
The high weight is probably due to the thick case and the materials used. Doggee uses glass for both front and back and combines everything with a metal frame. For an entry-level smartphone, this results in a haptically and optically high-quality design, but at the expense of weight. This is something that will certainly bother many a user.
We send the N20 Pro through our usual benchmark round of AnTuTu, Geekbench, GFXBench, 3DMark and PCMark. Of course, no miracles are to be expected for an entry-level device, but the values are certainly interesting for one or the other reader, perhaps to draw comparisons to other models in the same price range.
The test results show that the Doogee N20 Pro doesn't do badly at all and can collect 174,320 points in AnTuTu, for example. The comparison in GFXBench places it in its performance between a Samsung Galaxy S8 and a Huawei P10. More values can be found in the pictures below. We don't want to leave a bonus point unmentioned: Doogee uses Android 10.0 with almost no adjustments, which should please friends of the unchanged system.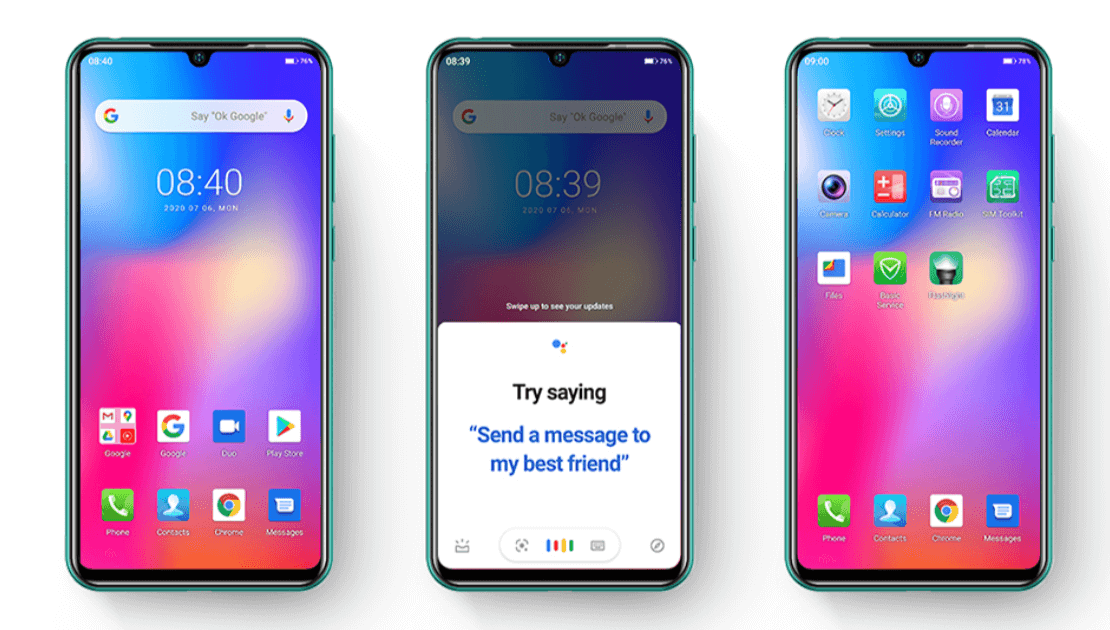 For the display of the N20 Pro, Doogee names 90% coverage of the NTSC color space, a typical contrast ratio of 1300:1 and a maximum brightness of 450 cd/m2. HDR is not on board. This is a good LC display for the entry level, which can actually become very bright and thus always remains legible outside.
The colors are also very vibrant, but the screen has a slight blue cast ex factory, or the colors look rather cool. A reading mode or "night light" can also be switched on, as Doogee calls it. This gives the colors a yellowish tinge, but blue light components are reduced in order to protect the eyes.
You don't need to say many words about the screen: It's very neat and tidy for this price range. Thanks to the resolution of 2280×1080 pixels on a 6.3 inch diagonal, the image is always sharp. Of course, the mini notch on the front could be a nuisance, but this design decision by Doogee did not put us off the N20 Pro.
Especially since the workmanship is also appropriate and Doogee surprisingly relies on a combination of metal and glass for the cabinet. The performance is very decent for a smartphone in this price range and if you can live with the mentioned shortcomings, you can easily put the N20 Pro on the shortlist.
Currently, the Doogee N20 Pro for example costs about $199.99 in our partner shop Aliexpress. LTE Volume 20 is also available, so that nothing stands in the way of using it in EU. Thus, the N20 Pro may not stand out extremely from the mass of Chinese entry-level devices in the end, but it offers a solid alternative to other models like the UMIDIGI BISON.