Eachine Novice-I 75mm 1-2S Whoop FPV Racing Drone
The nano world of nano racers makes you dizzy, but you don't know which device to choose, which radio control and even less which device to use to view the video feedback in real time? And what's more, you've already sold a kidney for flying equipment, no way you're leaving the second one there? Maybe it's this Novice-I pack from Eachine that you need.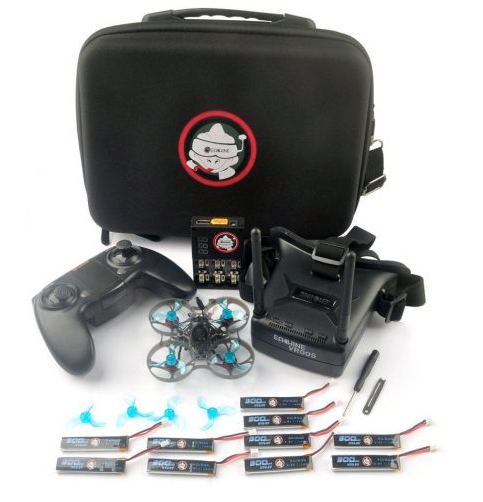 It is based on a Novice-I 75mm nano racer, a small aircraft with Gemfan three-bladed 1635 streamlined propellers to seriously reduce their dangerousness. They are driven by brushless motors 1102 to 13500KV. They are controlled by a 4 in 1 ESC of 5A integrated in the Nano X F4 flight controller, with a current sensor, a FrSky D8 compatible radio receiver, flashed with Betaflight and an active OSD. The video part is provided by a RunCam Nano2 700TVL camera combined with a 40-channel 5.8 GHz video transmitter capable of transmitting at 25 mW (the maximum allowed in France) or 200 mW SmartAudio compatible for settings from the remote control.
It is provided in the pack! It is an Eachine WT8 in mode 2 (gas on the left), with flat head joystick (which do not pinch, therefore). To view the video feedback, Eachine provides the VR005 mask. A very small model with a low definition, a very relative comfort, but which works perfectly with an integrated 5.8 GHz receiver and Diversity. The pack is completed by 2 LiHV 3.8 V 300 mAh batteries with PST PH2.0 connector and a charger for 6 batteries. Why 2 batteries? Because the device is designed to operate in 2S, so with the 2 1S batteries at the same time, connected with a Y cable. A Flymore version includes 10 batteries instead of 2. The price? From $145.00 at Banggood Shop.