Eachine Novice-III 135mm 2-3S 3 Inch FPV Racing Drone
After Novice I, then Novice II, here comes Novice III! It adopts the same principle: it is a pack that includes everything you need to start with a nano racer in immersion. That is to say, the drone, batteries, a charger, a remote control and a mask to view the video feedback in real time, all in a carrying case!
It is a nano racer similar to the Toothpicks: it is based on a carbon structure for a 13.5 cm diagonal of the motor engine. Its propellers are 2-inch HQProp two-bladed blades driven by 1203 to 5500KV brushless motors. They are piloted a flight controller based on an F4 processor, flashed with Betaflight. This controller includes a 4 in 1 10A DShot600 ESC, an active OSD, a 2.4 GHz FrSky D8 and D16 (Non-EU) compatible radio receiver, a current sensor and a buzzer.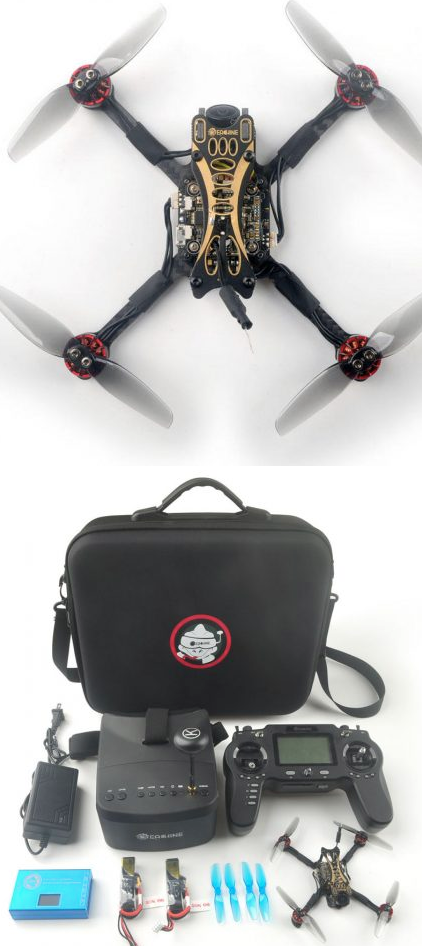 It is provided by a Caddx EOS2 1200TVL camera with adjustable tilt, associated with a 5.8 GHz video transmitter compatible with 40 channels, from 25 mW (the maximum authorized in France) to 400 mW, with SmartAudio support for adjustments from the radio control via the OSD, and a dipole antenna. Little bonus? This receiver has a 1280 x 720 pixel video recorder (DVR). Low definition, but the images are free of the noise of a DVR on the ground. Dimensions? 11,5 x 11 x 11 x 4 cm. Weight? 62.5 grams without the battery.
To exploit the video feedback, Eachine provides the EV800 mask, a model based on a 5-inch screen, with a resolution of 800 x 600 pixels, placed behind a Fresnel lens for a large format display. It is equipped with a 5.8 GHz receiver with a polarized antenna, as well as a 1S 3.7V 2000 mAh battery. It can also be powered by 2S, 3S and USB.
It is a model similar to that of game consoles, but with many switches, a control screen, flash in OpenTX and compatible with FrSky protocols. It is mode 2, gas on the left, but can be converted to mode 1.
The RTF package includes the UAV, remote control, mask, charger, and 2 Tattu 3S 11.1V batteries of 450 mAh 75C with an XT30 connector. The Fly More pack is similar, but there are 6 Tattu batteries instead of 2, which is an endowment that seems close to that of the Novice-II. However, the remote control, the mask and the batteries are a little more qualitative. The device, in any case, is attractive… The price? From $220.00 at Banggood (without shipping, without taxes).