Eachine RedDevil 105mm 2-3S FPV Racing Drone
The fashion for nano racers continues to grow. On one side are the Tiny Whoop with their propeller guards that allow safe flight, on the other side are the Toothpicks, faster and designed for engaged flights. The principle was conceived by KababFPV: Toothpicks are devices with a minimalist structure, powerful engines, 6.5 cm two-bladed propellers and a compact central fairing, all powered by 2S or 3S batteries. After Happymodel's Sailfly-X, here comes Eachine's RedDevil. The family resemblance is undeniable….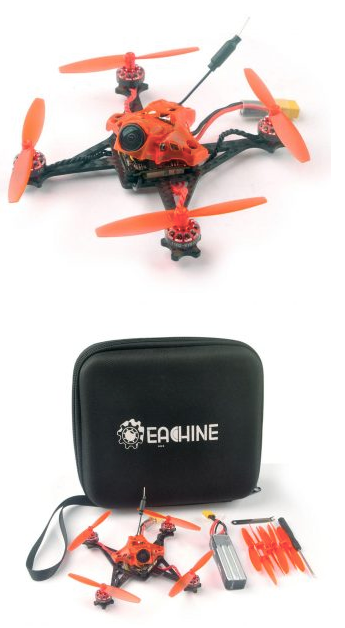 The RedDevil is based on a carbon structure of 10.5 cm diagonal from motor to motor, for dimensions of 9.5 x 9.5 c 5 cm (excluding propellers). The motors are 1102 to 8700KV brushless motors for 6.5 cm double-bladed propellers, driven by a 4 in 1 ESC of 5A. The flight controller is a Crazybee F4 Pro V2.1 flashed with Betaflight, with an active OSD. The image part is operated by a Caddx EOS2 1200TVL FPV camera combined with a 40 channel 5.8 GHz video transmitter capable of transmitting in 25 mW (the maximum allowed in France) or 200 mW to go further, with SmartAudio support.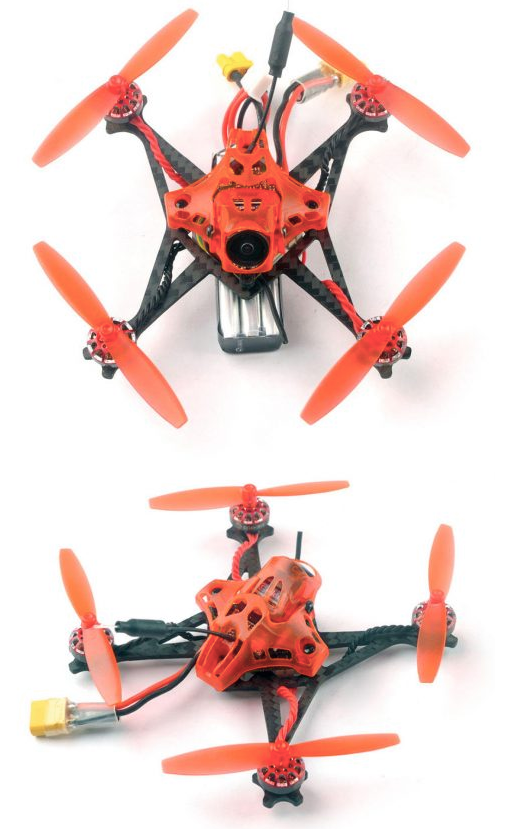 The weight? Less than 38 grams without battery… The RedDevil 105mm power supply is to be chosen in 2S or 3S (it is not necessary to go any further), with an XT30 plug. It is also necessary to add a radio receiver, or choose one among those proposed by Eachine (compatible with DSM2 / DSMX, Flysky or FrSky). The price? The RedDevil will be available from $102.00 at Banggood.