GEPRC CinePro 4K HD 3-4S FPV Racing Drone Advanced Version PNP/BNF F722 FC DUAL Gyro ICM20689 Camera
The Cinewhoop family is growing. Introducing GePRC's CinePro 4K, a device with features slightly above those of its competitors. The structure is quite classic, made of carbon with plastic propeller guards and aluminium camera guards. Inside, there is the Caddx Tarsier camera, a hybrid model that allows you to enjoy both 1200TVL analog video feedback and 4K recording at 30 frames per second (or 2.7K at 60 fps). Enough to film beautiful images. But to do this, you need a very stable device to avoid vibrations.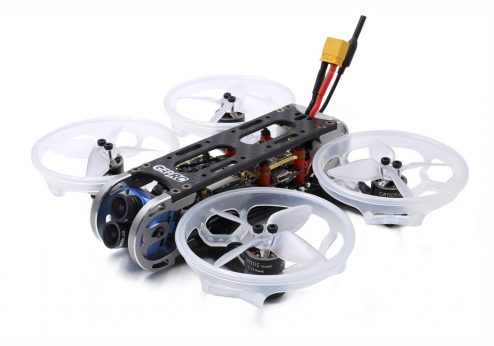 The flight controller is based on a latest generation processor, an F7! Isn't that a little disproportionate for a nano racer type device? It's hard to say until he's available for testing. It is conceivable that the additional computing power will allow for more flexible flights, or perhaps more efficient stabilization. The controller is flashed under Betaflight, with an active OSD.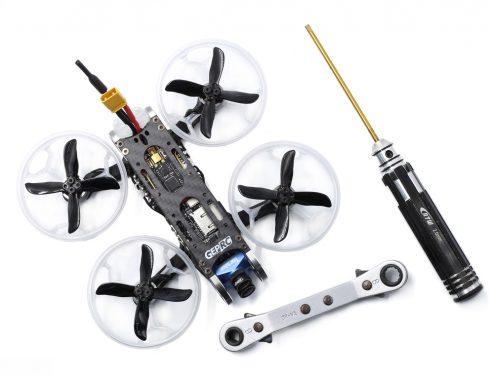 The propulsion part is provided by 1105 to 5000KV brushless motors driven by a 4 in 1 35A ESC capable of supporting 4S batteries. The propellers are 2-inch quadruple Emax Avan blades, supplemented by a set of Q2035 quadruple Dalprop blades – it will be interesting to check which ones produce the least parasitic vibrations. The video transmitter is a 5.8 GHz model with 48 channels capable of transmitting at 0 mW (pitmode), 25 mW, 100 mW, 200 mW, 400 mW and even 500 mW !
GePRC recommends 450 to 650 mAh 4S batteries with an XT30 connector to power the CinePro 4K. It will be offered from $270.00 at Banggood (without port, without taxes) without radio receiver. You can also choose a pre-installed FrSky XM+ or R-XSR receiver.