GPD Win 2 pocket Gaming Laptop
GPD launched the first generation GPD Win last year after a very successful crowdfunding campaign. Like its predecessor, the GPD Win 2 should come back in a clam shell design, with the majority of the technology being installed in the lower part. There is also a revised keyboard in combination with two analog sticks, a D-pad and the typical four console buttons. Thus, the device should be ideally suited for gaming purposes.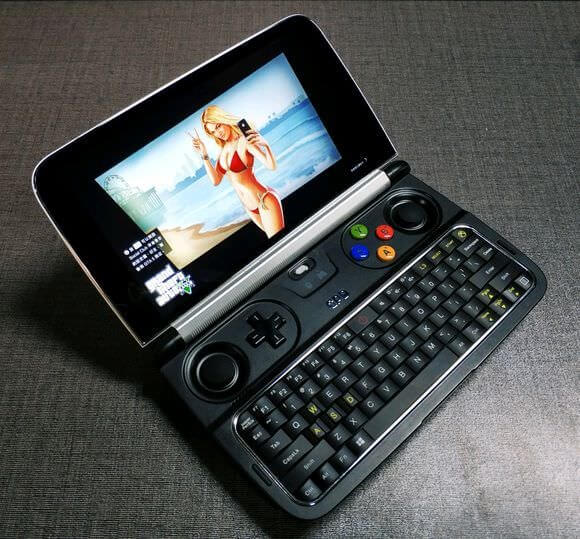 The screen is growing in the new version easily, because in the future, a six-inch panel with 1280×720 pixels and capacitive touch screen including a cover made of scratch-resistant Gorilla Glass 4 installed. Under the hood sits then instead of the "old" Intel Atom x5-Z8700 or x5-Z8750 a much stronger Intel Core M3-7Y30 SoC from the "Kaby Lake" family, so that more gaming power will be available.
The RAM will be quite generous with eight gigabytes, while the eMMC SSDs of the first generation model will be replaced by a 128 GB SSD connected via an M.2 slot and therefore replaceable. It is powered by ac-WLAN and Bluetooth 4.2, while two stereo speakers should provide decent sound.
GPD also plans to use two 4900mAh batteries, which will combine to deliver a capacity of 37.24 watt hours. Thanks to two vibration motors, the force feedback should be even better. On the back of the small Windows-based handheld console will in future be a USB Type-C port, a full-sized USB 3.0 port, a Micro HDMI output and a MicroSD slot. The audio output is also possible via a combined 3.5mm connection.
The package also gets a revised cooling module with fan, which should work up to eight times more effective than its predecessor. The keyboard is also revised and now extends over the entire case width, so that the inputs on it should be easier. The keyboard, however, remains rather secondary, since it is designed for the operation with the thumb and therefore not necessarily suitable for longer documents.
The GPD Win 2 is scheduled to start on January 15, 2018 as part of a new crowdfunding campaign before the first devices will be delivered to supporters starting in April. As an operating system then runs a normal Windows 10. Priced, the device is likely to break the 400-euro mark in the future, because the technical upgrades, the price is likely to increase a bit.