Hisense A5, an E-Ink smartphone under 100 USD
The new E-ink phone Hisense A5 is not the first smartphone with an E-Ink display from the Chinese company, as it has been preceded by at least three other models with dual-screen, including a main LCD and a monochrome on the back to save energy and control notifications without having to activate the screen. However, it remains the only Hisense smartphone with a single E-Ink display, as well as one of the few available on the market after the failure of Yotaphone and the delays in mass production of Kingrow K1 with the disappointment of those who believed in the project on Indiegogo.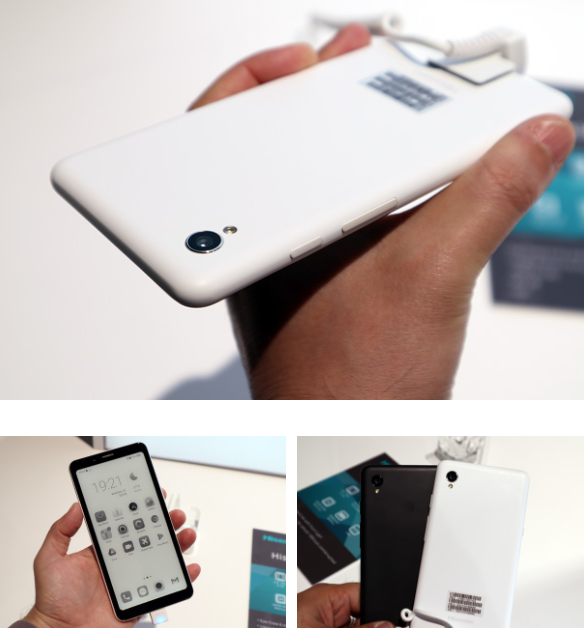 We had the opportunity to take some photos and make a quick hands-on video on Hisense A5 at IFA 2019 in Berlin, but we can already tell you that this "particular" smartphone will be on sale in Europe on Amazon by the end of the year for only 120 euros. And it's an exceptional price for a terminal of this kind, since a low-end ebook-reader with a definitely "less equipped" data sheet costs around 200 euros and the same Kingrow K1 has a price currently of 350 dollars.
Inside a monobloc polycarbonate frame, we find a Qualcomm Snapdragon 450 octa-core processor, 4GB of RAM and 64GB of ROM. The smartphone is also equipped with two cameras (front 5MP and rear 13MP with LED flash) and a 4000 mAh battery that – for an E-Ink display – will be enough for more than 10 days with constant use. Connectivity is well represented by WiFi, Bluetooth, a USB Type-C port for charging, a microSD card reader and a 3.5 mm audio jack. One of the most interesting elements is the operating system, updated to the latest Android 9.0 Pie release (probably in stock version) with Play Store to download and install third party apps.
Hisense A5 integrates an E-Ink 5.8-inch HD+ (1440 x 720 pixels) paper frontlight display with adjustable brightness (but not amber) for use in the dark, with all the pros and cons of E-Ink screens. This panel consumes very little power to the advantage of autonomy and never turns off, so you can see an image on the screen even if the smartphone is empty, but on the other hand has a very low refresh rate that compromises the "good viewing" of video. The Chinese company, however, has assured us that in the final version, will be integrated a "smooth mode" that will increase the refresh rate at the expense of a ghosting effect more pronounced than that already present (albeit slight) in the device on display. The screen has frames on four sides.