Hisense A6L is an a new Smartphone with dual LCD screen and electronic ink
The HiSense A6L front screen uses a 6.53-inch FHD + glittering water droplet screen, and the rear screen uses a 5.83-inch HD + professional eye care luminous ink screen; The dual-screen dual-task function is added, the front and rear dual-receiver design is retained, and the dual-sided answering function is supported.
In terms of unlocking, HiSense A6L still maintains the combination of double-sided face recognition and double-sided fingerprint recognition. At the same time, in terms of screen light sense adjustment, the double-sided light sense 3D dimming technology of the previous generation of products is retained, so that the recognition rate of ambient light is greatly increased, and the brightness adjustment is more accurate and comfortable.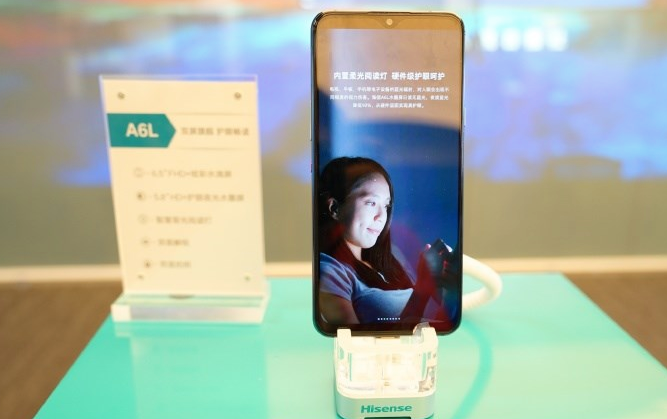 The HiSense A6L comes with a 5.84-inch eye-protection ink screen with a resolution of 1440*720, no blue light for daily reading, sharper screen with more sunlight, no pressure for outdoor use, and a book-like reading experience. Night reading blue light reduced by 95%, 256 grade soft reading light.
It comes with a Snapdragon 660 processor, 6GB of memory, 64GB of storage or 128GB of storage, a 6.53-inch 2340*1080 resolution water droplet screen, a 5.84-inch eye-protection ink screen, a 3800mAh battery, a long ink screen, and no power consumption in static state. It is equipped with 24 million + 8 million rear-mounted Sony dual cameras and 20 million AI front-mounted cameras.
HiSense A6L is an immersive reading device, which supports one-key reading. It can be used to start reading quickly by one-key of Ink-Wisdom key. It is convenient and fast anytime, anywhere. It can be used to read efficiently by fragmented time. Support do not disturb reading, not only can block the message to avoid disturbing, but also can set up important message reminder to avoid missing important calls; Supports massive reading, supports the Android 9.0 open system, the entire network resources anytime and anywhere open sharing.
For the students who have high requirements of reading and eye protection, it also has student mode, restricting application installation, Internet access time and network access, prefabricating learning applications, and creating a new eye protection learning mode.