Hisense A5 is a 6.7 inch E-Ink smartphone
The HiSense A7 continues the brand's work on large diagonal smartphone solutions using digital ink. After the A5 and following models launched earlier this year, here is an even more impressive solution.
The manufacturer continues to build on its momentum, a niche market that finds its audience of avid readers more interested in excellent visibility than a multimedia product. The HiSense A7 therefore continues the work begun and this time offers a smartphone with a very large diagonal in digital ink. With 6.7″, the newcomer clearly stands out from the competition, and also takes advantage of a few technical refinements to better stick to the market.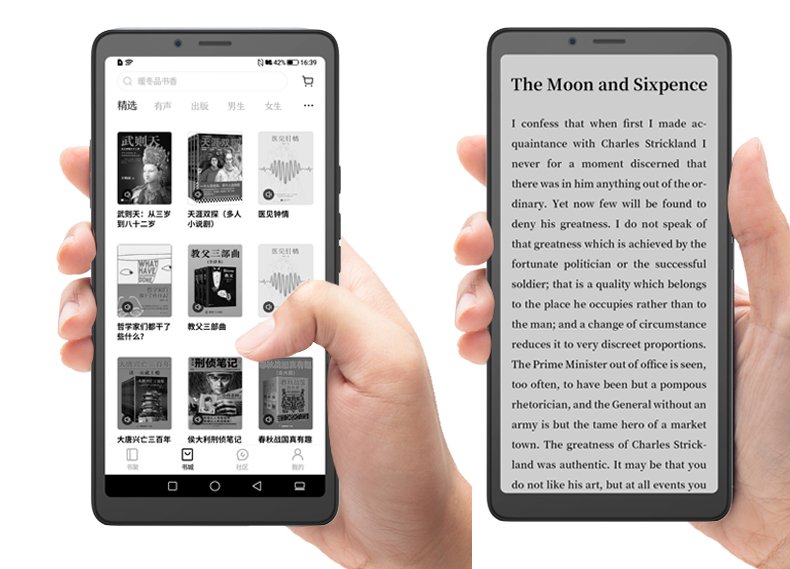 Offered in China at 1999 Yuans, or about $280, the HiSense A7 is a kind of digital reader on which the heart of a smartphone has been grafted. Under the digital ink slab, we find a rather rare solution with a Unisoc Tiger T7510 chip, a fairly common SoC ARM in its design with eight cores distributed in the usual way. Four big cores in Cortex-A75 at 2 GHz and four LITTLE cores in Cortex-A55 at 1.8 GHz. The whole is supported by an Imagination Technologies IMG9446 graphics chip.
This set will be more than enough to populate the density of 300 pixels per inch of the screen in digital ink developing 16 levels of gray. An obviously tactile and capacitive screen which will not suffer from a too important ambient luminosity and will propose a restful reading. The screen takes advantage of thin borders to improve the readability of the object and avoid making it too heavy. A lighting of the slab is also provided to be able to continue to use the object in a dark environment. For the rest, there is 6 GB of RAM and 128 GB of storage on which an Android 10 is implanted. The HiSense A7 offers two cameras, a fingerprint reader and even an 18-watt fast charge function.
Also on board is a 4770 mAh battery that should offer a different autonomy according to the uses you make of the machine. With all its telephony services, the impact of the energy-saving digital ink screen should not be extravagant. By using only the basic functions of the smartphone, it should offer an excellent capacity of use.
The trick is that digital ink by its very nature prevents you from using all the most demanding functions of a modern smartphone: you won't play games on a screen like this, any more than you will watch videos. This will immediately limit some of the most energy-intensive uses.