Hubsan Zino 2+ Plus GPS Latest Syncleas 9KM FPV with 4K 60fps Camera 3-axis Gimbal 35mins Flight Time RC Drone
Although on a daily basis I am more connected with racing drones than drones for aerial photography, even I cannot pass by the new premiere of Hubsan Zino 2+ Plus.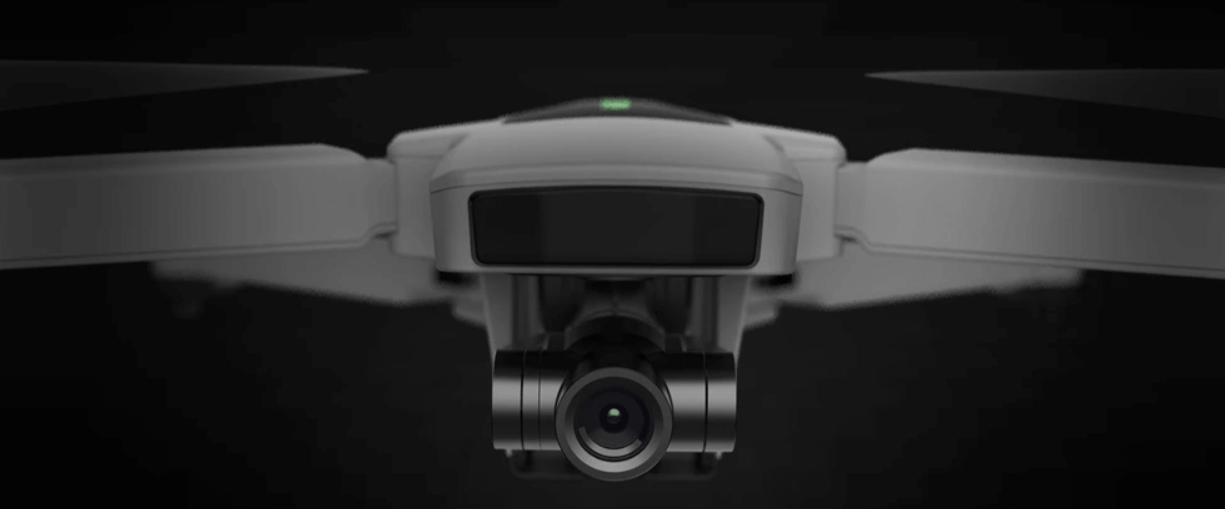 Not so long ago I tested the previous version of Hubsan Zino Pro on my site and to be honest it wasn't the quality I know from DJI drones, but for this price there is hardly any competition for Zino Pro on the market. It seems to me that it is currently the best drones of this type in the $500 – $800 range.
Despite many, really many satisfied users of Hubsan Zino or Zino 2 and great sales in Worldwide, Hubsan has not rested on its laurels and the premiere of its latest construction, Hubsan Zino 2+ Plus, will take place any day now.
Hubsan Zino 2+ Plus vs Hubsan Zino Pro
According to press releases, Hubsan Zino 2+ Plus will be faster, have greater range and longer battery life, which means that this model has been improved in almost every way. Hubsan writes about the 9km range, an improved camera that is able to record 4K videos at up to 60 frames per second. Among the positive design changes is, of course, the larger 4S battery with a capacity of 3800mAh, which will keep Hubsan Zino 2+ Plus in the air for more than 30 minutes in ideal windless conditions! At the same time I would have to change the battery in the race about 7 times.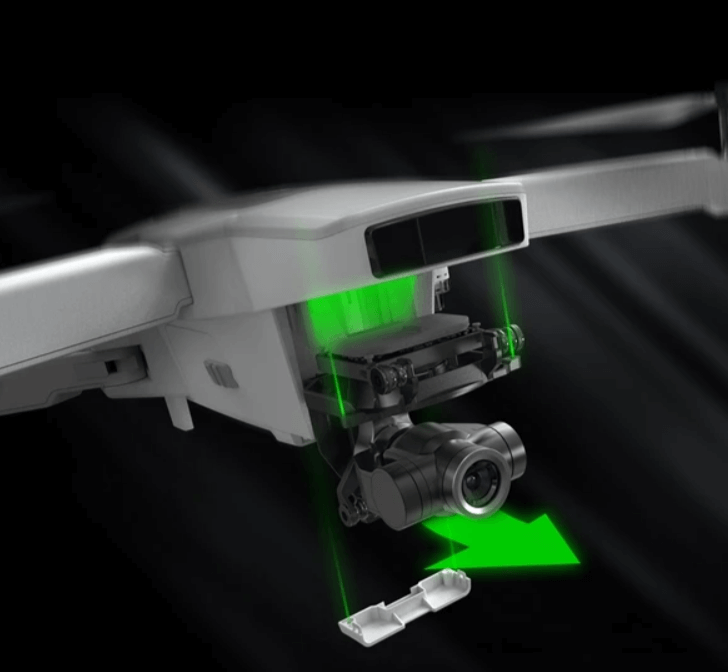 Since we're already at the race drones, it's worth mentioning that another improvement I mentioned at the beginning is the increased top speed, which in Zino 2+ Plus was doubled from its previous version.
The manufacturer said that Zino Pro is able to fly at 10 m/s maximum. In fact, I reached a speed of about 8-9 m/sec, but this factor is especially influenced by the weather conditions, because flying with a strong wind you could probably reach those 10 m/sec without any problem, and even significantly exceed. Hubsan Zino 2+ Plus is supposed to fly at a maximum speed of even 20 m/sec, which is about 50 km/h.
What else do we know about Zino 2+ Plus?
The new Hubsan Zino 2+ Plus measures 32.6 x 26 x 9.49 mm and weighs almost 1 kg, or 915 grams to be precise. Unfortunately, it is heavier than its first version (Hubsan Zino), which is marked H117S. It is also four times bigger than the new DJI version, the Mavic Mini.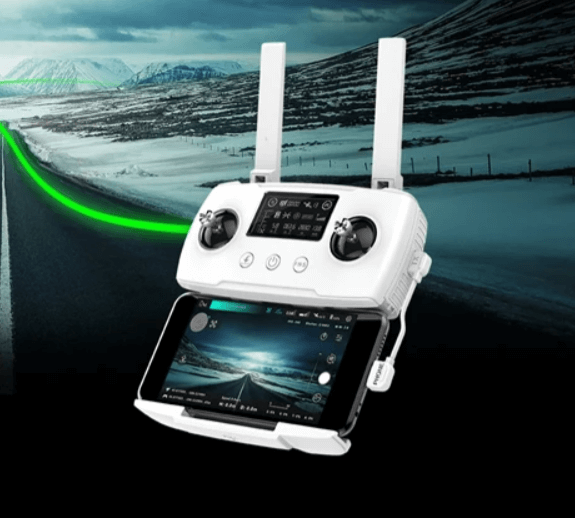 The design will continue to use a folding arm solution, and of course there will be a built-in GPS, but there are still no lower sensors implemented to maintain the height more precisely, which I wrote about in a review by Hubsan Zino Pro.
Finally, the camera uses a new and better Sony 1/2.3″ 12MP sensor with CMOS sensor and viewing angle up to 80°. As I mentioned earlier, thanks to this improvement we will be able to record 4K and 60 frames of video, but with a bitrate of even 100Mbps, which at least in theory guarantees that the video quality will be really good.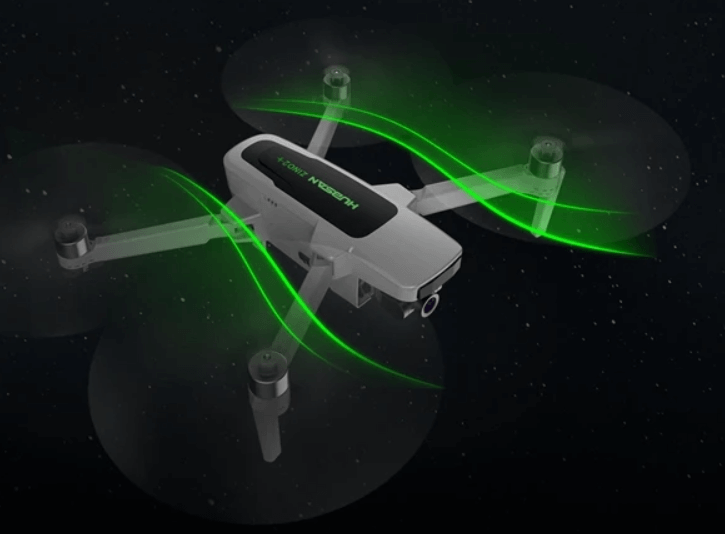 On the plus side, I definitely count another change in Zino 2+ Plus, which I mentioned in Zino Pro, namely the quality of workmanship and the lack of display in the controller. This time the controller has undergone some improvements and the most important information about flight time, distance from the ground, battery level and other parameters will be displayed on the built-in screen as was the case with Mavic Pro.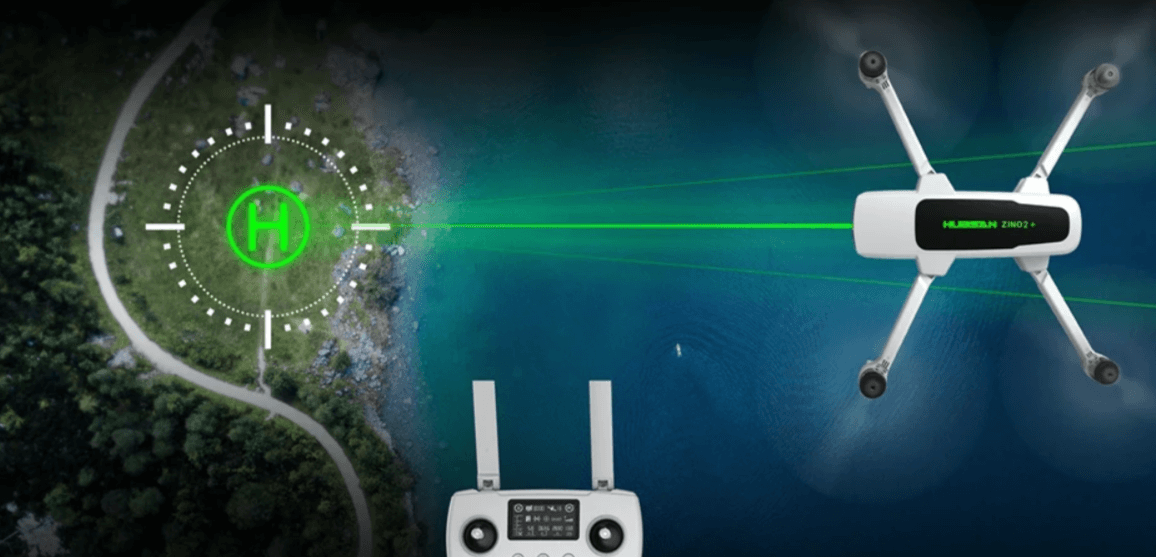 Hubsan Zino H117s vs Zino Pro vs Zino 2+ Plus
In a short summary the most important information that characterizes each of these models.
Hubsan Zino H117s
Hubsan Zino Pro
Hubsan Zino 2+ Plus
Dimensions: 304 x 252 x 90
Dimensions: 304 x 252 x 90
Dimensions: 326 x 260 x 95
Weight: 700 g
Weight: 700 g
Weight:

900 g

Recording: 4K 30FPS
Recording: 4K 30FPS
Recording:

4K 60FPS

Range: 1 km
Range: 4 km
Range:

6 km

Flight time: 23 min
Flight time: 23 min
Flight time:

35 min

Speed: 36 km/h
Speed: 36 km/h
Speed:

50 km/h