INMOTION P2 Folding Electric Bike
Inmotion company has just unveiled at a press conference in Wuhan, China, the second generation of its folding electric bicycle. It is available in two versions, the Inmotion P2 and P2F. The manufacturer keeps the very compact format of its current mini scooter (P1 or P1F) with a very similar design. However, the range has increased significantly, with 60 km theoretical in pedal-assisted mode.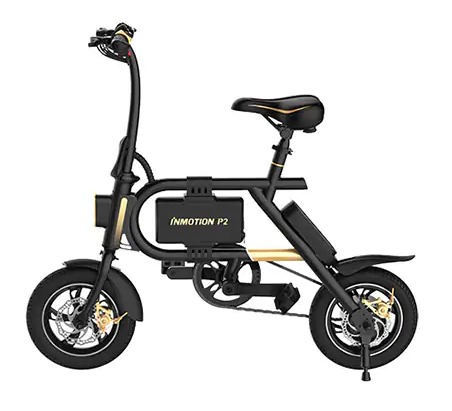 At Inmotion, the current news is of course the launch of the new V10 electric wheel and its more durable variant, the V10F. The brand, which now has the portfolio of patents historically held by Solowheel, is not only active in the monorail sector, however. In its catalogue, there are scooters (L8 and L8F), a small skateboard called K1, and various references to handlebar gyro-pods (Segway type) or hoverboards.
Finally, Inmotion has a funny reference in the catalogue, half scooter, half rational, the P1 (or P1F in a more autonomous version). The machine looks like an electric bicycle folding except that it has no pedals, chain or sprocket: you move forward by turning the throttle handle, like on a moped.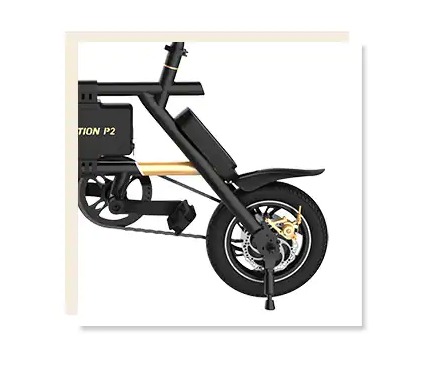 The hybrid approach is fun but poses some problems for use: impossible to pedal when the battery is empty, no need to try to get exercise… the P1 was finally just a small scooter with a saddle. However, these limitations did not prevent Inmotion from distributing P1 worldwide.
With the INMOTION P2 announced on May 5 in China, Inmotion bridges the gap and turns its mini scooter into a real bike. The appearance is almost identical, with a tubular structure in the centre of which the battery nestles. Once folded, the bike measures less than one metre, which suggests easy transport and storage. The Inmotion P2 model has a 36V and 5800 mAh battery that increases its weight to 16.5 Kg, while the Inmotion P2F variant has a 7800 mAh battery, at a slight overweight of 500 grams.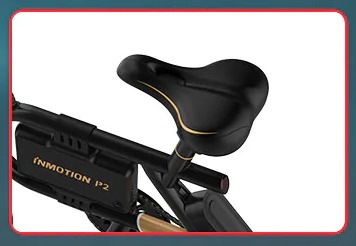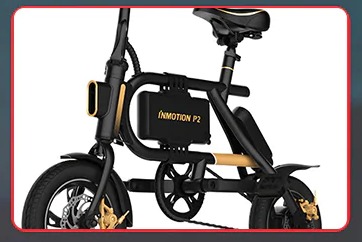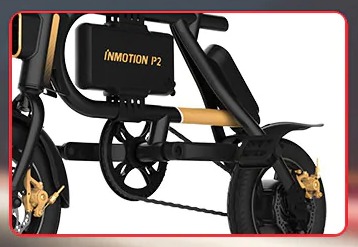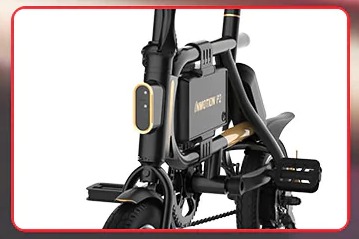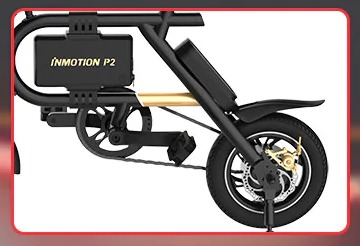 As for performance, it should come as no surprise that we have a top speed cap of 25 km/h. The range would be 25 Km (P2) or 32 Km (P2F) in scooter mode (without pedalling). We would reach 55 Km (P2) or 70 Km (P2F) in pedal-assisted operation.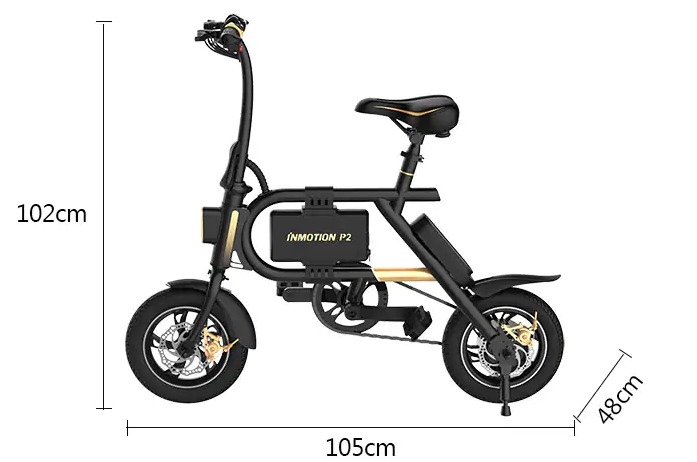 At first glance, Inmotion seems to have adopted a similar operation to that of the Fiido D1 recently tested in our columns: the bike should keep a handlebar acceleration allowing to move forward without pedalling. If this characteristic is confirmed, then we go beyond the exact definition of an electric-assisted bicycle (whose motor should only be activated when pedalling) but shush, don't tell anyone, it's sometimes very practical!