Kospet Optimus 2 Android 10 Smart Watch Phone
Kospet, a Chinese smartwatch manufacturer, is releasing the Optimus 2, an Android OS-based smartwatch. We recently introduced the Zeblaze THOR 6, a new generation smartwatch with a new OS, and the Optimus 2 also comes with a new generation, or rather a new version of the OS and a more powerful CPU. As for smartwatches with OS, it seems that the basic parts are shared among manufacturers, and when one company's system configuration is renewed, other companies often follow suit with almost no time lag.
The KOSPET Optimus 2 shares the same basic system configuration as the Prime 2 with Android 10, but the details are quite different. Personally, I feel that this product is "More like a smartphone".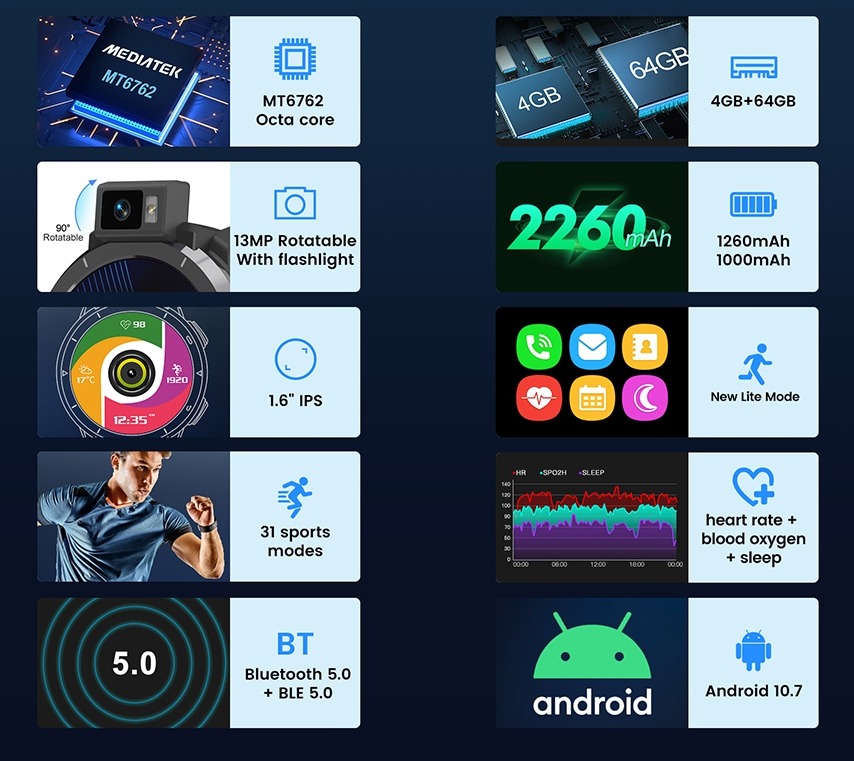 The Android OS is Android 10, the CPU is Helio P22, and the RAM is 4GB with 64GB of storage, which is exactly the same as the Zeblaze THOR 6. For a long time, Android OS smartwatches have had "Android 7.1/MediaTek MT6739/RAM3GB/Storage32GB" as their "upper limit specs", but here they are all new and more powerful.
Even with these specs, it's still an "entry-level" Android phone, but even though it's a phone on the inside, the case is a watch. I think the configuration is more than enough, considering that the display size is minuscule and there is a performance bottleneck in operability.
The display is 1.6 inches, and few other OS-based smartwatches are larger than 2 inches. The resolution is also 400 x 400. However, I think that the larger display size has improved the operability (touch operation).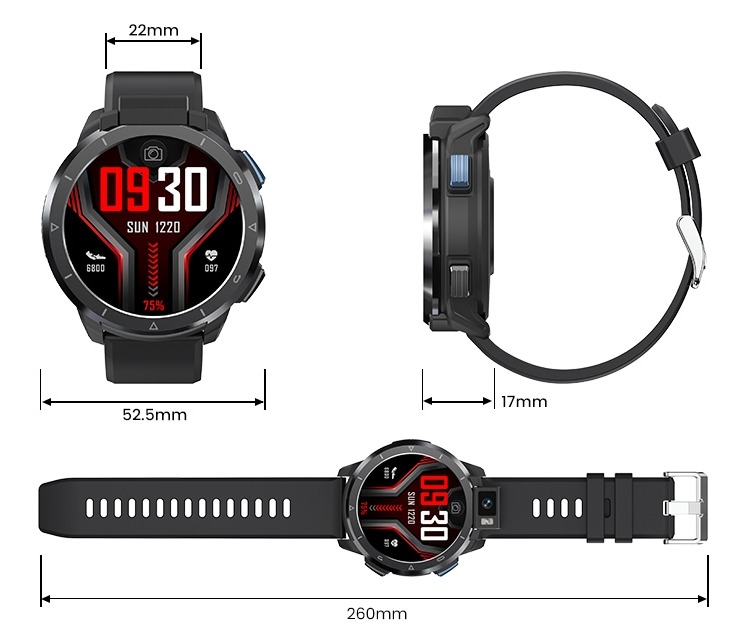 Also, the camera is amazing. The Optimus 2's camera is 13MP, and it uses a Sony IMX214 sensor with photoflash, so we expect it to be a big improvement from the previous OS-based smartwatches. Well, I can't say for sure until I actually try it out…
As for the battery, the display shows that it's quite large at 1260mAh+1050mAh power bank, which is roughly double the 830 mAh of the Zeblaze THOR 6, but it's probably a "low voltage number". I don't know exactly, but I think the Optimus 2 is calculated at 3.8V and the TOR 6 at 7.6V, so in effect they are "about the same".
Comparison of Spec of some popular models:
Product name
KOSPET Optimus 2
KOSPET Optimus Pro
KOSPET Prime 2
Selling points

1. 13MP Rotatable Camera, IMX214, with photoflash




2. MT6762 Octa-Core+PAR2822 Dual-chip




3. Android mode+ 4G Lite mode




4. Blood oxygen/Sleeping monitoring

1. Dual chip, dual mode
2. 1.39″ HD AMOLED display screen
3. 800mAh Battery Capacity
4. 3GB+32GB
1. The World's First 13MP Rotatable Camera
2. The World's First 2.1-inch Full-Round Retina Display
3. Helio P22, The World's First Octa-Core Smart Watch Phone
4. The World's first 4GB + 64GB Memory Smart Watch
5. The World's First 1600mAh Battery (Largest Battery Capacit) Smart Watch
6. The World's First Android 10 Smart Watch
CPU
MTK6762 Octa-Core 1.5GHz+PAR2822
MTK6739 1.25GHZ
MTK6762 Octa-Core 1.5GHz
RAM

4GB+64GB

3GB+32GB
4GB+64GB
Dual mode
Android Mode+Lite Mode
Android mode+Bracelet mode
N/A
Display Screen
1.6″ IPS ,400*400
1.39″ AMOLED 454*454
2.1″ IPS 480*480
Camera
13MP Rotatable Camera IMX214 auto focus
8.0MP+2MP Fixed focal length
13MP Rotatable Camera IMX214 auto focus
Battery Capacity

1260mAh+1050mAh power bank

800mAh
1600mAh
Standby Time
Android Mode 1-2 Days
Lite Mode: 3-5 Days
Android Mode About 1 day
Lite Mode: 5-7 Days
2-3 Days
Heathy monitoring
Heart rate/blood oxygen/Sleeping monitoring
Heart rate
Heart rate
Face ID
Support
N/A
Support
Operating system

Android 10

Android7.1.1
Android 10
GPS system
GPS+GLONASS+BEIDOU
GPS+GLONASS
GPS+GLONASS+BEIDOU
Watch Strap Material
Removable strp
Removable strp
Removable strp
Waterproof Rating
Not water proof
IP67
Not water proof
SIM card
nano SIM card
Nano SIM card
Nano SIM card
Surpport system
ios/Android
ios/Android
ios/Android