LAOTIE® ES11 52V 28.8Ah 21700 Battery 1200W*2 Dual Motor Foldable Electric Scooter
Although for everyday use I still use an Xiaomi M365, about 4-5 years old, and the occasional Eleglide D1 Master, from time to time I still get a peek at some electric scooters, the LAOTIE ES11 being one of them. It's a model that combines design elements from the FLJ Speedbike SK3 and YUME X7, and has features worthy of an electric scooter that you feel safe on and can enjoy riding around town.
Once you've used a scooter with 10-inch wheels, you'll never want to go back to anything smaller, and the LAOTIE ES11 boasts 10-inch pneumatic wheels with a 3-inch width. This translates into increased comfort and added safety. Another comfort aspect is the footplate, which is 17 inches wide. This gives you plenty of leg room and allows you to move around a bit over long distances to loosen them up.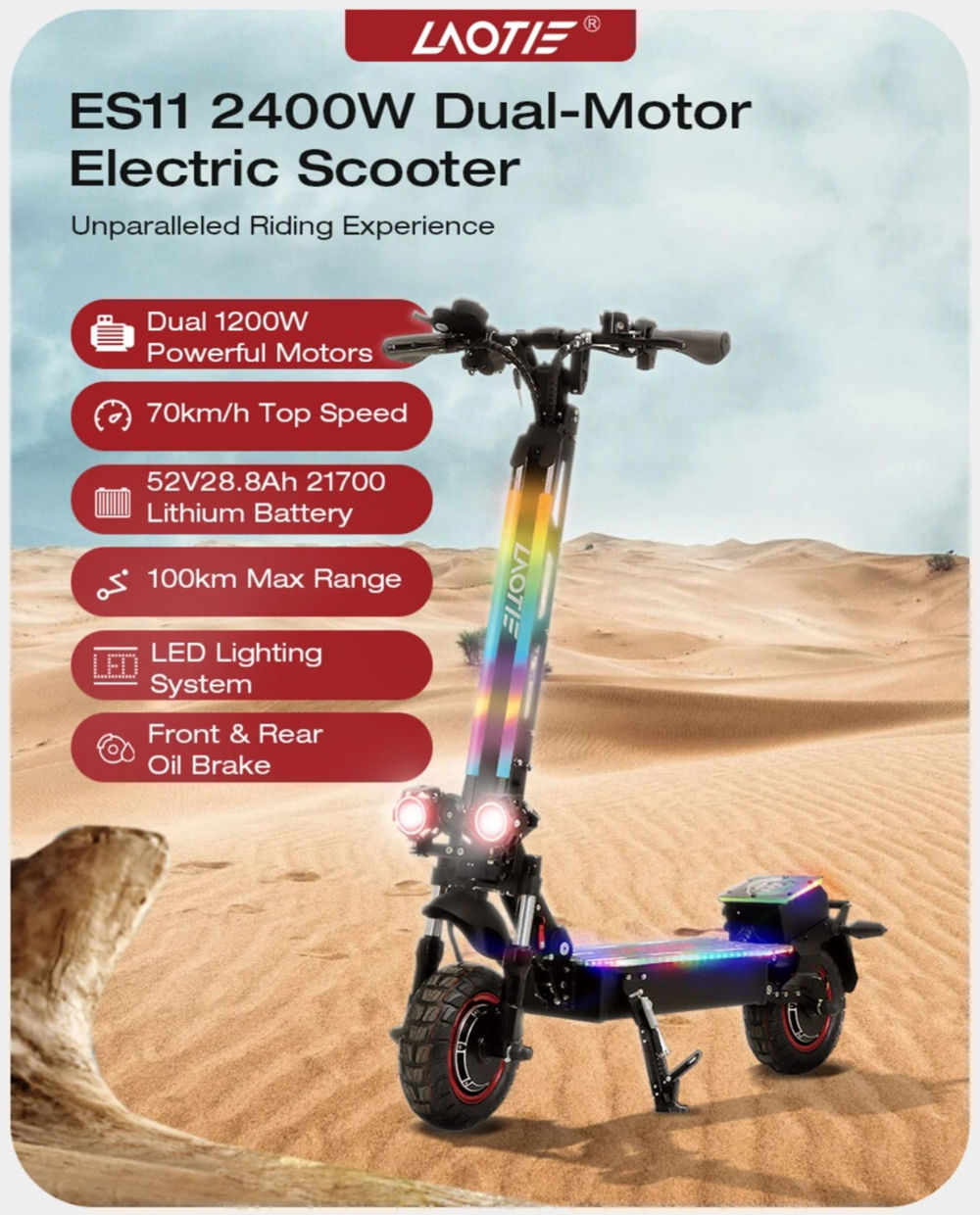 The 1200W*2 motor is enough for city use, it will ensure a good start and make the scooter able to climb slopes up to 45 degrees without any problems. It has 3 speed gears and the maximum reached is 70 km/h. It can certainly reach higher speeds, but is most likely electronically limited.
In terms of safety we have a disc brake on the rear wheel and an electronic brake on the front wheel, where the engine is located. It has both LED headlight and taillight, and there's a generous display on the handlebars showing all the information you need. The scooter also comes with a mobile app.
The ES11 can even be used when it's raining outside, thanks to its IPX4 protection rating. All these features make the scooter weigh 47 kilograms. It can hold up to 200 kilograms.