Leagoo S12 with a Middle perforated screen
As promised on the eve of the MWC 2019, We can found the new phone LEAGOO S12 was displayed in the booth of the Chinese company where visitors had a look at the design and technical specifications of the new flagship. It's just a broken prototype, a plastic mockup, but it gives us useful information about LEAGOO's choices for its next generation of smartphones. And we can already tell you that the S-Series will be very interesting for several reasons. The mobile phone with this shaped screen emerged in 2019. We mentioned CUBOT Max 2 last month, which is the world's first right-hand water drop screen.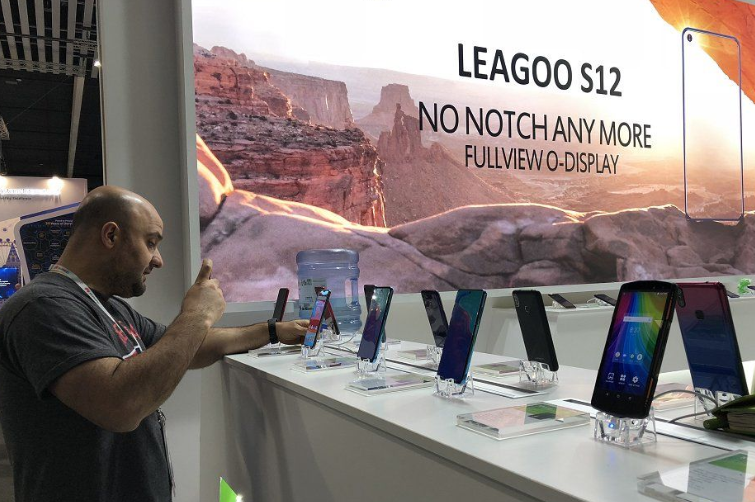 We were at the stand Leagoo, they are also ready to let out their phone with hole on the display, the leagoo S12 but for now we can only see a prototype of how it will be, we can finally see the leagoo S10 a top of the range with sensor impressions digital under the display that would also be desirable if the price was more 'affordable, at $349 indeed we surely find more convincing alternatives.
From an aesthetic point of view, LEAGOO S12 is a FullView smartphone characterized by a large display with ultra-thin frames and a central hole of only 3.1 mm in diameter that houses the selfie-camera, for a screen-to-body ratio greater than 95%. It is very easy to hold, handy (157 x 75.2 x 8.6 mm) and practical, but the glossy cover with "gradient" effect (from blue to water green) also adds a touch of elegance. In short, if the final prototype remains unchanged, LEAGOO S12 will not disappoint you.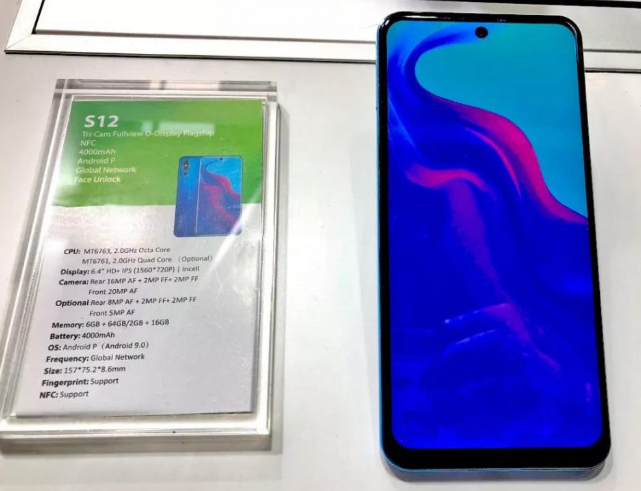 Turning to the technical aspect, the Chinese company has already defined all the technical specifications: LEAGOO S12 will have an in-cell 6.4-inch HD+ (1560 x 720 pixels) IPS display and will be based on a MediaTek MT6763 2.3GHz octa-core processor as an alternative to a MediaTek MT6761 1.5GHz quad-core, with 2/16GB or 6/64GB of memory depending on the SKU. The photo compartment uses a 20MP selfie camera in the front hole and a triple camera on the back consisting of 16MP + 2MP + 2MP sensors with LED Flash interposed, although in reality there may be entry-level versions with a 5MP front camera and an 8MP + 2MP + 2MP tri-camera with LED Flash. Please note that both the front sensor and the main rear sensor support auto-focus, compared to the others that are characterized by fixed focus.
The smartphone is equipped with a 4000 mAh battery, which should ensure good autonomy thanks to the efficiency of the processor, as well as a fingerprint sensor and an NFC module. There is also WiFi 802.11n, Bluetooth 4.2, 4G-LTE (dual-SIM dual stand-by), a 3.5 mm audio jack and a USB Type-C port for charging and data transfer. The operating system is Android 9.0 Pie.
We don't have any price information yet, but we know that LEAGOO S12 will be released on the market in April 2019, probably in the company of its brother LEAGOO S11, to whom we have dedicated an in-depth article.