MINISFORUM EliteMini UM700 Mini PC With AMD RYZEN 7 3750H
While the Minisforum UM300 is one of the best MiniPCs that I have been able to handle up to now, the brand continues to evolve with new models that are always more efficient. After an EliteMini Box X400 under AMD Ryzen 5 Pro 4650G announced in equity financing, here comes the EliteMini UM700 which embarks a Ryzen 7 3750H.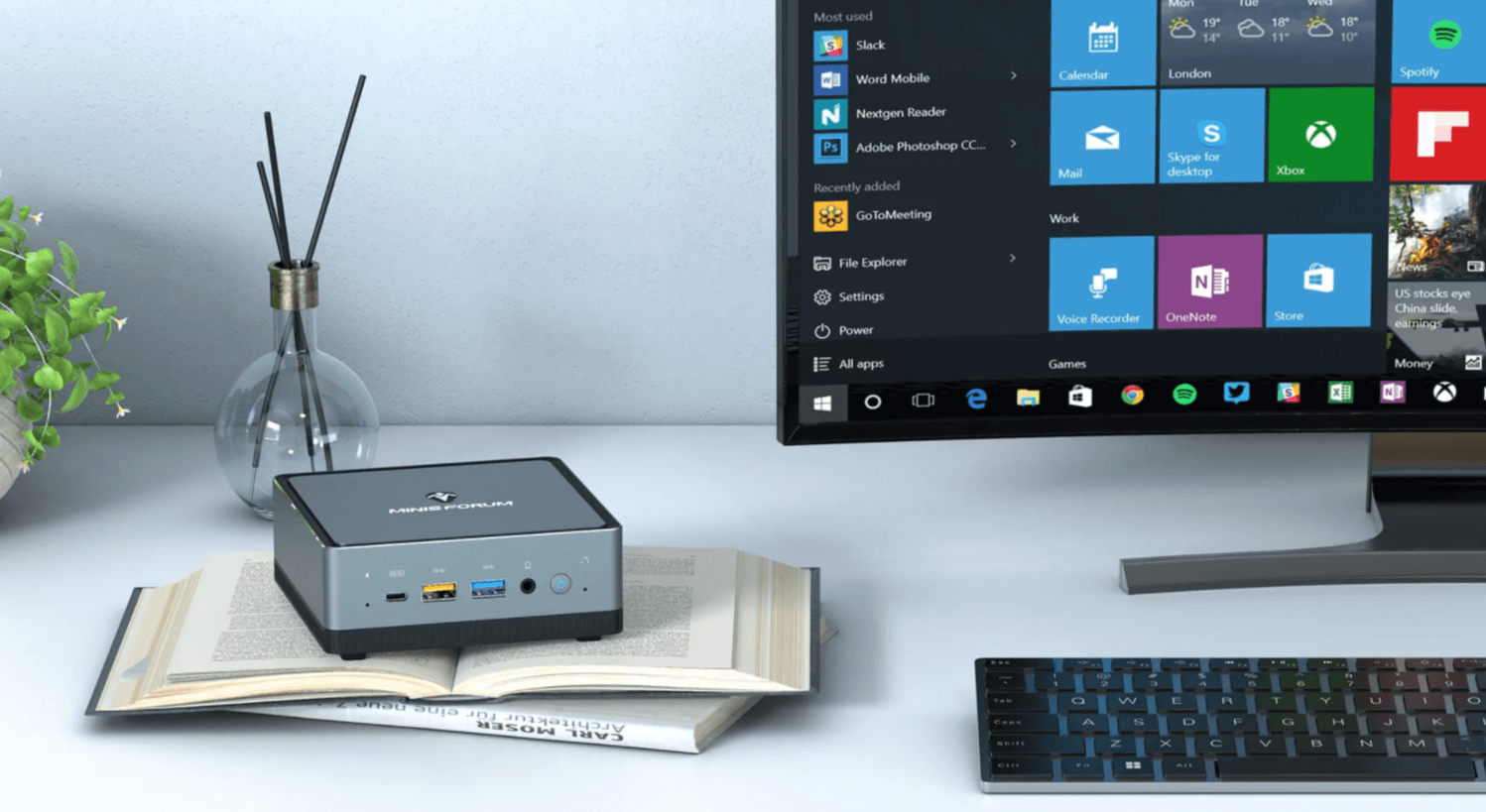 The machine retains the same dimensions, 12.8 cm wide by 12.7 cm deep and 4.6 cm thick, and retains its special design with a top cover that lifts up with a simple press. Under this cover we will discover 3 important elements: A 2.5″ SATA 3.0 slot to add an SSD or a mechanical disk to this format. But also two dual-channel DDR4 slots to accept up to 64 GB of RAM and an M.2 2280 PCIe NVMe port for a very fast SSD.
By default, the EliteMini UM700 will offer 8-16 GB RAM and up to 512 GB of NVMe PCIe SSDs. On the other side of the machine, less convenient access will allow the rest of the on-board components to be discovered. The Ryzen 7 3750H processor for starters, well hidden under a fan and a classic laptop heatsink. The latter is a solution developing 35 watts of TDP and which offers 4 cores and 8 Threads on frequencies ranging from 2.3 to 4 Ghz with 4 MB of L3 cache. It embeds a rather powerful Radeon Vega 10 graphics circuit which should open the door to many 2D, video and 3D uses.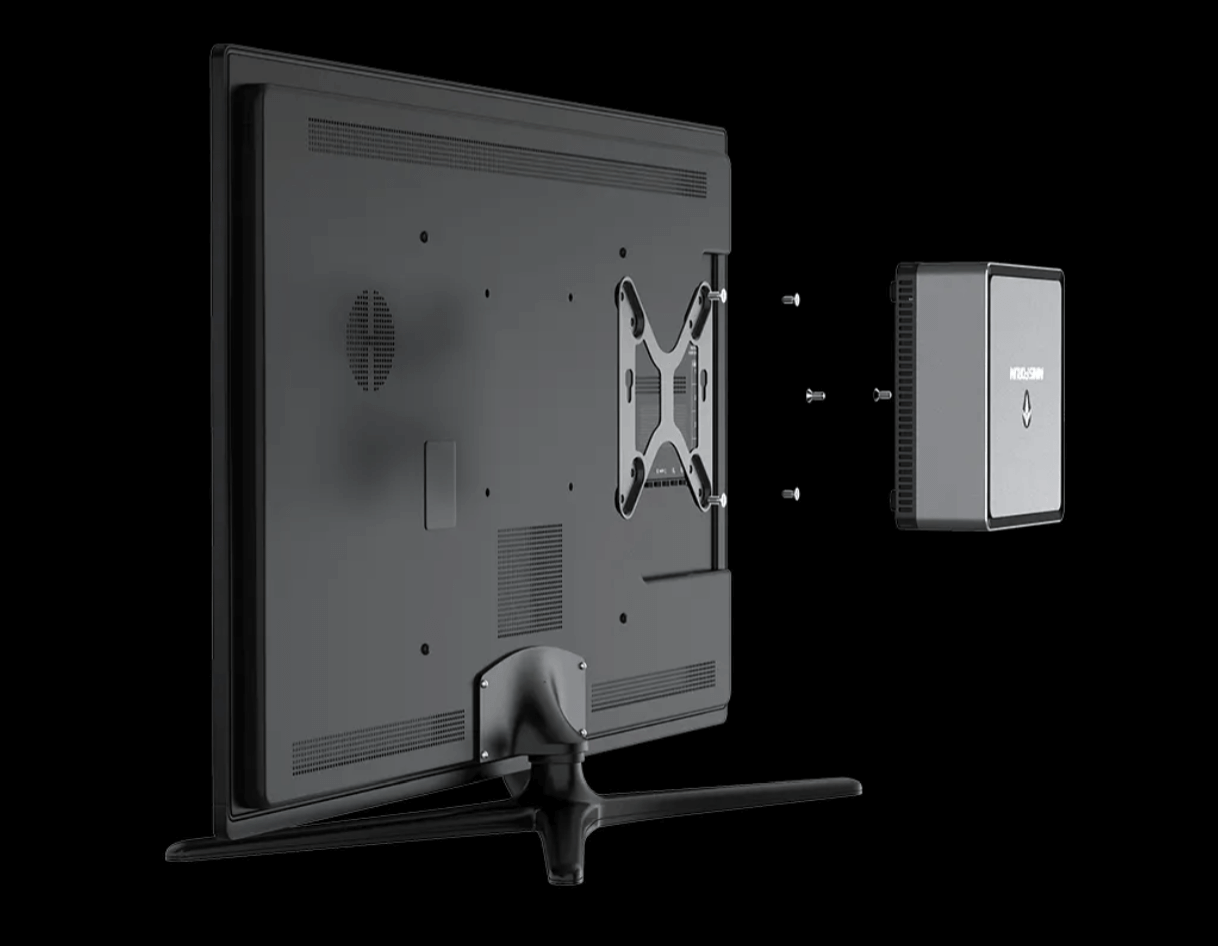 There is also an M.2 2230 slot occupied by an Intel AX200 card that will offer Wifi6 and Bluetooth 5.1. The rest of the connectivity does not move compared to previous models. The EliteMini UM700 can drive three UltraHD displays. It offers a front USB Type-C port that supports a DisplayPort video output. But also two rear video outputs with an HDMI 2.0 and a DisplayPort.
On the front panel there are two additional USB ports with one USB 3.1 Gen1 and one USB 3.1 Gen2. An audio jack port combining headset and microphone, the start button and two small built-in microphones.
On the rear part, two other USB 3.1 Gen2 ports are visible as well as two Gigabit Ethernet network ports, an anti-theft port and a classic jack type power supply. A solution identical to the Deskmini DMAF5 which launched this new range last June under Ryzen 5 3550H but a little better equipped in terms of processor.
The EliteMini UM700 is expected for December at a price of $569 in 8/256 GB and $669 in 16/256 GB. This may be the black point of this announcement, while the Minisforum UM300s are fighting in much lower prices with their Ryzen 3 3300U. It remains to be seen whether it is the right target for this kind of machine? A sober desktop model that performs well in all classic tasks sold at a very affordable price or a faster machine but may be a little too expensive?