Minisforum prepares GameMini mini-PC based on Ryzen 5 5600X and Radeon RX 6700XT
The GameMini is a compact system with a vertical, open design. The mini PC uses current components from AMD as a combination.
The Chinese manufacturer Minisforum has shown the GameMini, a quite unusual mini PC: The system is reminiscent of an open benchtable, but it is set up vertically. Silverstone's Raven case series, among others, also has such a principle with connections at the top. Above all, the computer is strongly reminiscent of XTIA's Xproto.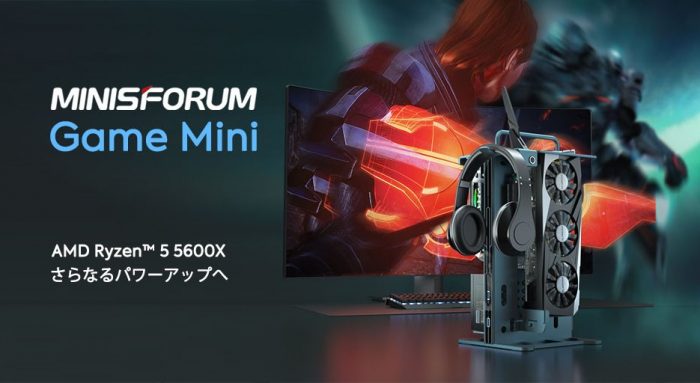 Minisforum presents the GameMini fully equipped, but it is apparently basically a Mini-ITX barebone for self assembly. The version published by the manufacturer uses a Gigabyte B550I Aorus Pro AX as motherboard, a Ryzen 5 5600X (review) as CPU, a Radeon RX 6700 XT (review) as graphics card and a Silverstone SX650-G as power supply.
Due to the open design, cooling is simple, as each component is self-ventilating. However, such benchtable designs tend to get dusty in constant use, which increases the system's temperatures and noise level in the medium term. In return, the Minisforum GameMini is very easy to upgrade because almost all hardware is directly accessible. Only the second M.2 slot on the back of the motherboard requires disassembly.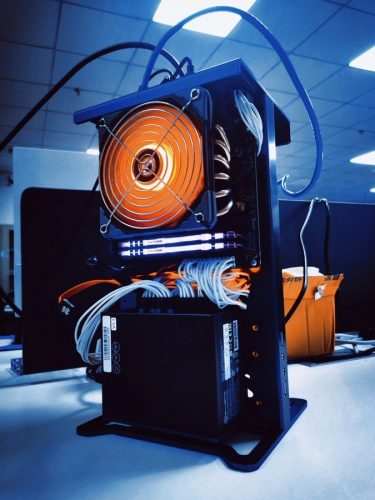 While the CPU and the motherboard are installed comparatively "classically", the graphics card is appropriately staged with the help of a riser card on the back of the open case.
Furthermore, 32 GB of DDR4-3200 from Kingston's HyperX series and a 1 TB PCIe SSD in M.2 format are used. A Silverstone SX650-G with 650 watts of nominal power and 80Plus Gold certification takes care of the power supply.
Minisforum has not yet commented on the price and availability of the GameMini. However, the Chinese manufacturer usually finances such systems successfully via crowdfunding, which could also be the case for the GameMini. Minisforum also sells its computers in Europe, for which the manufacturer has its own online store. Gaming computers have not been the focus so far. Instead, Minisforum primarily sells mini PCs with processors including an integrated graphics unit.