MINISFORUM X35G IS A MINI PC WITH UNDER I3-1005G1 CORE PROCESSOR
The dirty mania of the builders continues. The Minisforum X35G wants to take advantage of participatory financing to make its advertising campaign and avoid any risk of financing for the brand. This original MiniPC, which will offer a tenth generation Core Intel processor, should start its career through a participatory financing on Indiegogo in October.
The design of the Minisforum X35G is very sober with contained dimensions: 13.65 cm wide for 12.15 cm deep and 4.05 cm thick. The machine weighs 500 grams and its frame is made of a single piece of metal that caps an ABS base.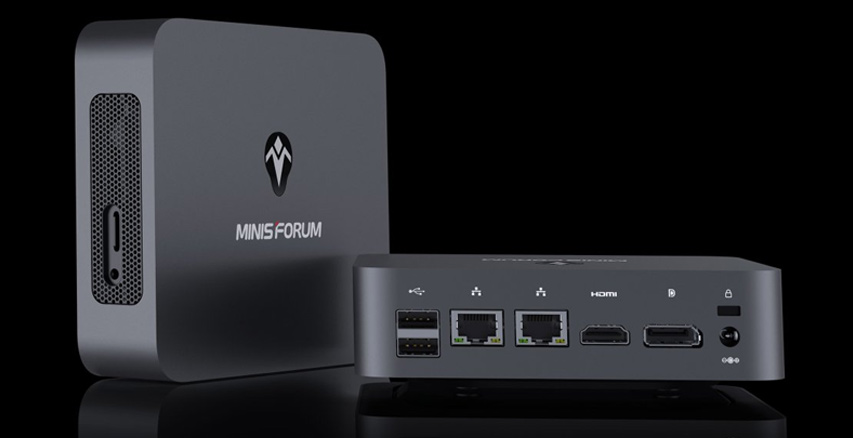 Inside is an Intel Core i3-1005G1 processor, a dual-core, quad-threaded solution operating from 1.2 to 3.4 GHz with 4 MB of cache. This tenth-generation chip develops 15 watts of TDP, which will be actively cooled by a rather imposing ventilation system. There is a fan that blows fresh air drawn from the side of the machine to the other side through fins.
The processor is capped by two heat pipes that transmit the heat it gives off to these fins. A common solution that should perform the task at hand without too many worries. Minisforum indicating that the chosen solution is normally capable of supporting 28-watt TDP chips. The brand therefore insists on the stability of its device even during long test phases where all components are pushed to 100% of their capacity. The processor would remain below 70°C and the ventilation system would remain particularly quiet.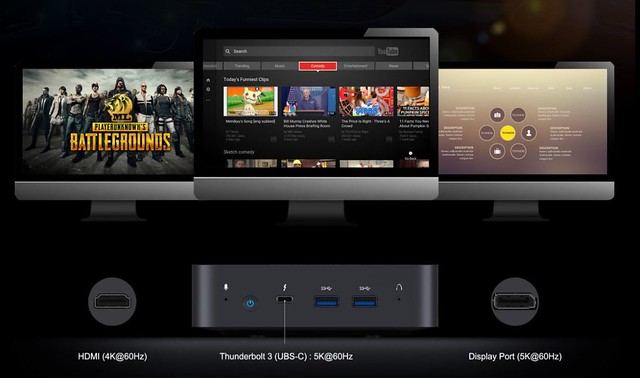 The Minisforum X35G is a rather classic design minimachine, more in any case than the AMD Ryzen versions currently on sale by the brand. On the Minisforum UM300, we find a system to access easily to the removable components with a simple pressure on the case. This model will require an extensive intervention to access the components. It will first be necessary to remove the bottom of the chassis, then not less than 7 additional screws to disassemble the system supporting the ventilation of the machine before reaching the entrails of the object.
Entrails more limited than AMD versions again since the RAM will be soldered to the motherboard. The machine will support 16GB of DDR4-3200 with dual channel processing but it will be impossible to upgrade it in the future.
For storage, on the other hand, there will be quite a few possibilities with three different locations. A PCIe NVMe M.2 2280 port compatible with Intel Optane, a second M.2 2280 port but in SATA 3.0 and finally a 2.5″ SATA 3.0 slot. The wifi card will also be accessible through a classic M.2 2230 port, the device will however be delivered with an Intel AX200 module in Wifi6 and Bluetooth 5.1 which will not necessarily need to be modified in the future.
This chassis offers a very good connectivity with two USB 3.1 Gen 2 Type-A ports and a Thunderbolt 3.0 port on the front panel, a microphone is also integrated as well as a reset button and the start button.
On the back, there is a dual USB 2.0 Type-A port, an HDMI 2.0, a DisplayPort and two independent gigabit Ethernet ports driven by Realtek RTL8111 chipsets offering advanced features: Wake On Lan and network boot for example. Note that the BIOS will also allow the Minisforum X35G to be booted at fixed times. A solution that can therefore be interesting for video display or kiosk uses for example. The engine will also offer a MicroSD card reader and a headset and microphone combo jack port on the side.
Power will be supplied by a 19-volt power supply or via the Thunderbolt, which can also drive an additional display. This will allow the machine to manage up to 3 UltraHD displays. We also note the presence of an anti-theft support of Kensington Lock type. Here again, we see a willingness to address professional uses.
The package should be offered at 399$ for its launch on Indiegogo, but we still don't know how much storage will be delivered with the machine nor if it will be a SATA or NVMe SSD. As usual, with the use of a participatory financing system on Indiegogo, I clearly do not encourage you to invest in this type of scenario. Firstly because it probably has no practical interest and secondly because it only gives you disadvantages in the long run.
In practice, you will pay the price at which the object will be marketed very quickly in the following months, it is a rule that has always been verified over time. This type of project on Indiegogo has no vocation of participative financing, they are only there to ensure visibility to the machines while avoiding taking too many risks to the sellers. In all cases, the machines are then found on classic sales platforms such as AliExpress, Banggood, Gearbest and others. Often, these platforms allow you to benefit from promotional codes making the offers in participative financing less interesting in the end.
It often happens that the products are delivered to the sellers at the same time as they arrive in the warehouses in charge of the international distribution of the products in participative financing. This does not leave you with any advantage in terms of speed of delivery either. Finally, this system does not give you any rights as a customer, you are an investor. Apart from the problems linked to the risk of a participative financing on a platform like Indiegogo, you are not entitled to any legal guarantee. An investor does not make orders, it is not mail order. You are not entitled to a minimum guarantee but just to receive the product for which you put your money. This doesn't take anything away from the possible qualities of the product itself, it is just another reminder of the problems of this type of financing misused by many brands that have absolutely no need for such a platform but find it very convenient to reverse the burden of risk with thousands of anonymous customers.