MINISFORUM GK50 Windows 10 Pro MINI PC
The Minisforum GK50 is an interesting mini PC to follow. It features an Intel Pentium N5030 chip with 4 cores running from 1.1 to 3.1 GHz with 4 MB of cache memory and above all a low TDP. Only 6 watts, which allows it to be integrated into a totally passive solution. The processor is covered by a metal heatsink which alone ensures the thermal exchanges necessary for its cooling.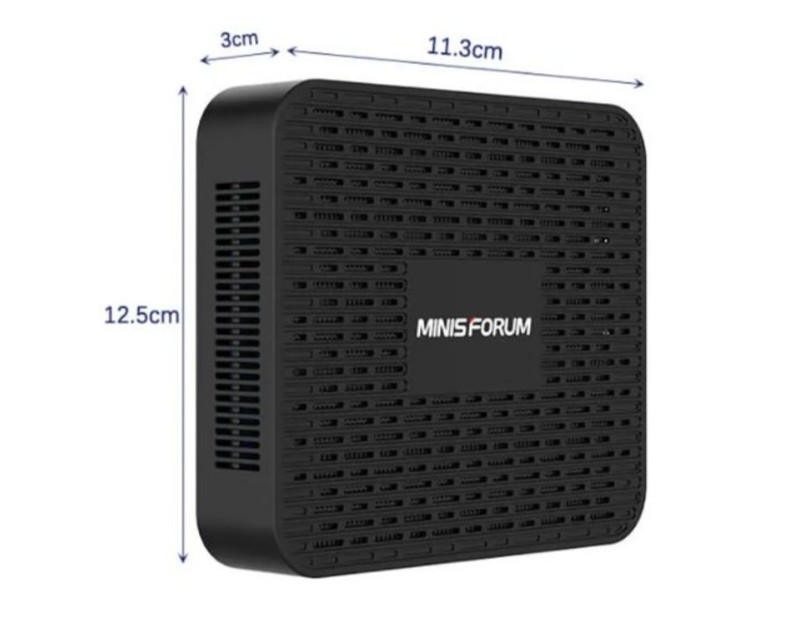 With this Pentium at the 750 MHz graphics frequency in Intel UHD 605, the Minisforum GK50 should offer a nice array of classic uses. It will be accompanied here by 8GB of LPDDR4 RAM, a soldered, non-expandable module, and 128 or 256GB of SATA 3.0 M.2 2280 base storage. A 2.5″ SATA 3.0 expansion bay will accommodate additional storage, more willingly an SSD than a mechanical drive to avoid hearing its motor.
For the rest, we find an ultra classic equipment, in line with the machines released under Gemini Lake with Celeron N4100 in recent years. I'm thinking of the Chuwi Herobox, for example, which you can still find regularly at 179 USD. The Minisforum GK50 could well take their place in the long run if its price evolves in the same waters. The device also has some striking similarities.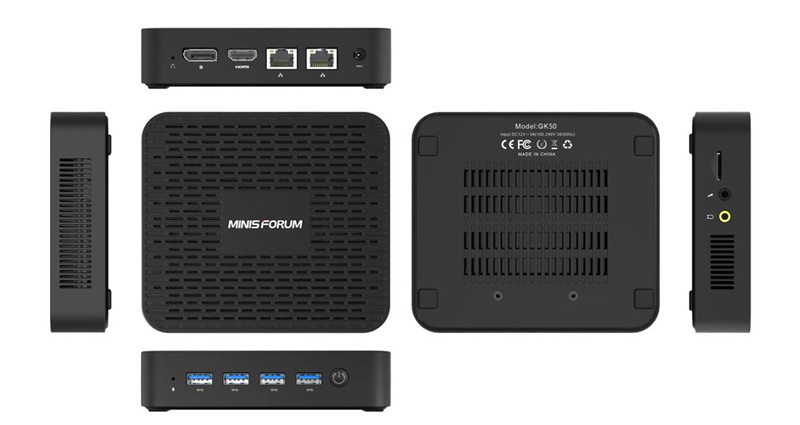 In addition to being fanless, the minimachine offers two Gigabit Ethernet ports to drive two separate networks. This is a popular use for users of this type of fanless solution, as it allows for example to build a complete, low-cost and inaudible network monitoring and administration system.
The rest of the connectivity is usual with four USB 3.0 Type-A ports on the front, a MicroSDXC card reader and 3.5 mm audio headphone and microphone jacks on the side. An HDMI 2.0 port will allow to drive an UltraHD TV for a possible use as a home media player. A DisplayPort will offer a second video output for a more traditional use as a MiniPC in single or dual screen. A small integrated microphone will offer the possibility of using a possible voice assistant or programs like Kodi remotely without a remote control.
The whole Minisforum GK50 fits into a chassis of 12.5 cm wide for 11.3 cm high and 3 cm thick for 260 grams. The chassis is very open to allow efficient dissipation of ambient air. To be followed in time, for the moment the Minisforum GK50 are announced at 299 USD in 8/128 GB version or 319 USD in 8/256 GB version. Prices that clearly tip the balance towards the 256GB solution.