MINISFORUM UM590 mini PC with AMD Ryzen™9 5900HX
The Minisforum UM590 follows the UM560 announced in May by the brand. With a big technical change since if the previous solution embarked on a Ryzen 5 5625U processor, the newcomer offers a chip otherwise more powerful.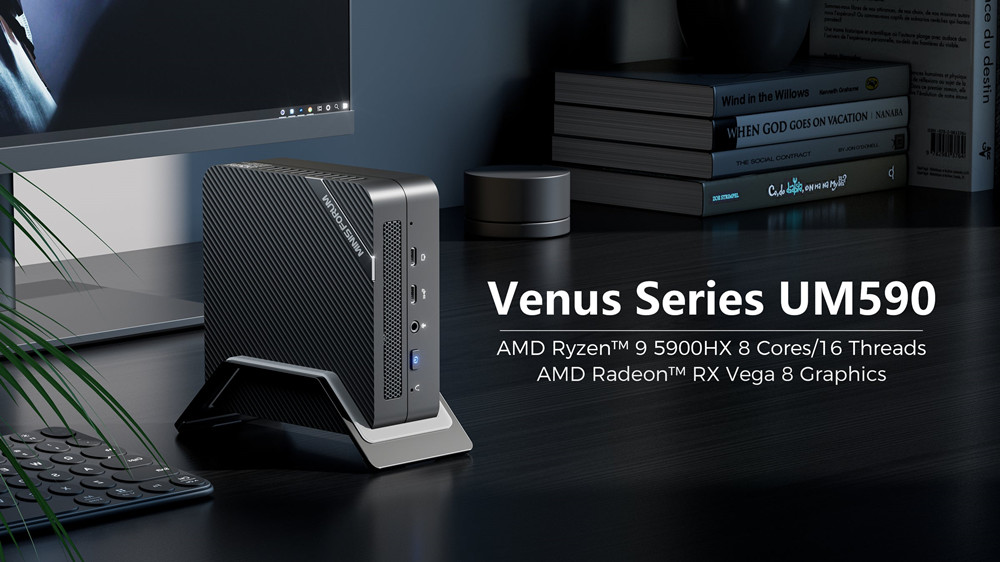 The Ryzen 9 5900HX of the UM590 is an 8-core, 16-threaded processor designed primarily for portable gaming machines. It offers very impressive performance in a 45 Watt1 envelope around a Zen3 architecture. Its frequencies oscillate between 3.3 and 4.6 GHz and the chip has 16 MB of L3 cache memory. Its graphics circuit remains a Vega 8 at 2.1 GHz and not an RDNA2 as on the new Ryzen generations.
Nevertheless, this solution is ready for many tasks. From 3D gaming to video creation and of course all the lighter functions like surfing, office work and other classic tasks. Having played with this chip on a prototype recently, there are few things that resist it and difficult tasks like editing in DaVinci Resolve or cutting out objects for 3D printing are done in impressive comfort.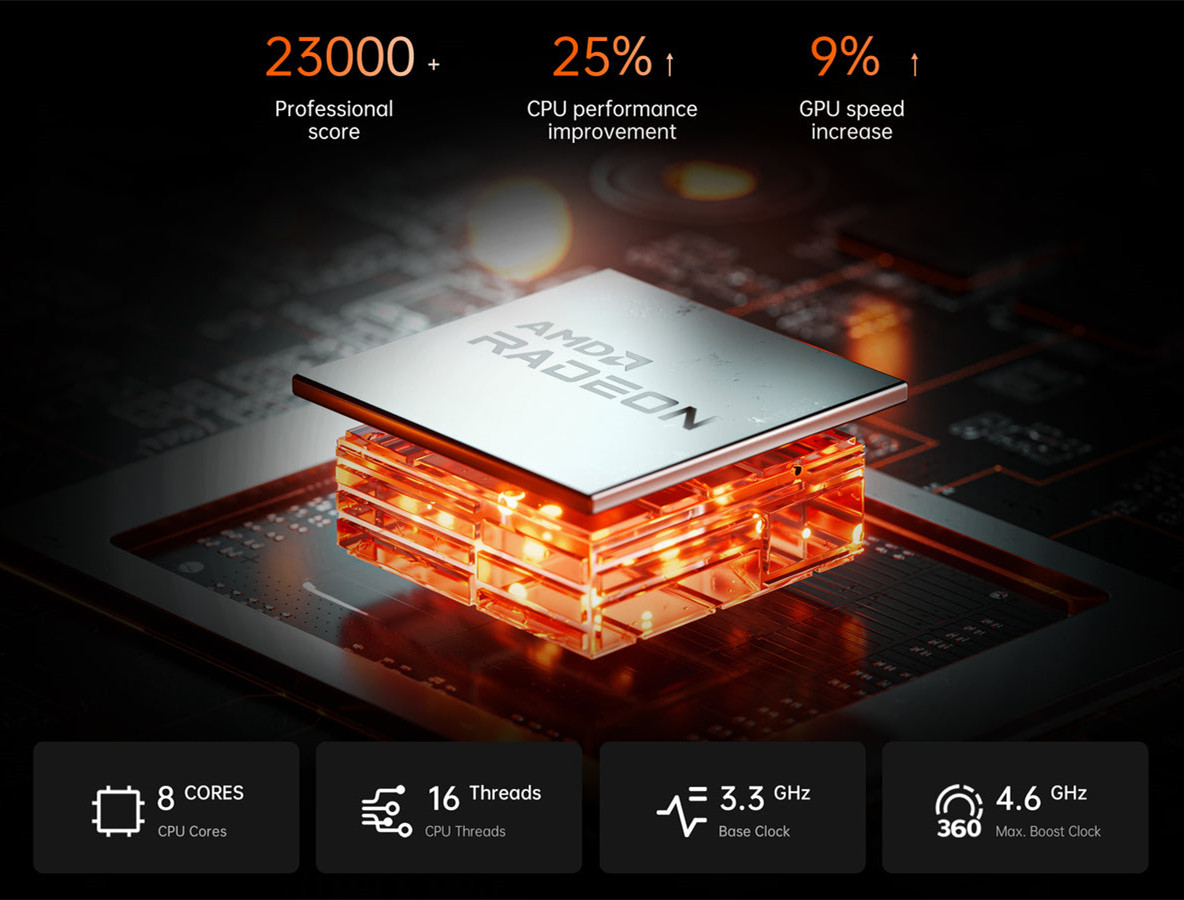 As for the rest, the Minisforum UM590 partially carries over the chassis from the previous model and thus features the same upgrade features. There are two DDR4 SoDIMM slots for a maximum total of 64GB of ram, an M.2 2280 NVMe PCIe 3.0 slot and a 2.5″ expansion bay in SATA 3.0 format. Note that the brand has still made some improvements to its basic design with a heatsink that tops both the M.2 SSD and the 2.5″ storage unit.
The connectivity does not change since we remain on the same external chassis. On the front, we find a classic 3.5mm audio combo jack, a small additional microphone, the classic start button with an LED and two USB Type-C ports, one of which offers a DisplayPort video output.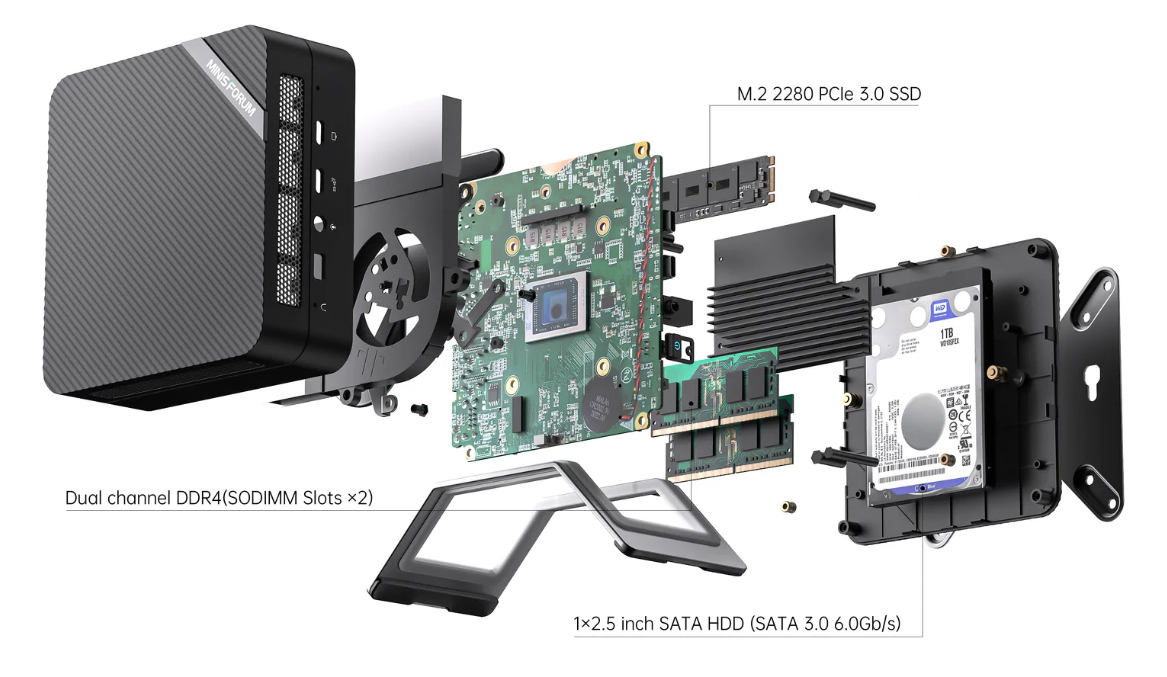 The rear part offers two USB 2.0 ports, two USB 3.2 Gen2, two HDMI video outputs, a Gigabit Ethernet port and a 19-volt power supply. On top of the connectivity, there are air vents for the extraction of hot air from the machine and a Kensington Lock anti-theft port.
The Minisforum UM590 will be able to drive a triple screen solution and will also be able to connect to Wi-Fi6E and Bluetooth 5.2 thanks to an internal module.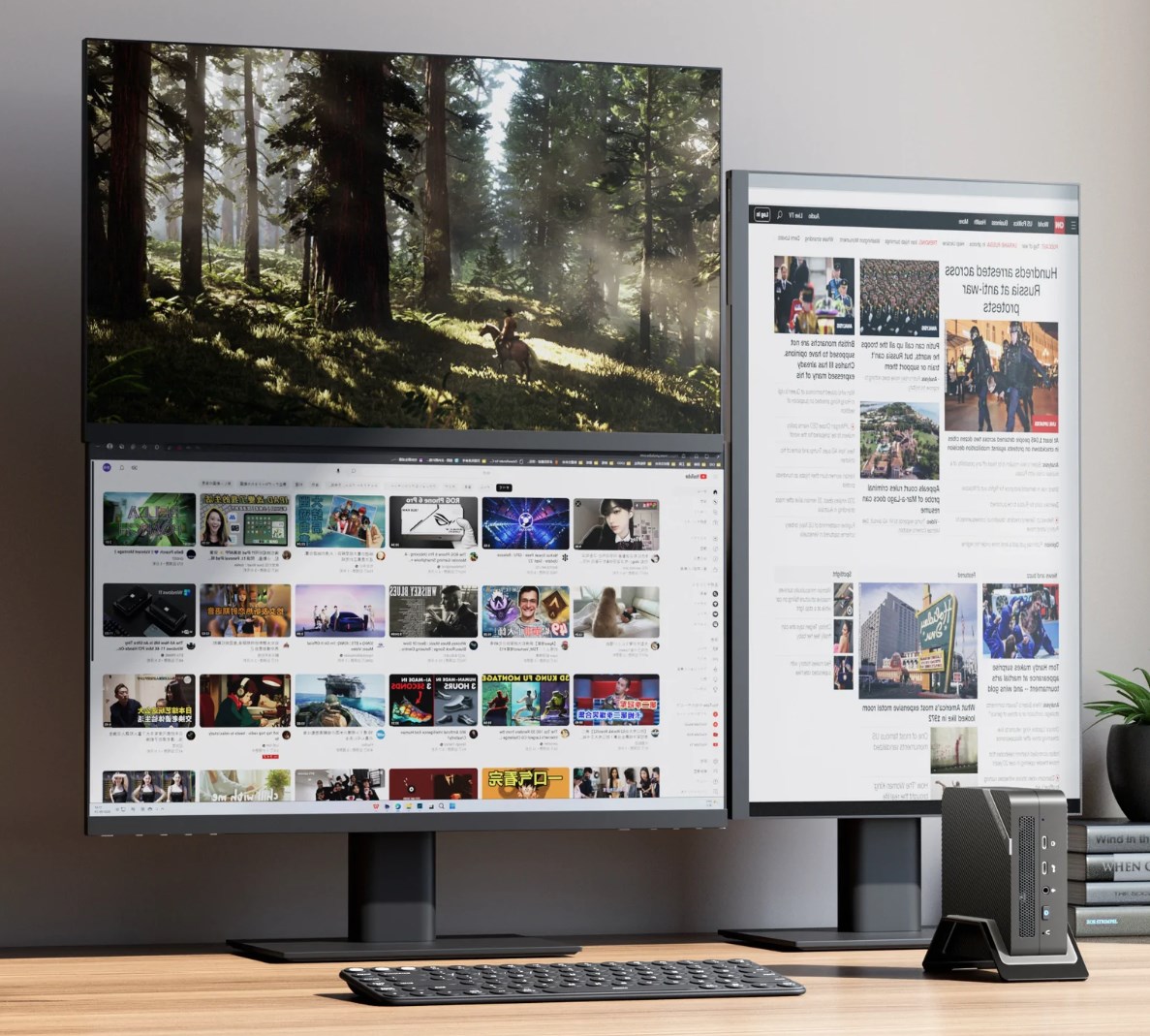 The set measures 12.8 cm wide by 12.76 cm deep and 4.82 cm thick. It comes with a VESA stand but also with a stand to position it upright if the flat position does not suit you.