8.4 inches One-Netbook One Mix 3 Pro
The One Mix 3 Pro is the best thing that could have happened in the netbook market. The builder simply worked hard to bring into real life what small diagonal laptop enthusiasts fantasized about in their own corner. Contained, high-performance, well-equipped machines and, despite logical concessions due to their format, perfectly usable both in terms of productivity and for daily activity.
The new One-Netbook One Mix 3 Pro allows for high-end integration with 3 Intel Comet Lake generation chips. The Core m3-8100Y that are starting to be deployed a little on this type of diagonal with a 5 watt TDP that can easily be dissipated. But also the Core i5-10210Y and Core i7-8500Y which share the same TDP. These chips will be accompanied by an impressive amount of RAM since these models will be able to accommodate up to 16 GB of DDR3L and storage on SSD NVMe up to 512 GB.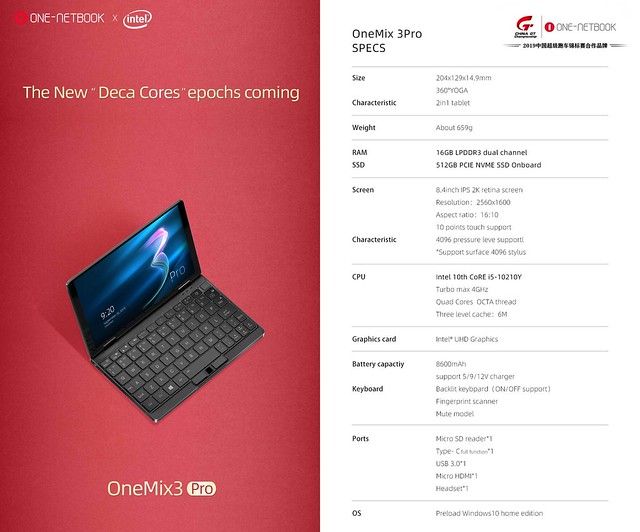 All in a very compact format with a width of 20.4 cm, a depth of 128.9 cm and a thickness of 1.49 cm and 659 grams. The display is assigned to an 8.4-inch IPS diagonal panel that displays 2560 x 1600 capacitive touch pixels with 10 contact points. The machine features a rotating hinge that folds the screen and keyboard back to back to turn it into a touch tablet. Even better, it will be compatible with an optional stylus (usually sold at a low price by the brand) to allow you to take handwritten notes or draw with Windows Ink. Far from being a gadget, this function will allow data entry with 4096 pressure levels.
A downside in the ergonomics of the whole is the absence of a touchpad, which is replaced by an optical trackpad. A solution not necessarily interesting in mobility that will allow you to move your cursor efficiently when you hold your One Mix 3 Pro in your hand. The keyboard is complete, on a QWERTY layout of course and has an active backlight. A fingerprint sensor is also integrated.
The feeding of the machine will be done by different methods. The 8600 mAh battery can be recharged in 5, 9 or 12 volts which should offer the possibility to considerably increase the autonomy of the device thanks to a mobile recharge on an external battery. The connection system takes the classic Mix 3 offer with a MicroSDXC card reader, a USB Tpe-C with all the format functions deployed, a USB 3.0 Type-A, a MicroHDMI video output and a 3.5 mm stereo jack port for headphones and microphone.
The One Mix 3 Pro will be delivered in Windows 10 Home Edition. At the moment, neither the starting price nor the actual release date is known. Don't expect something very affordable. The current models start from 670.80€ for a Core M3-8100Y in 8/256 GB. This is perhaps the greatest paradox of this offer. The brand sells its machines very well at prices equivalent to traditional ultraportable machines. It therefore has no reason to push prices too low. Funny when one of the main arguments of international manufacturers to stop this type of diagonal was to say that no one was interested in these machines anymore…