ONE-NETBOOK X with a new model with a intel 10th generation Core processor
The One Mix series has become popular in Worldwide, and the ONE-NETBOOK, which has become more popular, has announced the launch of a new product. The product name is "ONE-NETBOOK X", but I don't know if this "X" is an official product name or a tentative name. Also, since the name "One Mix" is not used, it is not clear whether it is a good UMPC (Ultra Mobile PC). Maybe it's a 15.6 inch standard note.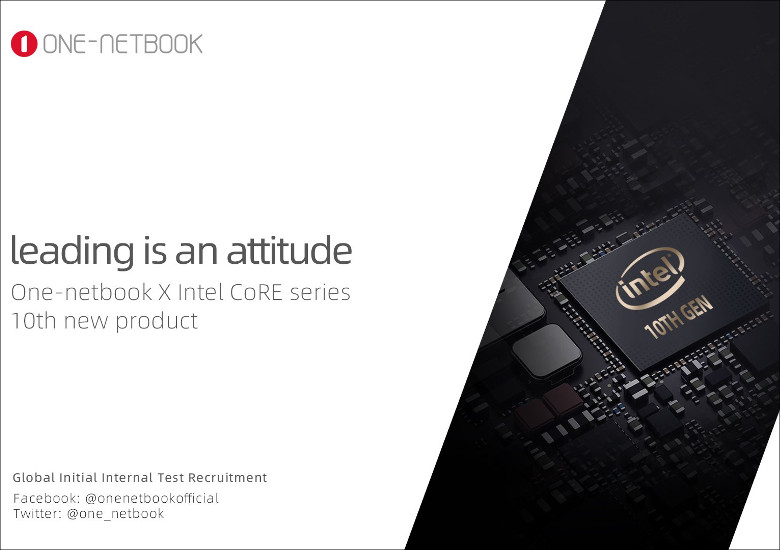 August 10, only one top image is available. All that is listed is an image of the 10th generation Core processor. I can't comment on this …
However, the information that readers should pay attention to is small in the lower left. "Global Initial Internal Test Recruitment", in short, is looking for alpha (or beta) testers. Speaking of which, testers were recruited as well when developing One Mix 3S.
The application guidelines should be posted on the Facebook page or Twitter, but this Twitter account is for Japan. You can see how ONE-NETBOOK is focusing on the Japanese market. Link to related tweets. The detailed tester application guidelines are not yet clear as of 10:30 on August 10th.
Speaking of ONE-NETBOOK, it 's the One Mix series, or UMPC! There is also a hash tag "OneMix next generation" in this tweet, so "ONE-NETBOOK X" is likely to be UMPC. But for now, there is too little information to predict …
I think several our writers will apply for the tester, but it seems to be a fairly narrow gate. Also, even if I am selected as a writer or I won't be able to write an article because I think there is confidentiality during the test … If you are a reader, please apply. If you win, I'd be happy.