ORTUR Laster Master 2 32-bit Motherboard 15W Laser Engraving Machine Cutter Fast Speed High Precision Laser Engraver
This is Ortur's second-generation Laster Master Series Laser Engraving Machine (see the First-generation). As its name suggests, The new ORTUR Laster Master 2 is a laser engraver and comes with a laser (7W or 15W) at the factory. It can also be cut and engraved, and can be "carved" with limited use. Although it is large enough to work with (400 x 430 mm), it is still portable and its price is not insignificant, the 15W version is currently $189.99.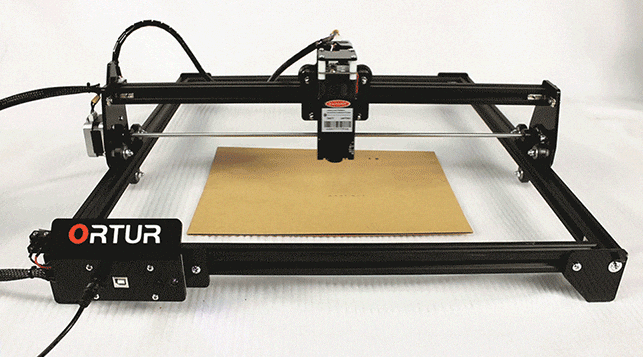 If you've had an engraving job, skip this section. Engraving is the process of "drawing" or possibly cutting a pattern on the surface of something. This can be done mechanically or by laser, for example. In the case of a laser, there is a burn or at least some change in the material due to heat. Engravers have many implementations, starting with hand tools like this one.
But there are also more serious machines, on an industrial scale, Fortunately, there are solutions for hobby or small scale industrial applications like the ORTUR Laster Master 2.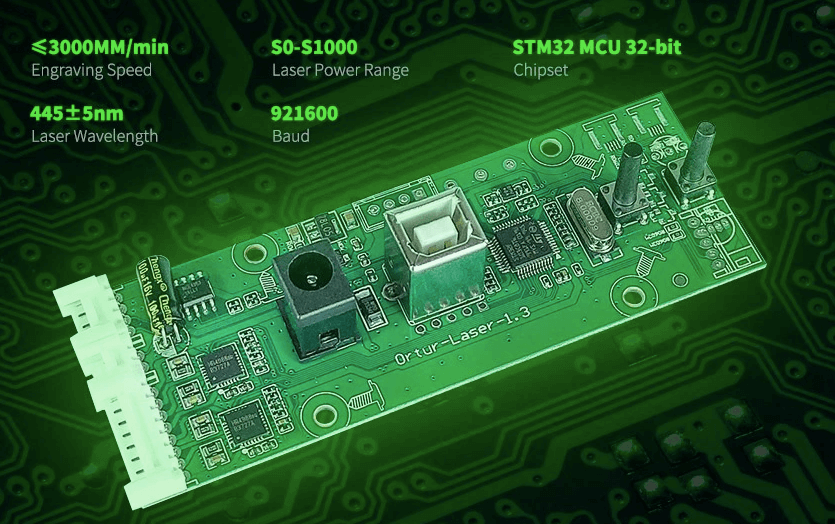 It is a laser engraver, also flatbed. Desktop engraving is easy to carry and can even be placed on the surface to be engraved. Essentially simple enough, it has a frame on which the laser moves back and forth and a frame on which it moves sideways. With two movements (X, Y) you can create any shape. DIY engraver, so it doesn't come fully assembled, but fortunately it is not difficult to assemble and only needs to be partially assembled.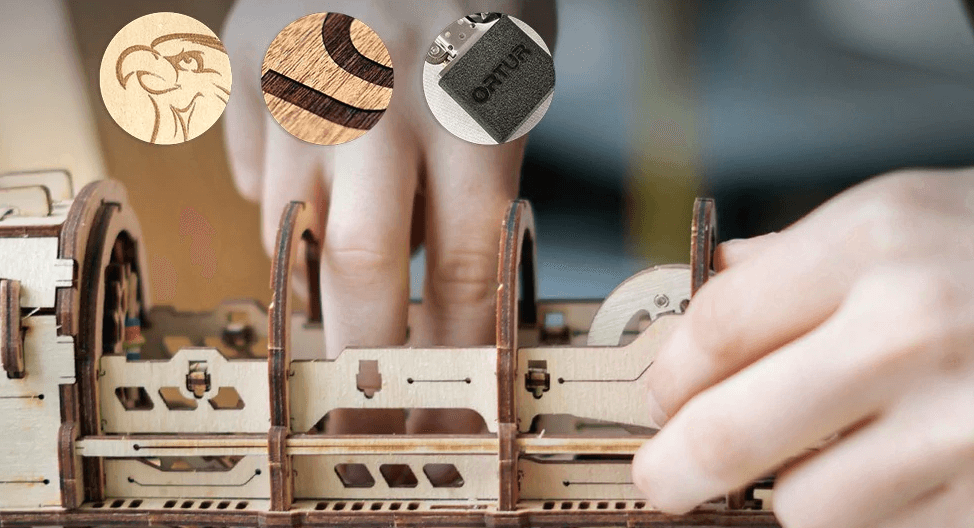 The assembly is quite simple and can be done in 5 minutes:
Step 1 – plug in the cable
In the first step you should make the electrical connection of the parts. All you have to do is plug the laser connector into a socket on the front of the board and another cable then connects the upper stepper motor to the board. You can hardly go wrong here, as the plugs cannot usually be twisted. The cable routing is also clearly visible in the image below and in the operating instructions. It makes sense to insert the connector before screwing on the bracket, since at least one is a little more difficult to reach afterwards.
Step 2: Screw on the boom with four nuts
In the second step, you can simply attach the boom for the X-axis and tighten four M5 nuts.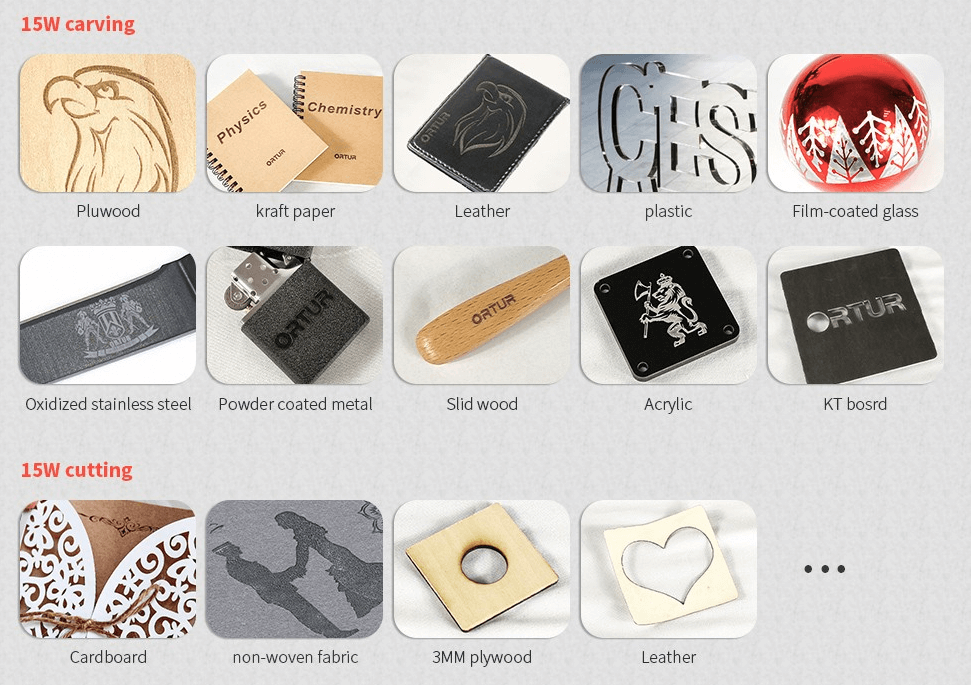 Step 3: assemble the laser
At the latest now you can screw the laser to the carriage on the X-axis with two M3 screws (approx. 16mm long). The height of the laser can be freely adjusted since there are longitudinal holes. If you engrave or cut thin materials (approx. 1 to 3mm), in my experience it has to be pushed all the way down. Later you can also use the laser beam to set this more precisely, the laser should show the smallest possible spot on the material (don't forget glasses). You can also fix the focus on the lens in a small area, but it is often faster with the two screws.
Step 4: adjust game if necessary
In the last step, you simply test again by pushing the wagon and boom whether everything glides smoothly and without play. If something still wobbles somewhere like our outrigger, you can turn something on an eccentric nut with a wrench. This allows you to push a roll closer to the profile of the guide and adjust the game. This is really wonderful, the car then glides perfectly in all directions, nothing wobbles and repeatability is ensured.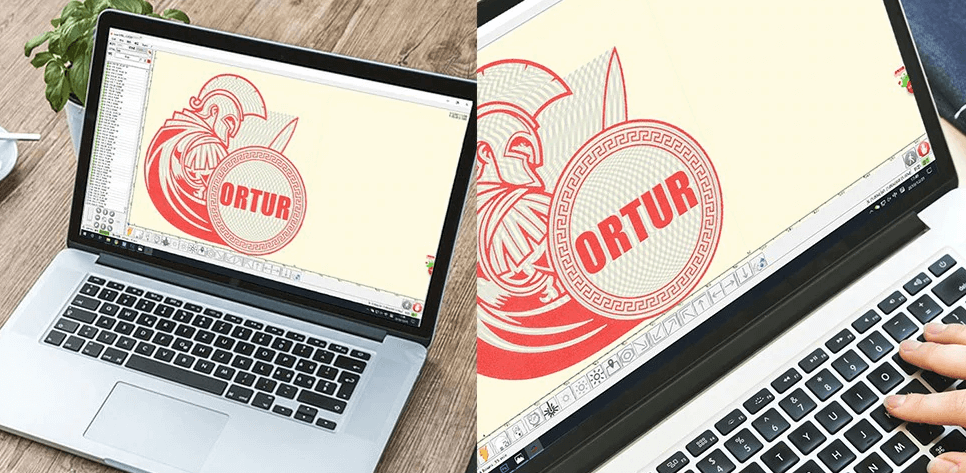 My conclusion about the Ortur Laser Master 2
It's really fun to work with the Ortur Laser Master 2 15W laser engraver. The handling and good results surprised me very positively, at such a price (see Gearbest Shop) I didn't expect that. The mechanical resolution is even higher than you actually need and the positioning of the engraving is particularly easy here. You can only cut correctly when using thin material, but this is also useful for me when it comes to making color stencils or decorative objects from cardboard, foam rubber, etc. You can even cut fabrics. Numerous materials can be engraved, wood, plastics, leather are of course particularly beautiful, I haven't tried everything yet. The device works reliably and accurately and has a large working area, so I can really recommend it. However, it is not for children, as mentioned at the beginning it is a tool that should be used competently and professionally, with a laser it is not to be trifled with. But if you always wear protective goggles and handle them carefully and professionally, you will definitely enjoy them. You don't use a laser engraver every day, you mean For example, I use 3D printers a lot more. Nevertheless it is great if you have one ready, for many projects such as the men's handbag , the cat house I could have used one.