OUKITEL WP10 5G Rugged Phone With 8000mAh King Battery
To be precise, The new OUKITEL WP10 is the second 5G triple defense rugged outdoor smartphone from a second-tier Chinese mobile brand. Because the first one was the BL6000 Pro from Blackview.
5G smartphones are taking a leading role in the mobile phone industry. It is always exciting for a consumer to get a product with distinctive features. That's why manufacturers are committed to bringing out the unique part of each device, giving them the impact labels, the world's first 5G smartphone, the thinnest 5G smartphone and so on. Today, however, we introduce the 8000mAh battery rugged 5G smartphone, the OUKITEL WP10 5G.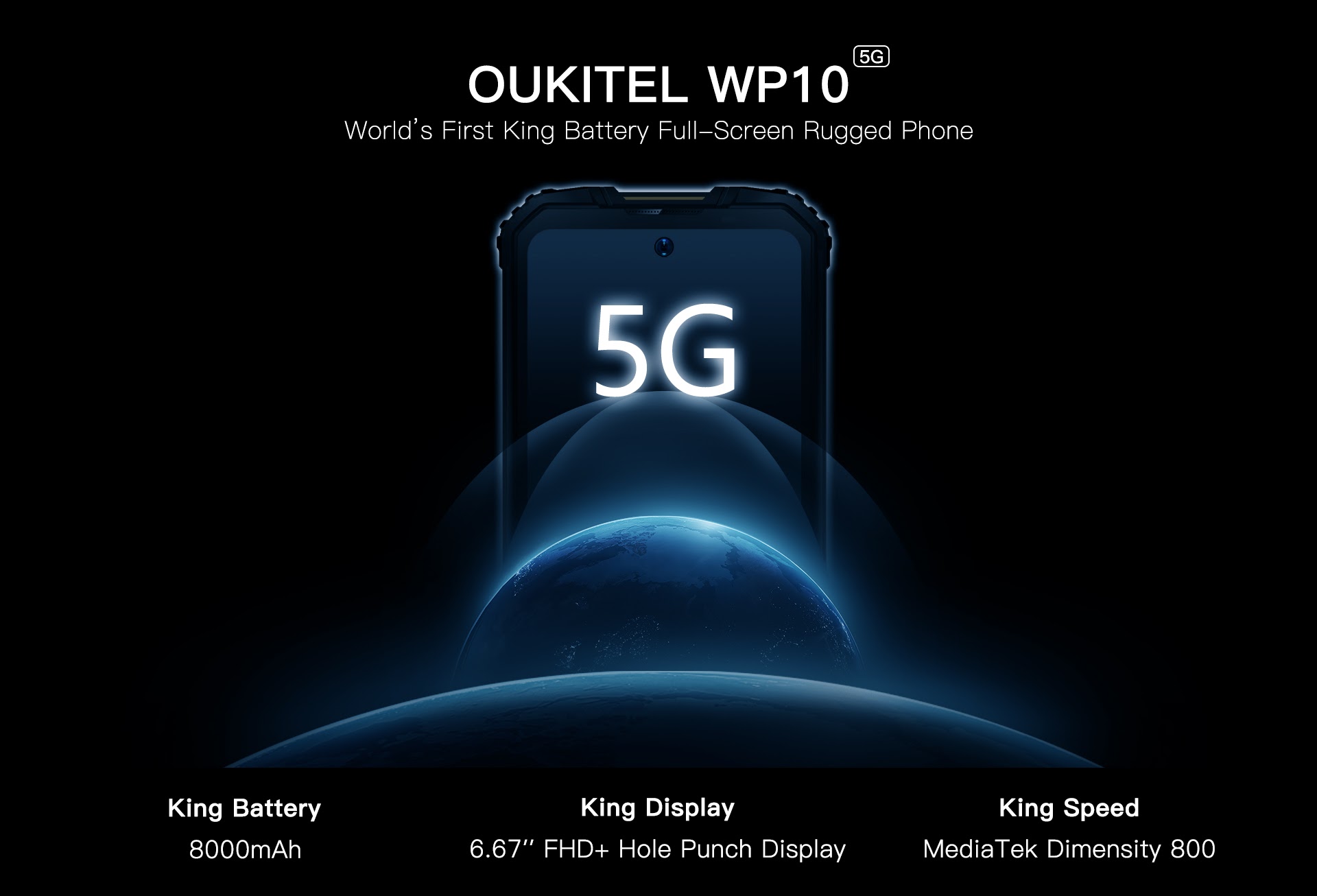 The OUKITEL WP10 5G does not use a Qualcomm processor; instead, it uses a MediaTek Dimensity 800 5G CPU. This is not a deciding factor. But it may discourage some users who would prefer to use Qualcomm's platform.
It is made of durable material and meets IP68 and IP69K and MIL-STD-810G certifications: it is waterproof and can withstand drops, bumps and scratches. This means you can feel free to take it to the beach, construction sites and any hostile environment without worrying about it getting damaged or broken.
In addition, it is equipped with Ice Mode (withstands -30℃) which allows your smartphone to perform essential features such as phone, messages, contacts, camera even at a temperature of -30 degrees. A real strength considering the approaching winter.
With the power of 5G, the WP10 can totally change your rugged-phone experience by opening the door to high quality video conferencing, 4K video streaming, online gaming and cloud gaming with friends.
And the camera is another highlight of this device. It features a 48MP Sony IMX582 triple rear camera and a 16 MP Samsung S5K3P9-SP front camera, along with superior processing software and advanced features (PortraitColor, HDR, night mode, underwater, ultra wide angle, 4K 30 fps, 1080P 60 fps).
The latest features include 8000mAh battery, Android 10 operating system, GPS GLONASS with Beidou and Galileo, pressure sensor, fingerprint sensor and NFC.
The company points out that their engineers have put a lot of effort into optimizing the camera's software, so you can expect the best result compared to any other rugged.