SKYSTARS TA LON X110 2 Inch 2-4S FPV Racing RC Drone
The toothpicks, these ultra-light nano racers, continue to develop. Here is the Skystars Ta Lon X110, a device that rests on an 11 cm carbon frame diagonal of a motor engine with 2 mm thick arms. It comes with two reinforcement bars that you can choose to mount or leave aside. The motors are 1103 to 8000KV brushless motors powered by a 4 in 1 ESC of 15A BLheli_S and DShot600 for 6.5 cm diameter two-bladed propellers – the recognition sign for toothpicks. The whole measures 10 x 9 x 4 cm and weighs 45 grams (without the battery).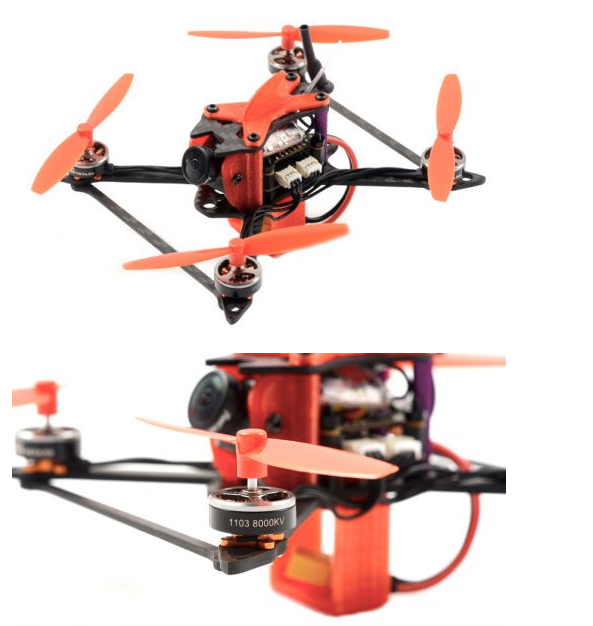 The flight controller is based on an F4 processor, flashed with Betaflight, with support for an active OSD via SmartAudio, RSSI, beeper (not included). The camera is a RunCam Nano 2 700TVL combined with a 5.8 GHz video transmitter capable of transmitting on 40 channels at a power of 0 mW (pitmode), 25 mW (the maximum allowed in France) or 100 mW to go a little further in distance or penetration. It is equipped with a dipole antenna with an Ipex connector.
To power the Ta Lon X110, Skystars ensures that it is possible to use 2S, 3S or 4S batteries, with an XT30 connector! The toothpicks are usually equipped with 2S batteries, but the Ta Lon X110 may be able to handle the shock of 3S or 4S batteries… Several baskets are delivered with the camera, to install several types of batteries with different shapes. The device can be delivered without a radio receiver, or with a DSM2 / DSMX, Flysky or FrSky D16 receiver.