T-Bao TBOOK MN25 MINI PC With AMD Ryzen 5 2500U 16GB DDR4 RAM and 512GB SSD
T-Bao is a Chinese Laptop brand. It is not an assembler and it does not have a factory. It is a label placed on PCs built according to its instructions by another professional. Its name has already been cross-referenced on various products such as monitors or laptops for example. Its TBook MN25 is interesting because it uses another platform than the ones usually chosen.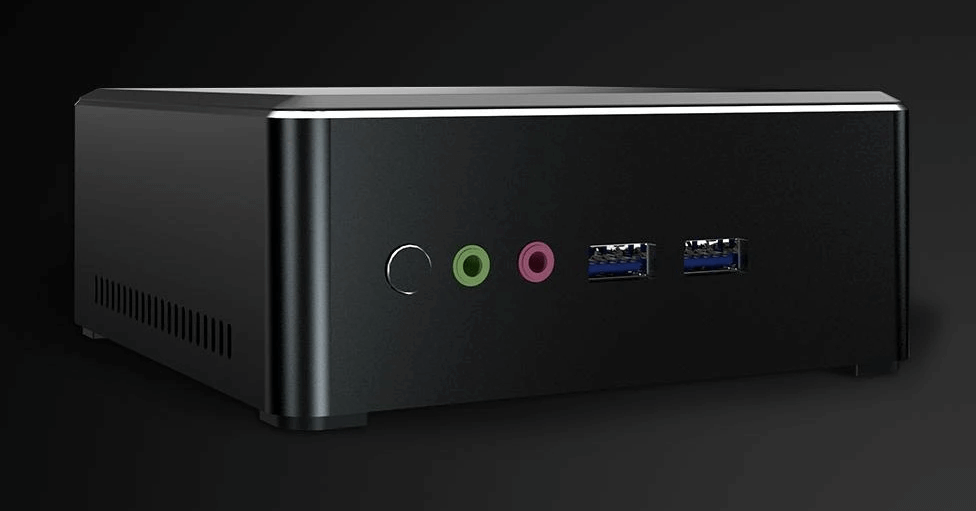 The T-Bao TBook MN25 is equipped with an AMD Ryzen 5 2500U chip, an interesting processor in more than one way and which changes the current habits of this kind of machine. We are indeed far from the "choice" of 5th generation Intel Core chips or Celeron and Pentium Apollo Lake. It's hard to know whether manufacturers are taking these Intel chips on board out of spite or out of real choice. The arrival on the market of new solutions under Comet Lake suggests that this is an economic reason, but it is possible that the volumes are not sufficient to supply a market larger than a few hundred parts.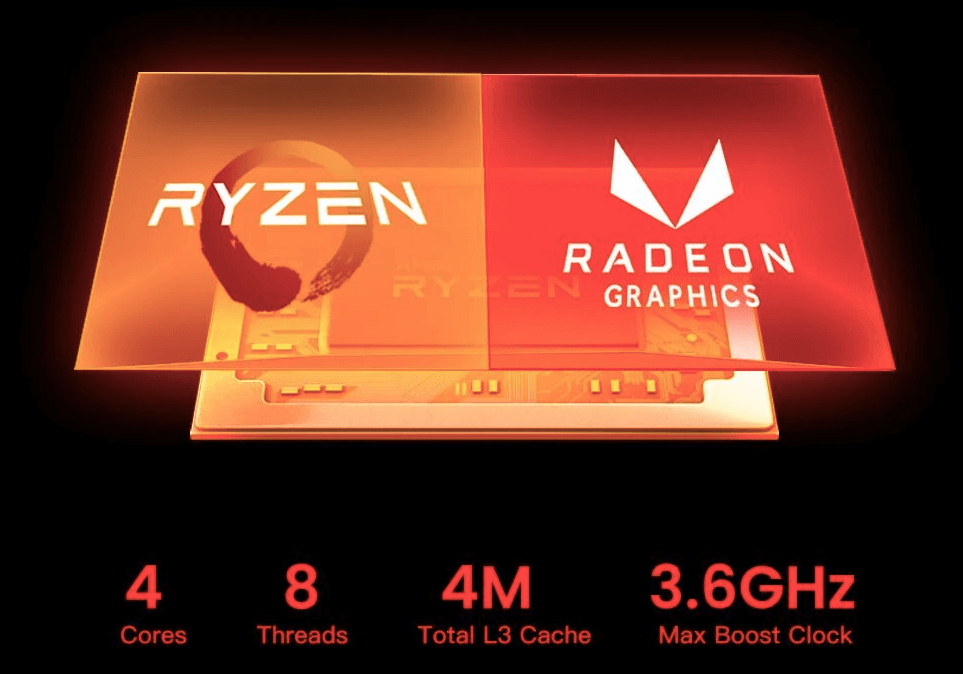 So this TBook MN25 changes the game a bit by offering a different processor with the Ryzen 5 2500U. Not the fastest chip of the range at AMD but a solution that is very well placed in terms of services and performance on a minimal machine of this type. It is a quad-core, eight-threaded, low-power mobile processor that will be launched in early 2018. It is etched in 14nm and operates in a 15 watt thermal envelope (from 11 to 25 watts). Its frequency oscillates from 2 to 3.6 GHz and it carries 4 MB of L3 cache.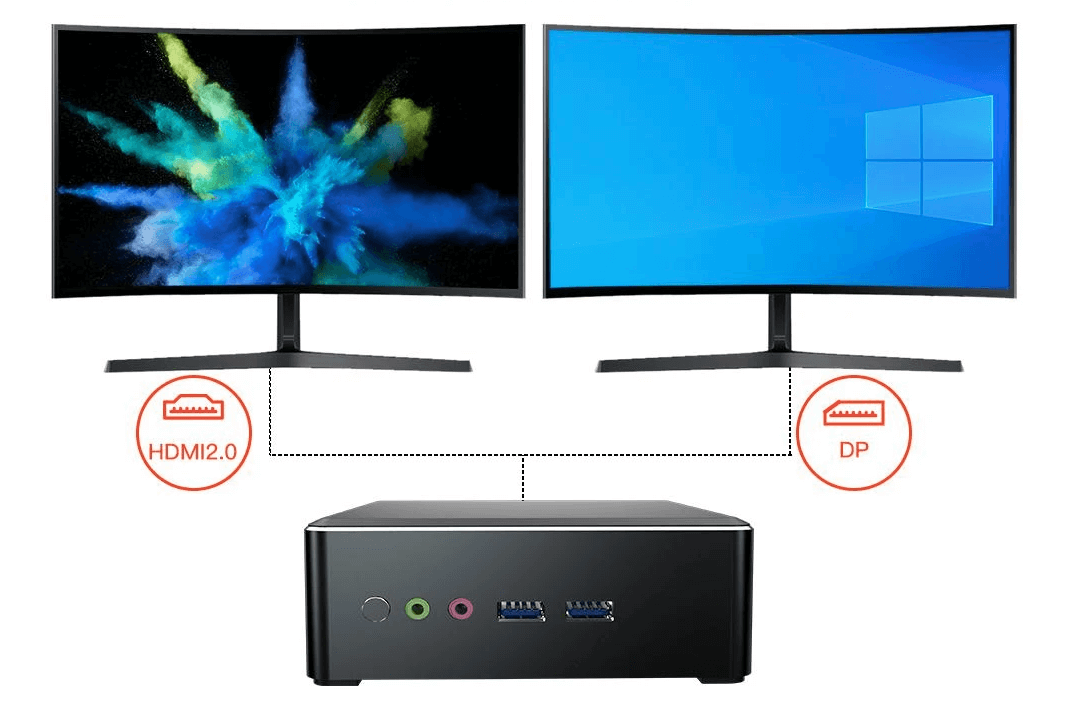 Above all, it will offer the TBook MN25 a Radeon Vega 8 integrated graphics circuit which, without being a 3D performance monster, will offer better results than the Intel circuits of the chips generally used in MiniPCs. Here it is integrated on a motherboard that will offer two dual channel DDR4 SoDIMM memory slots. It will therefore be possible to largely upgrade the device that is presented for sale in 4, 8 or 16 GB of memory by default. The storage is entrusted to a PCIe NVMe M.2 2280 solution which goes from 128 to 512 GB by default.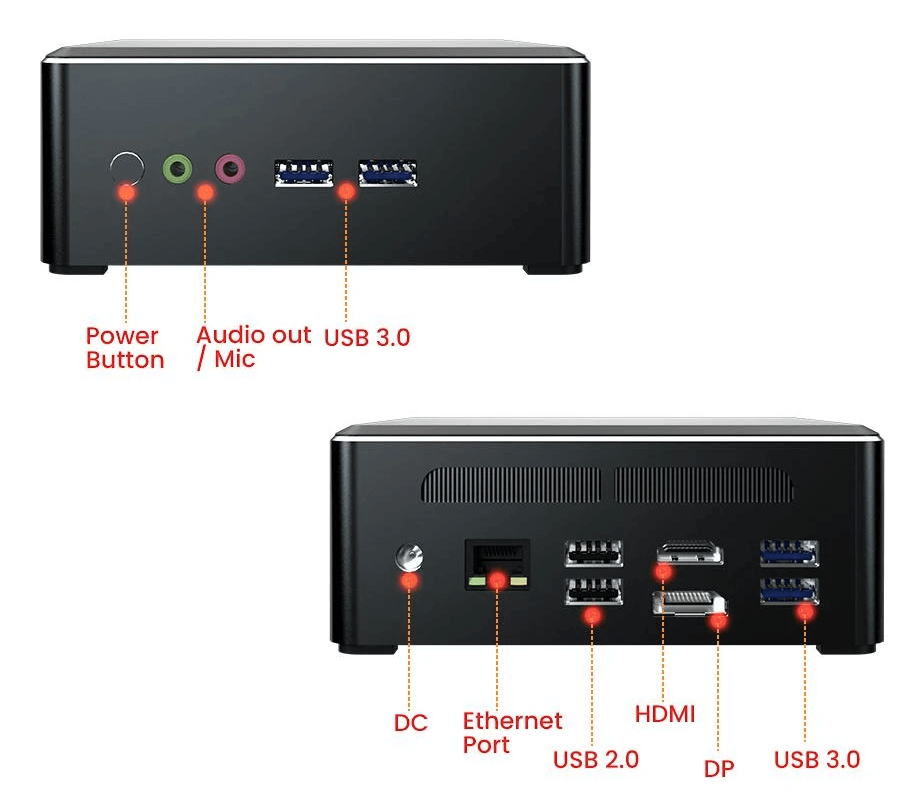 The rest of the machine is very correct with a fairly complete set of connectors since there are two separate 3.5 mm jacks for headphone and microphone input as well as two USB 3.0 ports on the front panel. On the back there are two more USB 3.0 and two additional USB 2.0 ports. One Gigabit Ethernet port, one HDMI 2.0 output and one DisplayPort. All this is complemented by a Wifi5 module that will also offer Bluetooth 4.1.
The whole thing is enclosed in a frame 12.8 cm wide and as deep and 5 cm thick. A template that suggests that it should be possible to slide a second storage in 2.5 inch SATA but it seems that this is not the case. The space is large enough, however, to mount a fairly massive fan and heatsink, suggesting that the chip could operate silently in light use but also accept heavy use at 25 watts of TDP.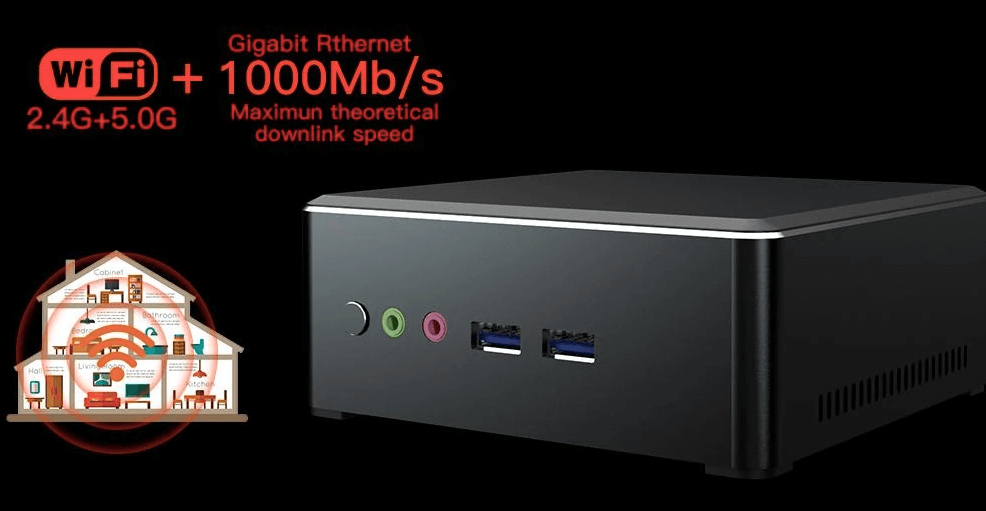 This TBook MN25 will therefore be suitable for multiple users. To work, as a surf station or multimedia solution but also as a small game-oriented solution if you are not too greedy. The presence of the Vega 8 as a graphics circuit extends its gaming skills more comfortably than many Intel solutions of the same caliber.