T-BAO TBOOK MN48H MINI PC With AMD Ryzen 7 4800H 32GB RAM
T-Bao hasn't been known for its understated mini PCs and now here's one with an eight-core Ryzen 7 4800H processor, up to 32GB of RAM and wifi 6.
The availability of the OEM market seems to be much faster for AMD chips than for Intel solutions in the past. While we are now starting to see tenth-generation Intel Core chips in this sector fairly quickly, brands like T-BAO had to make do with much older generation chips in their assemblies for a long time. It is not uncommon to see OEM brands like this still offering fourth generation Core. This is voluntary on their part of course, it allows them to offer cheaper MiniPCs. But it is also because the market has not offered, for a long time, Intel chips of the last generation as easily as today. At AMD, on the other hand, availability seems to be easier and we can see chips like the Ryzen 7 4800H, the brand's flagship until a few months ago. Chips that were announced in machines like the ROG Zephyrus laptops from Asus and other very high-end ultraportables just a year ago…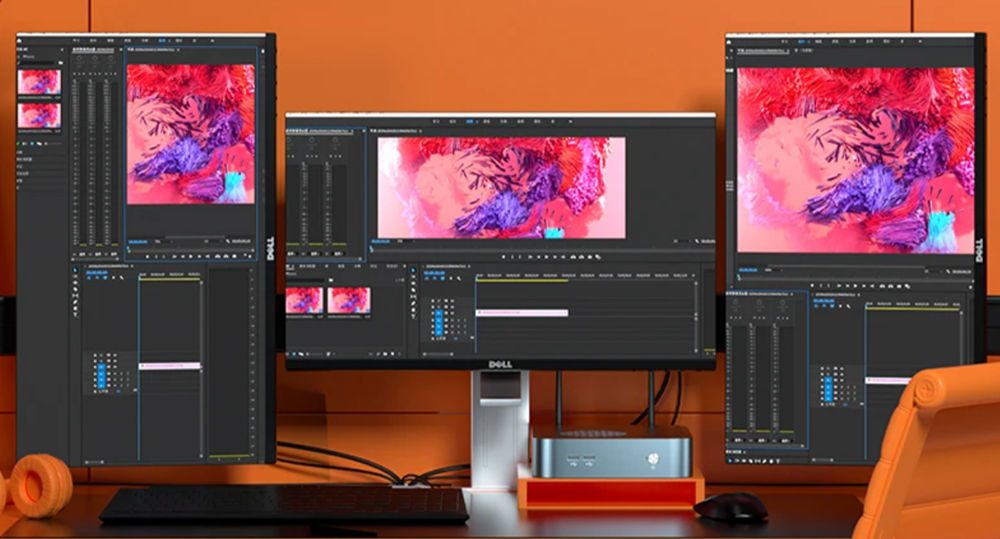 Last July, I told you that the AMD Renoir Ryzen 4000 chips were boosting the "noname" laptop sector. By making it easier to integrate them and by facilitating their availability in the face of competing manufacturers of major brands who are still rather cautious with their AMD ranges. T-BAO is not a very well known brand, but we had already pinned them in September 2020 for a machine under Core i9 of tenth generation. I pointed out then that this market is overrated on unsold products. If the Covid crisis boosted PC sales, it did not bring more money into the savings of buyers. Many have bought a PC but not necessarily a high-end machine. And the Core i9s are competing head-on with the cheaper Ryzen 7 4800Hs that are now available.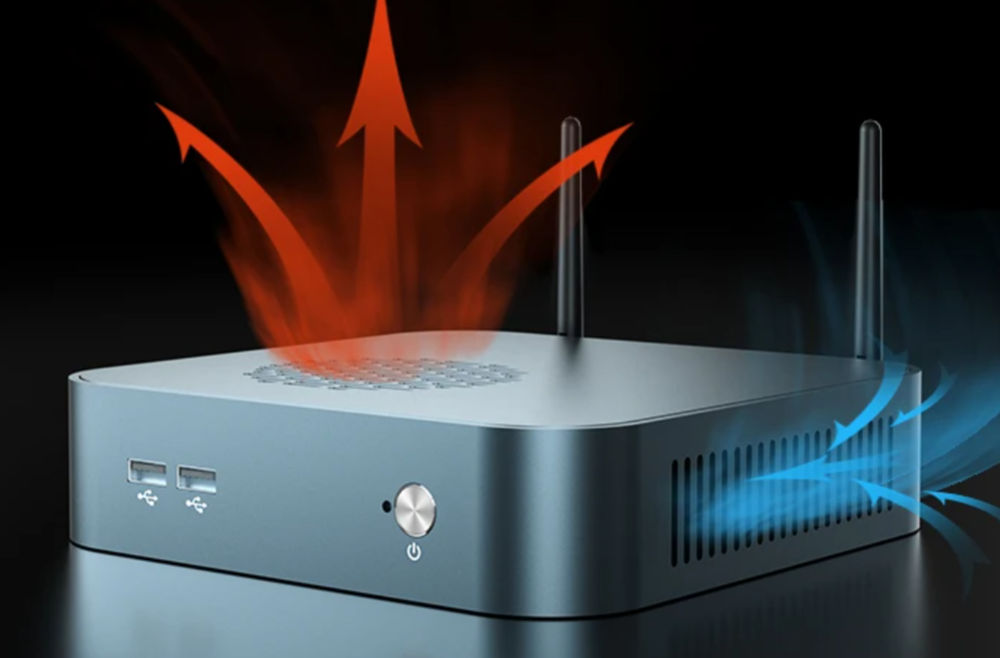 Let's get back to the machine itself. Offered in two processor versions, the T-BAO TBOOK MN48H is sold in Ryzen 7 4800H equipped with memory and storage. The Ryzen 7 4800H is an 8-core with 16 threads running at 2.9 to 4.2 GHz with 12 MB cache and a Radeon 7. Both chips run at 45 watts TDP.
The T-BAO TBOOK MN48H MiniPC comes with 16 to 32 GB of DDR4 and 512 GB to 1 TB of PCIe NVMe SSDs are available. The prices are classic for this type of machine which is unfortunately not available in barebone format, i.e. without storage or memory.
RAM is mounted on two conventional DDR4 SoDIMM slots. Storage is entrusted to an M.2 2280 PCIe NVMe slot. Note that the motherboard offers 2 SATA 3.0 ports to drive two additional 2.5″ storage2. The wifi network part is integrated with a Wifi6 and Bluetooth 5.1 module connected to external antennas to the metal case.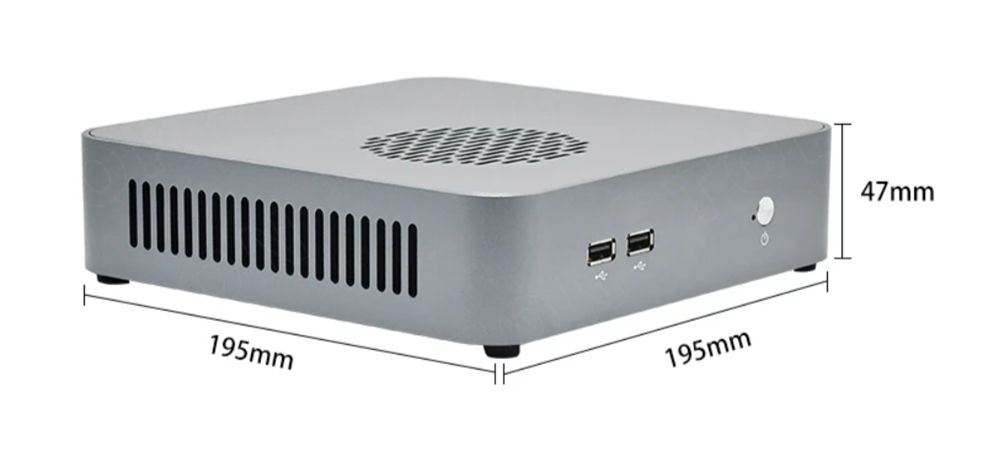 The connectivity is quite complete with a little too many USB 2.0 ports for my taste. No less than six USB Type-A ports are distributed on the device. But four are USB 2.0 and only two are USB 3.0. A USB 3.1 Type-C port is also available. A Gigabit Ethernet port is present as well as the classic pair of 3.5 mm audio jack ports for headphone output and microphone input.
The video outputs are driven by an HDMI 2.0 and a Displayport but the USB Type-C socket also carries a display signal which will make this T-BAO TBOOK MN48H MiniPC capable of handling three displays simultaneously. The power supply is entrusted to a power supply noted as 19.5 volts and 5.13 amps.
Among the small specificities of the machine, a few elements are rare enough to be highlighted. The T-BAO offers the functions of Power On Lan to turn on the PC remotely via the network port, PXE management to boot on a remote storage and even an automatic reboot after a power failure.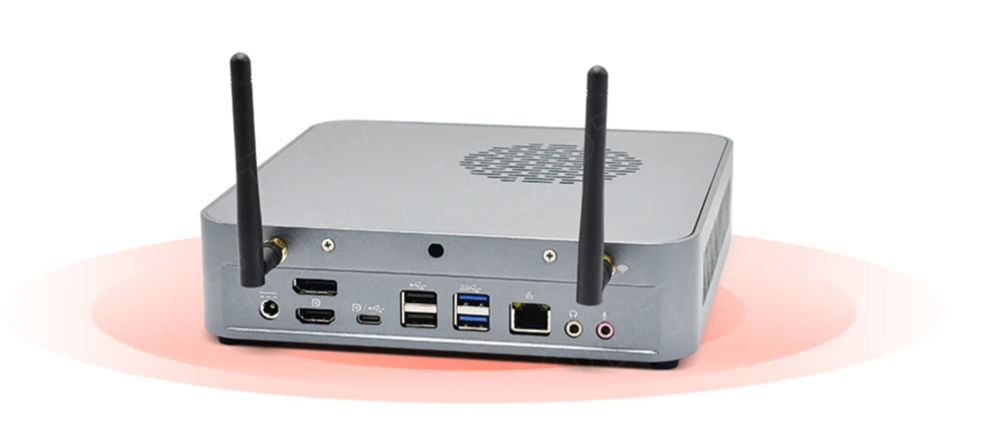 Ventilation is provided by a classic solution. It is a set-up consisting of an aluminum heatsink topped by a classic case fan. The processors having a TDP of 45 watts, this solution should probably be enough but could probably be easily improved with the use of a high-end fan like Noctua.
Note that the motherboard offers quite a few connectors and cables for deportation. We can note a case fan power supply, a USB pinout and another for a speaker and various connectors to cut with jumpers to drive functions. The front USB plugs as the start button are also deported from the motherboard by quite long cables. So it should be quite easy to mount this motherboard in a different chassis. Unfortunately, the brand does not indicate the dimensions of the machine nor those of the motherboard…