Teclast F5 Laptop 11.6 inch Intel Celeron N4100 8GB + 128GB

Teclast, known for its notebooks and transformers, is preparing a new portable Teclast F5 device running Windows 10. The computer will combine a lightweight body weighing less than 1kg, a 360° flap cover and a powerful stuffing.
With the advent of a new processor from Intel – Gemini Lake, more and more new laptops and mini-PCs under its management are entering the market. Teclast F5 is one of those, but apart from that, it tries to inherit a series of Yoga notebooks from Lenovo and offers 3 modes of operation with it: a laptop, a tablet and a tent.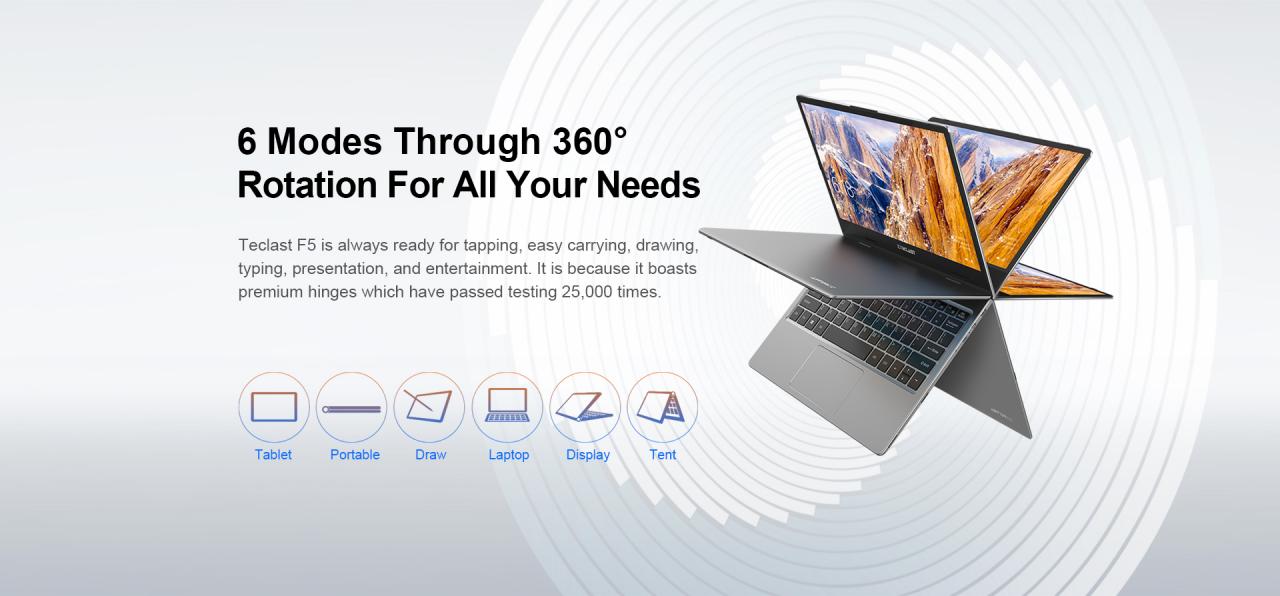 The main features of this netbook – the presence of a touch screen and a special hinge, which supports the rotation of the display at 360 degrees and an active stylus. Well, compact size (it is smaller in size than A4-size paper), the thickness in the folded state is 13 mm, and the weight is 980 grams.
For performance meet the Intel Celeron N4100 processor with a clock speed of 2.4 GHz, graphics, Intel HD ninth generation, 8 GB of DDR4 RAM and 128 GB of storage. On the front panel – 11.6-inch sensor IPS-matrix with a resolution of 1920×1080 pixels. Autonomous work provides a battery for 3850 mAh. For videoconferencing, a 2-megapixel front-end is offered, and for connection of peripherals – ports micro HDMI, USB Type-C and a slot for memory cards.

Thanks to the transformation of the case, Teclast F5 is equally suitable for business presentations or office work, and for sharing movies. The manufacturer promises up to five hours of battery life in video playback mode. Fans of self-expansion of memory will like the option of installing SSD.