Teclast F5R Laptop 360 Degree Hinge Touch Screen
If I observe a segment of cheap Chinese laptops (and especially promotions for this equipment), then I get the impression that they are getting better and better. The notebook I will be talking about today is based primarily on a newer, much more efficient processor than Chuwi LapBook 12.3. At the same time, the rest of the components of Teclast F5R also stands at a good level, and the price encourages you to buy.
In the space of a few years, Chinese electronics manufacturers have begun to produce increasingly interesting products, characterized by specifications that are certainly not the latest, but still have a very good quality-price ratio. One of these manufacturers is definitely Teclast, known for the creation of some laptops that combine discreet features at a low cost and therefore fit perfectly into the category of low-cost notebooks of which we are testing several examples in this period.
In today's review, in particular, we refer to the model Teclast F5R, a convertible with display that rotates 360 degrees on itself and that is currently offered at a price below $500. A device that has therefore all the cards in order to enter as an alternative in the market below $600 and, in this particular case, in the category of products 2 in 1.
Let's start our analysis by talking a little bit about the aesthetic aspect, the materials and the quality of the assembly of this Teclast F5R. First of all, it must be said that our laptop comes in a classic cardboard box of fairly small dimensions in which we basically find the notebook and the wall charger with USB Type C connector. There is of course also a small manual to guide the user in the first configuration.
From the point of view of design, the first feature that stands out is undoubtedly the dark gray color of the body that closely resembles that adopted by Apple for its MacBooks, indeed, if I had to give a name to this color I would use exactly the same used by the designers of the clamped apple, a beautiful sidereal gray. From the point of view of materials we have aluminum throughout the body. A choice that gives a feeling of great solidity and robustness to the product but, at the same time, makes it heavier than we might expect by looking only at the size.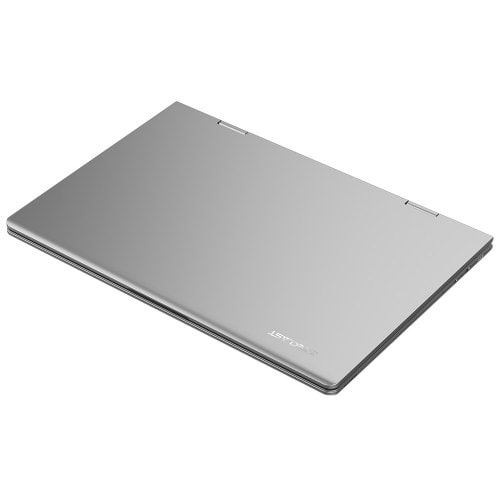 Teclast F5F is in fact smaller than an A4 sheet but its weight reaches 1025 grams. Don't worry, transporting this product will not be a problem. The opening operation is also very simple and can be carried out with just one hand because of the greater weight of the part resting on the table and the resistance offered by the hinges, which is well balanced.
As already mentioned, the display can be rotated by 360% until it is completely folded on itself, in this way you can then use the Teclast F5R as if it were a tablet. Obviously, when this operation is carried out, the system recognizes the complete rotation and deactivates the keyboard to avoid incorrectly pressing the keys when the product is held.
The power button is located on the left side, along with the audio jack, microphone, volume balance and one of the two speakers. On the right side we have a Micro-USB, a second microphone, a Micro HDMI and the USB Type C connector that also serves for charging, in addition to the second speaker.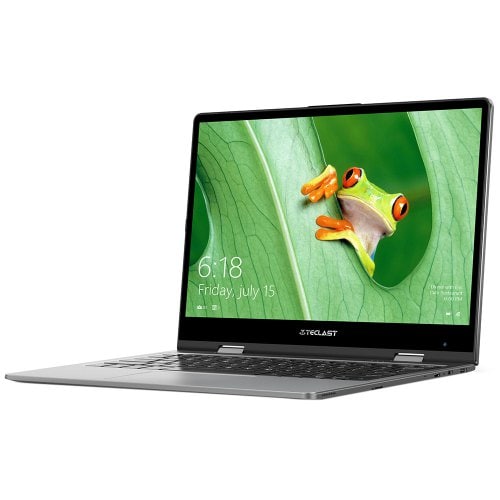 Opening the laptop we have immediate access to the keyboard, with small keys but still easily recognizable under the fingertips and with a stroke of 1.4 mm. A keyboard sufficient for feedback offered, with only two defects, one of which is negligible. The keystroke had to be a little deeper and the click a little more incisive in my opinion, but these are obviously details. More important, however, the defect found with the space bar not well balanced, and it can happen that pressing it on the sides does not sink properly and the command is not received.
The touchpad is discreet and offers a good slipperiness and keys capable of giving a precise response and a discreet ease of pressure. If it had been a little bigger it would have been really good, but the size of the wrist rest does not allow to go further.
The display frame, which is quite small on three sides, houses the front 1.0MP camera in the lower right corner. A convenient position if we are using this Teclast in tablet mode but much less ergonomic in the more classic notebook mode.
Good strength of the hinges and sufficient even assembly. The body is sturdy and flexes slightly only in the middle of the keyboard. However, nothing worrisome or compromising for the use. To report then the presence of a door, in the back of the body, which allows you to have access to the disc in a very simple way. An SSD in M.2 format that can be easily replaced.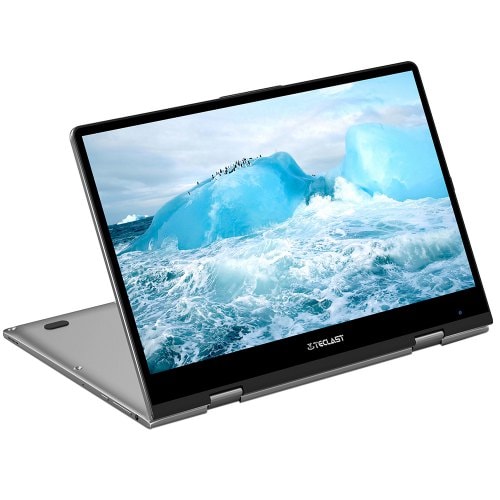 The display of this Teclast F5R is an 11.6-inch diagonal IPS matrix unit with a resolution of 1920×1080 pixels. Overall, it is a display that offers sufficient performance but is not free of defects. Good definition, which allows you to have very sharp images and on average also the robustness of the panel to flexion.
The most important defect related to this panel is given by the brightness. Unfortunately, as found even after the measurement with colorimeter, you do not even get to 200 cd/m². A fact that allows you to use this Teclast indoors without any problem but, at the same time, is absolutely not enough to easily observe the outdoor display, especially if in full sun.
Even from the point of view of color calibration you could certainly do better. The coverage of the sRGB standard is sufficient, we are talking about 93%, but we have a delta E decidedly high both in terms of the gray scale, with a value of 7.4, and in relation to the colors, where it drops to 6.9.
So we are certainly not in front of the best panel of the category but we must not forget the price of this solution: less than 300 euros. A figure that certainly makes the defects of this panel much less bitter.
But let's come to what's on this laptop. Inside the Teclast F5R we find a SoC Intel Celeron N3450 Gemini Lake series, a chipset made with a production process at 14 nm and composed of a quad-core CPU with a base operating frequency of 1.1 GHz, no Hype Threading and Turbo Boost frequency of 2.4 GHz, with an Intel UHD Graphics 600 GPU with a maximum frequency of 700 MHz.
A platform that has been combined with 8 GB of LPDDR4 RAM and a 256 GB M.2 SSD. SSD that proved to be discrete from a performance point of view (about 500 MB/s write and 150 MB/s read) but (as seen above) can still be easily replaced with better drives for both capacity and performance. There is no possibility of expansion with regard to the RAM that is soldered directly to the motherboard.
The platform available allows you to navigate on Chrome even with several tabs open without slowing down or uncertainties (the 8GB of RAM are heard). I was also able to open two windows with two 4K videos playing simultaneously on YouTube and, while, to continue to write this review with Word without any problem. A hardware that also allows you to perform basic photo editing operations with programs like Photoshop and of course to watch our favorite TV series on Netflix or listen to music on Spotify even while we work or do other operations in multitasking.
Of course, going beyond these "standard" operations becomes a problem. Thinking about opening a project on Premiere and working on it as we would on our workstation is a utopia, but given the price it is not even what is required of a product of this kind.
Also from the point of view of video games everything is fine as long as they are mobile titles like Asphalt 9 or Modern Combat. Better not go further to avoid being unnecessarily disappointed. Crysis doesn't go there!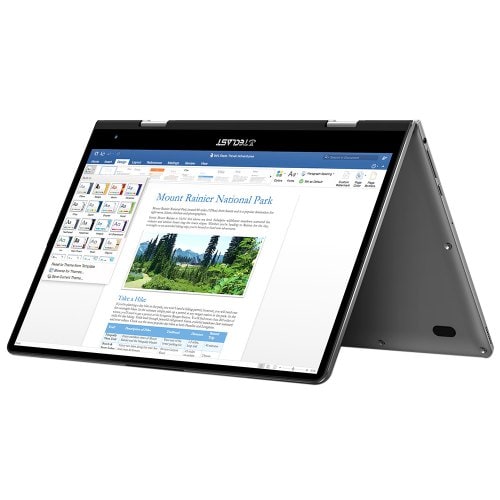 Normally also the operating temperatures. Although there are no fans, you never go above 75/80 ° for the components, and even outside, on the wrist rest and at the base of the keyboards you never get to temperatures that compromise the use.
Good connectivity. This Teclast offers a WiFi 802.11 b/g/n/ac dual band and Bluetooth chip, unfortunately only 4.2. A WiFi chip that has always offered good performance and that allows us to get more than enough connection stability.
As for the audio component, as already mentioned, we find two speakers that work obviously in stereo mode and that are able to return a sound characterized by good quality and a volume that I could define more than enough. Along with these speakers we also have two microphones inserted at the sides of the body, useful together with the webcam to make video calls.
And let's come to autonomy. Inside this F5R has been inserted a 3850 mAh module, a capacity certainly not very high, which therefore does not allow to set new records in terms of duration of autonomy. Considering a use made of navigation, writing with Word, watching movies on YouTube, music on Spotify and little else you get to touch the 4 hours. Lowering the brightness, with all that this entails, and limiting the use to writing and web browsing only, you can reach 6 hours.
In the box we have a charger, certainly not fast, which allows us to load our Teclast from 0 to 100 in just over two hours. Not an exceptional figure but let's say that we can be satisfied.
And we get to the bottom of it. This Teclast F5R is a very small convertible notebook that offers good materials, a discreet construction, sufficient performance for most users and a touch display that can rotate on itself to use the solution in tablet mode.
In short, a product that can meet the needs of all those looking for a versatile notebook that is able to perform all the basic functions without problems and that allows to be transported with ease. But not only that, personally I see well this Teclast F5R also in the home, perhaps as the first notebook for young people in the family, who can do research for school but also have fun with the games on the Microsoft store thanks to the touch controls.
Also because if he accidentally fell out of their hands to think about the outlay needed to buy it would not be so tragic. We are talking about a price that is around 280/300 euros (in some cases even less) and that I can certainly consider appropriate for everything that offers this Teclast F5R. The only drawback is that you have to buy it imported, with all the problems that may arise with regard to any after-sales service and warranty.