TOPTON V320 Mini PC With i9-10880H
After the very interesting Topton L4 netbook in 7 inch, the brand announces the Topton V320. A MiniPC complete or sold in barebone that has the particularity to embark chips quite rare on this market.
We find, for example, an Intel Tiger Lake-U Core i7 1165G7 processor, the processor found in the Panther Canyon NUC. A 4-core, 8-thread solution with 12 MB cache and a maximum frequency of 4.7 GHz. It is also a chip that offers an Intel Xe graphics circuit with 96 EU in a very reasonable operation of 12 to 28 watts of TDP. Perfect for integration into a MiniPC.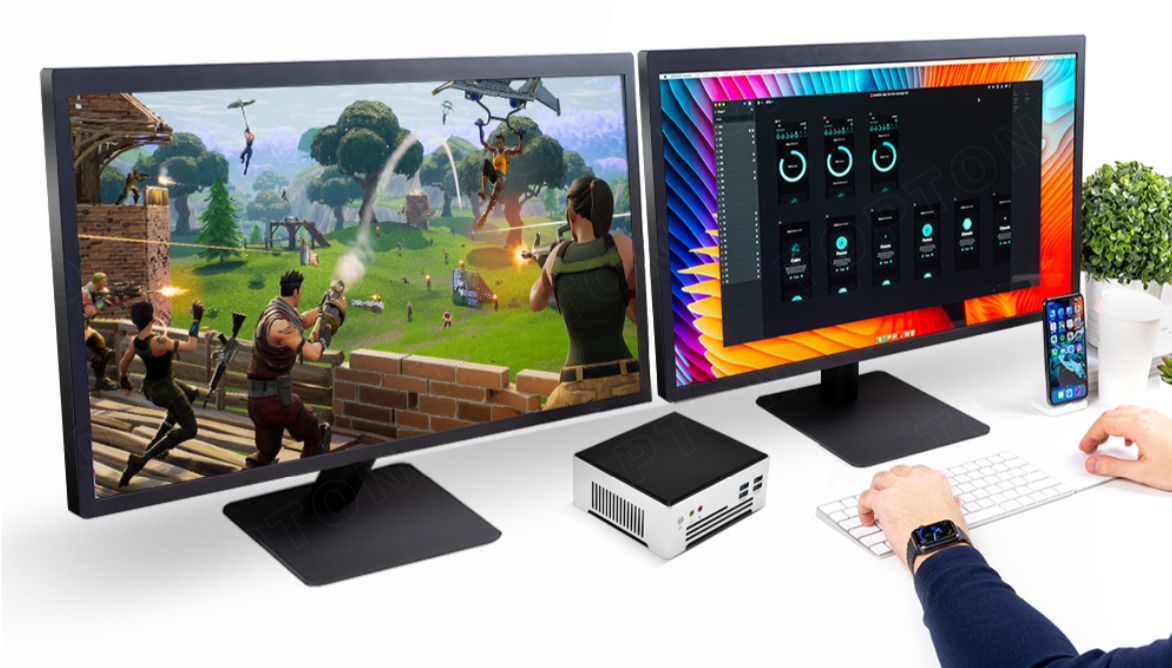 But the Topton V320 can also carry other processors, more muscular but also more difficult to dissipate. There are some interesting Comet Lake-H chips like the Core i7-10870H and Core i9-10885H. This is not really a novelty since the brand presented a machine equipped with this generation of chips in September 2020. But these chips offer a very high level of performance within a MiniPC of this type.
The Core i9-10885H is more greedy with a TDP of 45 watts but it is an eight-core, sixteen-threaded solution clocked from 2.4 to 5.3 GHz with 16 MB of cache memory. A chip that embeds an Intel UHD Graphics 630 circuit less powerful than the Intel Xe circuit of the Core Tiger Lake-U. This version will have a better performance in calculation but will not necessarily be as comfortable as the first solution in 3D display.
Sold in Barebone, the Topton V320 is rather accessible. The Tiger Lake-U model without memory or storage is sold at 381.97€. Not bad for a machine of this caliber even if you have to take into account the cost of secondary equipment. The Core i9-10885H version is just under $450… Again, this is a pretty good price.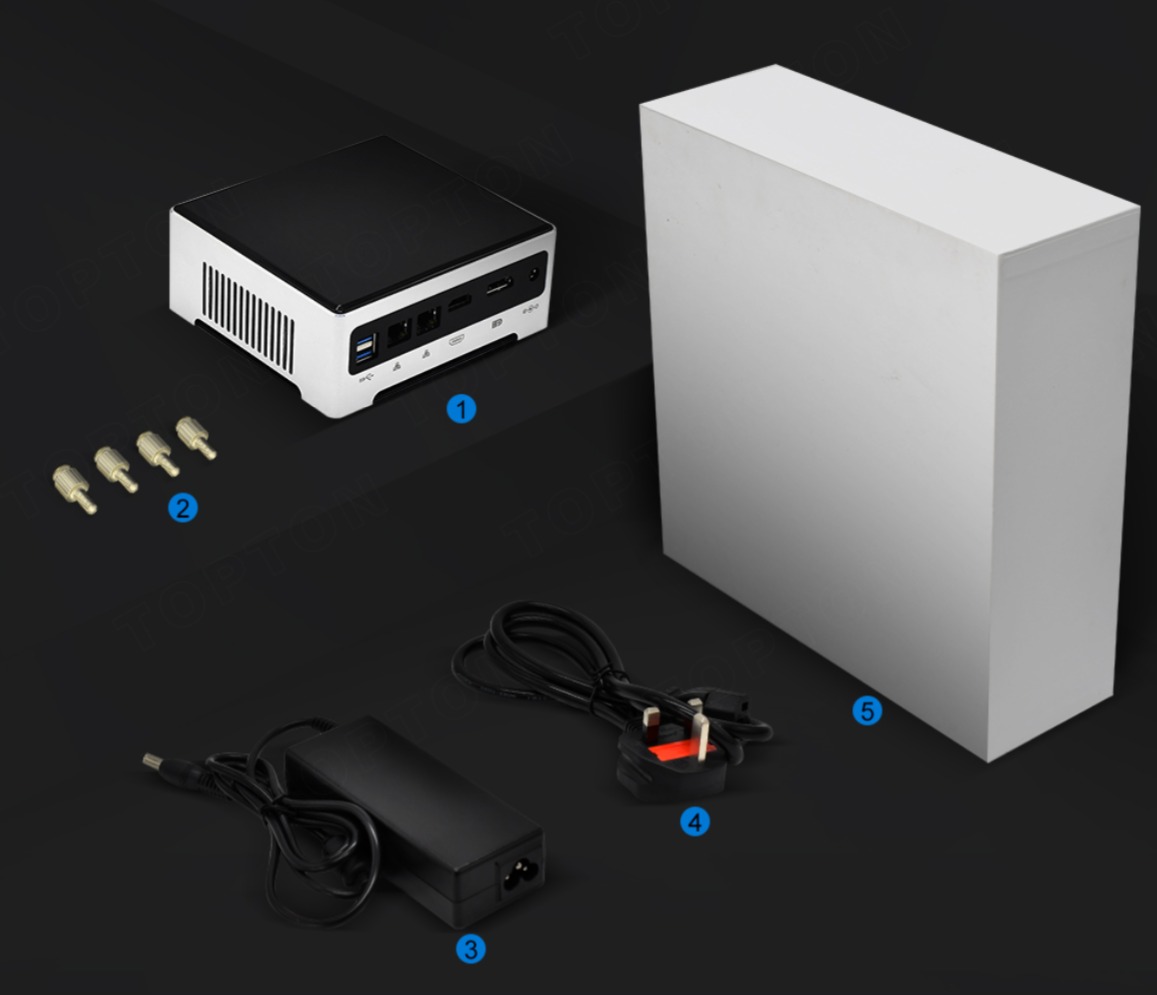 From a memory point of view, the device offers two SoDIMM slots in DDR4 for up to 64 GB of dual-channel ram. The storage is deployed on two M.2 2280 slots. We notice that the heatsink and the fan are quite imposing and that they seem to be attached via a system that goes through the motherboard. Good news for those who would like to integrate this kind of solution in another chassis or an arcade terminal for example. An even more massive heatsink can easily be fitted to the whole.
The first slot is exclusively dedicated to NVMe PCIe 3.0 X4 SSDs, while the second can accommodate either NVMe or SATA 3.0. A third M.2 slot in 2230 format will allow the machine to be equipped with the WiFi card of choice, internal antennas are included.
The connectivity of the device is very good with four USB 3.0 ports on the front, in addition to two separate headphone and microphone audio jacks and the device's start button. On the back of the device, there are two video outputs with a DiplayPort and an HDMI, two Gigabit Ethernet RTL8111 ports to drive two independent networks and two other USB 3.0 ports. No Thunderbolt unfortunately, nor SD card reader but a fairly comfortable set for a solution of 13.7 cm deep by 15 cm wide and 6 cm thick.
The Topton V320 will be able to handle quite advanced network functions such as Wake On Lan or PXE. It is also possible to position it in VESA behind a screen thanks to the screws provided with the device.
The device is also distributed in Barebone format with 8 to 32 GB of DDR4 and from 256 GB to 1 TB of internal storage. All the different models and versions of this Topton V320 are too long to list. By the way, you will notice that some options are "dual", with two processors listed in the same option. This is quite common in this type of distribution. The manufacturer1 assembles motherboards as and when available. By indicating Core i9-10880H and Core i9-10885H in the same option, he can assemble machines with a chip of his choice according to his availability.
This is linked to the fact that this type of manufacturer does not buy directly from Intel or official wholesalers but rather by batch from smaller wholesalers who do not necessarily have batches that follow each other. The manufacturer usually manages to find the chips he is looking for without any problems, but if he has the possibility to assemble 100 boards with a mix of chips, it is easier for him to work this way. If you absolutely insist on a specific reference, it is better to ask for it when you order to avoid disappointment. The seller may take a little longer to deliver but will only send the reference you want.
This Topton V320 is interesting, I don't know many references with this level of performance in this compact size. The connectivity is correct even if it lacks some Tiger Lake features like Thunderbolt. It is a machine that, together with a good amount of memory and storage, will be able to allow all the uses of a modern PC. From gaming to video editing to the most computationally intensive work.