Xiaomi Mijia Elvis Radio MWR Space Edition
Due to the new technological advances, diverse innovative designs of great elegance have been presented, but that lack of that force and unique essence that have the classic devices with their incredible character, with that present, Xiaomi, the famous manufacturer of smartphones and IoT, presents us a concept of mixing an old style with new technologies, the Asian company has incursioned in this field previously, implemented in other articles in an incredible way a fusion of the current and the retro. An example of this mix is the Xiaomi LoFree Poison Wireless Speaker, a powerful speaker with an old style and the ability to connect the phone. Now, Xiaomi presents us with a retro style radio called Xiaomi Mijia Elvis Radio MWR Space Edition, which has an appearance that goes back to the time of Rock and Roll king Elvis Presley.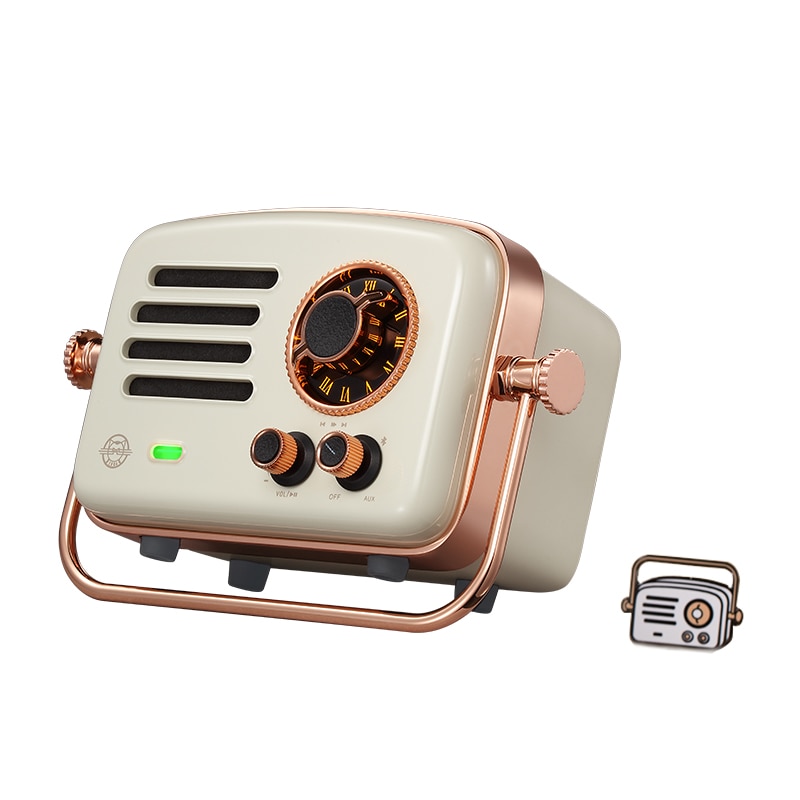 The Xiaomi Mijia Elvis Radio was designed to evoke that essence of the personality of the 60's that fills us with euphoria for its great style, which denotes character while elegance, on the other hand, has a palette of white moon rock color that covers most of the body, also has finishes of a polished copper color that allows us to appreciate the beauty of his figure, enhancing the dedication to detail that had to make the structuring of his body and his controls.
When speaking of this gadget highlight its manufacturing materials, we can see that its case is composed of a high-density zinc-aluminum alloy of 5 sides integrated pressure seamlessly, with a vintage metal painting process that allows detailing the contours of the fuselage radius. Something incredible when you see it up close are the small metal chips included in the paint that give a sparkle effect.
However, in terms of size we can mention that it has dimensions that allow us to easily manipulate and place it anywhere, measuring 148 x 75 x 104 mm (length x width x height) plus a weight of: 425g.
Finally, at the bottom there are 4 white rubber bases located one in each corner, with which you can place your Xiaomi Mijia Elvis Radio on any surface without scratching due to its rubber material.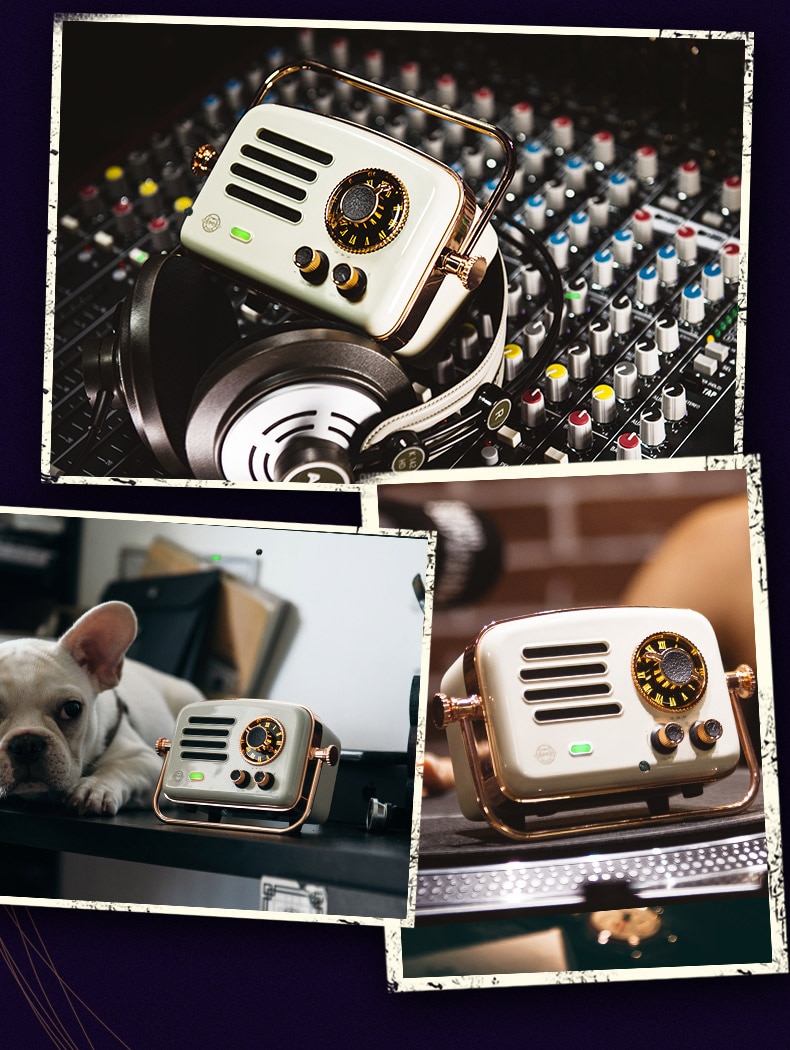 The equipment has a high power battery, which is made of 2600mAh (3.7V) lithium-ion polymer. This gives the equipment a long life so that you can enjoy your music satisfactorily. We will have up to 10 hours of autonomy depending on its use.
The Xiaomi Mijia Elvis Radio comes in a white package with a simple design whose function will be to keep our gadget protected when transported, this meets the following dimensions: 20cm x 20cm x 20cm (length x width x height) plus a weight of: 0.6kg.
The Xiaomi Mijia Elvis Radio has a speaker that is capable of generating a sound of 5W (THDN 1%) when the sound source comes from the AUX socket or in the case of Bluetooth wireless technology, if using FM radio, the maximum power is only 3W. An important feature is the loudspeakers made of neodymium, which provide better performance than conventional, which are commonly built with iron ferrite magnets that do not offer optimal performance, just as they are heavier than neodymium magnets.
The Xiaomi Mijia Elvis Radio MWR Space Edition allows us to enjoy all the benefits of staying connected to our Smartphones, this equipment is able to adapt marvelously to our needs because it has several modes, the simplest is the radio, as it accepts FM radio stations. Similarly in its AUX mode has a standard input of 3.5mm that allows you to adapt to any equipment on the market and offer optimal performance when playing your music. Finally, it has a Bluetooth system that can operate at 10 meters in an open space, giving an excellent range of operation to users.