Xiaomi Mi Max 4 4G Phablet
The Xiaomi company had introduced PHABLET Mi Max 3 this year, which received the design in the style of the model Mi A2 and stuffing of Redmi Note 5. Now the Chinese manufacturer has started to prepare for the release of the fourth-generation model, which will be called the Xiaomi Mi Max 4.
The smartphone is still credited with the Qualcomm Snapdragon 660 processor, not yet presented, which should be the successor to the Snapdragon 710. The model will acquire a dual main camera, not a triple, as previously reported, and a single front camera. The resolution of all modules will be 12 MP.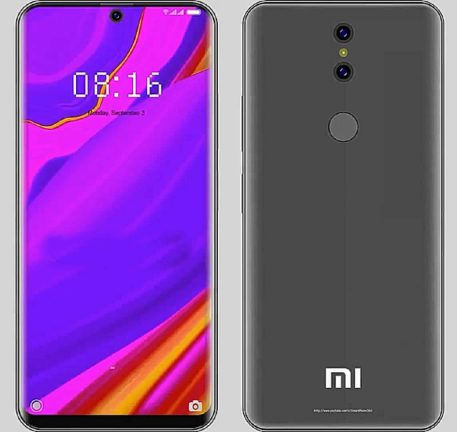 Currently, widescreen smartphones are in incredible demand in the market. This year, Xiaomi Max 3 and Honor Note 10 were presented – the real giants in the world of mobile technology! Interestingly, foreign media have recently released a conceptual design for the upcoming Xiaomi Max Mi 4, in which, according to their suggestion, the display and battery will be completely updated.
Judging by the image, the smartphone will practically not have the upper frame, as well as the "chin". As for the side edges, they are not visible in the picture. 3D curved glass will be installed here, which will make the phablet even more interesting from the point of view of design.
AMOLED-screen will be 7-inch, the ratio of the screen to the total area of ​​the smartphone will reach 90%, but there will not be a fingerprint scanner built into the screen. Unlike its predecessor, the Mi Max 4 is expected to have a 20.0MP front-facing AI camera with an f / 1.7 aperture. It is possible that the smartphone will be able to support Face ID. As for the battery, it will receive an unprecedented 5300 mAh capacity from Xiaomi smartphones.
The rear panel will accommodate a vertically oriented dual camera, as well as a round fingerprint sensor. It is likely that Xiaomi Mi Max 4 will receive several memory options with 6 GB / 8 GB of RAM and 128 GB / 256 GB of total memory. By the way, it can be expanded to 512 GB. As for the cost, the phablet is likely to be evaluated in about the same way as its predecessor on the day of its release – Mi Max 3.
According to new data, the announcement phablet will be held in May next year. Xiaomi Mi Max 4 will be on sale at a price of $290 for a 6/64 GB configuration. There are also rumors that the future new product will get an NFC chip.