Xiaomi Mi Surface – A 34-inch Computer Gaming Monitor With WHQD SCREEN IN 144Hz
Strong point of this Xiaomi Mi Surface offer, its price since the brand starts today the distribution of this model with an attractive price of 1999 yuan or about $300. As is often the case with the brand, this price will then rise to 2499 yuan or around $350 public price before fluctuating in prices between the two.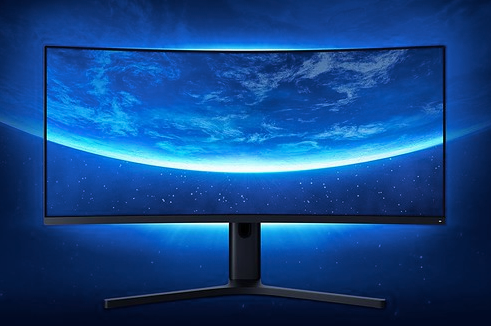 The price of $300 is attractive for this Xiaomi Mi Surface, unfortunately it is very likely that this price is reserved for individuals. The brand is often able to sell several million units of a product in a few days on its local market. Before delivering the orders to the professionals in a second time, and at a higher price. It is therefore possible that the screen may eventually reach traditional export shops, but it is unlikely to be offered at the same price as the promotional offer.
But even at a higher price, the Xiaomi Mi Surface has its advantages. Its curved VA slab should offer good viewing angles and a beautiful definition of 3440 x 1440 pixels in 21:9. The slab will provide 144 Hz cooling and Freesync compatibility. No detailed information on the contrast or brightness of the machine. The brand promises a colorimetric profile corresponding to 121% of the sRGB space. The reactivity of the screen should also be very correct with 4 ms of Grey to Grey refresh time.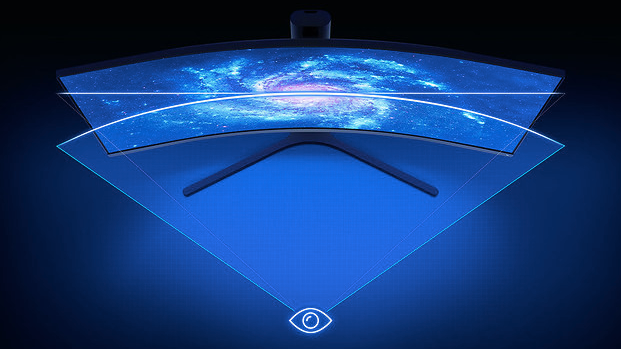 The Xiaomi Mi Surface uses a Samsung slab with a classic 1500R curvature. The upper and lateral edges of the screen are tiny with a thickness of about 2 mm. The lower part is a little thicker. The advantage of this solution is to offer the user the possibility of combining several screens by proposing a minimalist separation between each. With 2 mm for each screen, this makes 4 mm of separation every 3440 pixels. The foot will allow height adjustment and rotation of the display on the sides.
No info on the rest of the configuration yet. It is not known which ports will be used. It is possible that a mix between HDMI and DisplayPort is chosen but a 100% DisplayPort solution can also be used to avoid paying the royalties inherent in the HDMI standard. No information on whether or not there is audio management, through a pair of speakers or an integrated jack.
A screen 24″ is also announced in addition to the Xiaomi Mi Surface. It will be called Xiaomi Mi Display and will be more classic. 23.8″ diagonal slab, 1920 x 1080 FullHD classic definition, it promises viewing angles of 178°. It will be able to turn from left to right but not adjust in height. Its price? 699 Yuans or about $99.