Beelink U57 - Coupon
128GB Geekbuying Coupon: 4ZMJEVPT  Price: $259.99  Time: 2020-11-23
256GB Banggood Code: BGBEELU57  Price: $262.99  Time: 2020-11-30 CN,HK
Beelink U57 is a new version with Intel Core i5-5257U processor and Intel Iris GPU
Beelink was established in 2014 in Shenzhen, China Futian, specializing in home entertainment equipment (DONGLE, BOX, remote control, game consoles, home cloud, one machine, MINI PC) product definition,development, production and sales.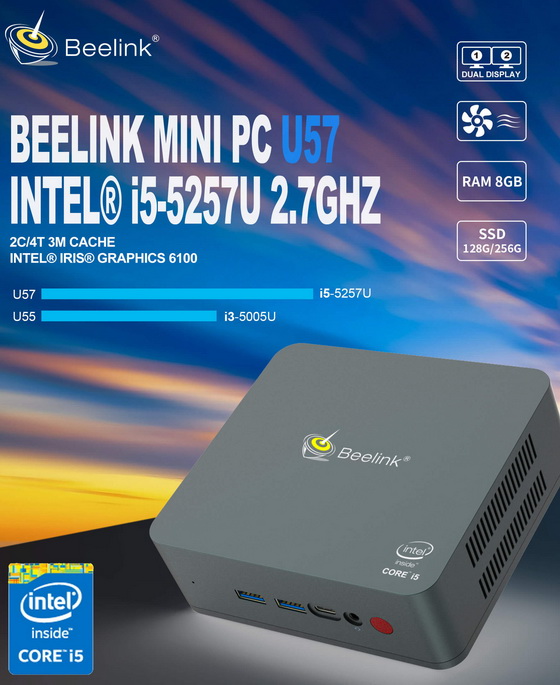 Today we receive information about a new mini PC called Beelink U57, a model that replaces the previous Beelink U55. In this case we find an upgrade of the processor that jumps from the Intel Core i3-5005U to the Intel Core i5-5257U, a processor with a time behind it but valid for desktop use. A mini PC with a compact design ideal to put it in any corner and even behind the monitor, it also allows us to easily increase its storage with M.2 or HDD 2.5 inch units.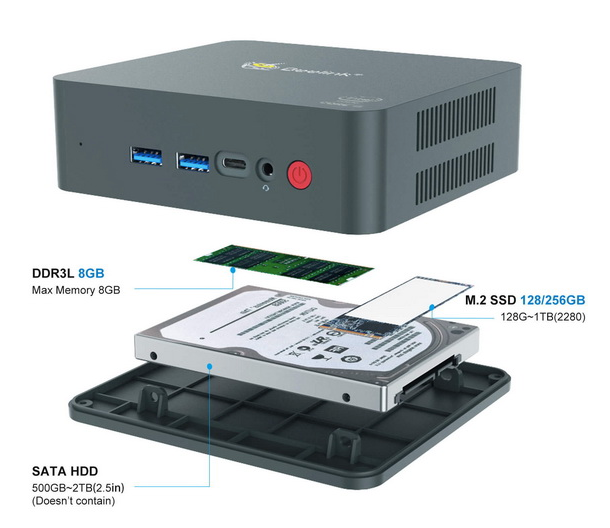 The Beelink U57 mini PC includes an Intel Core i5-5257U processor made of 14nm with 2 cores and 4 wires with a basic speed of 2.7GHz and a turbo mode that goes up to 3.1GHz. In the graphics section we have an Intel Iris 6100 GPU much more powerful than the classic Intel HD Graphics, this computer is cooled by an internal fan. The RAM base memory is 8GB DDR3L and includes a 128/256/512GB SSD M.2 and we also have the option to expand it thanks to its SATA3 port with a 2.5″ disk drive, these two disk drives can coexist without problems.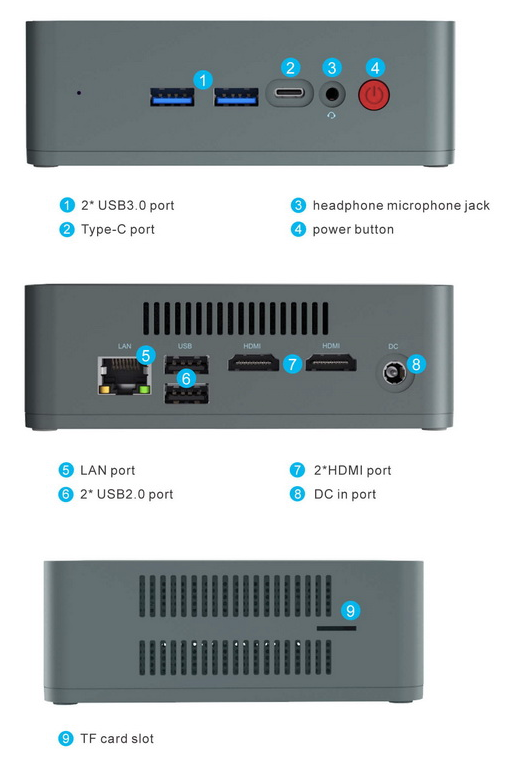 The new Beelink U57 includes WiFi aC and Bluetooth 4.0 in the wireless connectivity section. Regarding connectors we have a good set with 2 USB 2.0 ports, another 2 USB 3.0, Gigabit network port, 3.5mm audio jack, two HDMI 1.4 video outputs, microSD card reader and a USB Type-C connector on the front.