BlitzWolf® BW-PCM1 11.6 Inch FHD 1080P Portable Computer Monitor
As usual, distributors are encouraging to pre-order their products by cutting their prices. This is the case for this 11.6″ diagonal BlitzWolf BW-PCM1 portable external display, which is available here at a very affordable price of less than 104.99 USD.
For this price, we discover an external display of 11.6″ which displays in a classic 1920 x 1080 pixels to support a laptop, a Mini-PC or even a console. This is especially useful when you are on the move when you need to work on two screens to increase your productivity. But it also makes sense in many other cases: To carry a minimalist solution to accompany a PS4 console or Switch for example. Or, it is an interesting point, for display on a stand or in a window.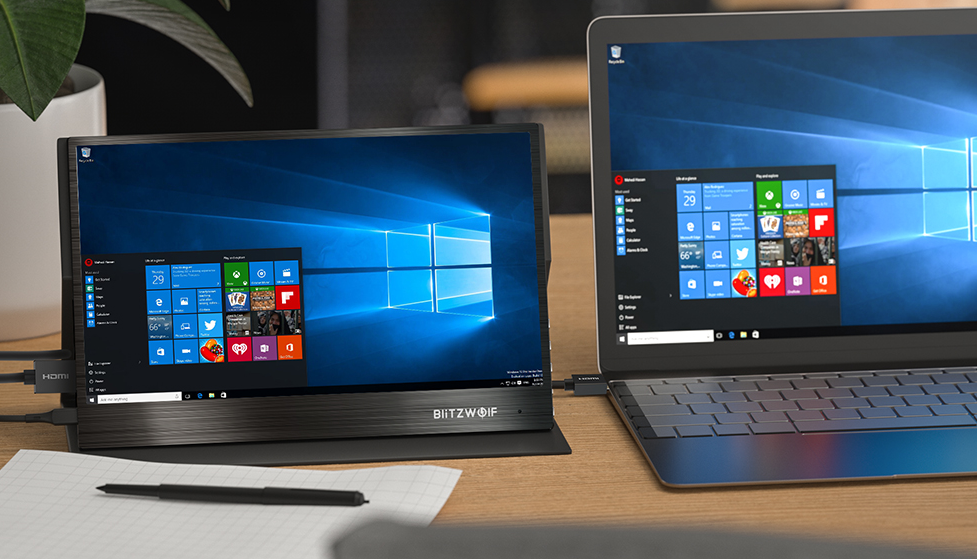 This type of solution does not take up any space and makes it easy to present various elements. Last point, for a sedentary use on a particular workstation. Thus, you can hide your screen in any storage where you keep files and only take out your keyboard, mouse and display when you need them. I recently heard from a reader who bought a screen of this type to equip a workshop with a computer fixed to the wall, well protected. Its display was itself placed behind a thick plexiglass protection fixed to the same wall. In such a way that the unit could be handled with wireless interfaces without the risk of damaging the screen or unnecessary space in the workshop.
The BlitzWolf BW-PCM1 is displayed through a classic IPS panel that will provide good viewing angles. The brand announces a brightness of 350 cd/m² and a contrast of 1000:1. The proposed refresh rate will be 24 to 60 Hz automatically and the color palette will correspond to 72% of the NTSC standard.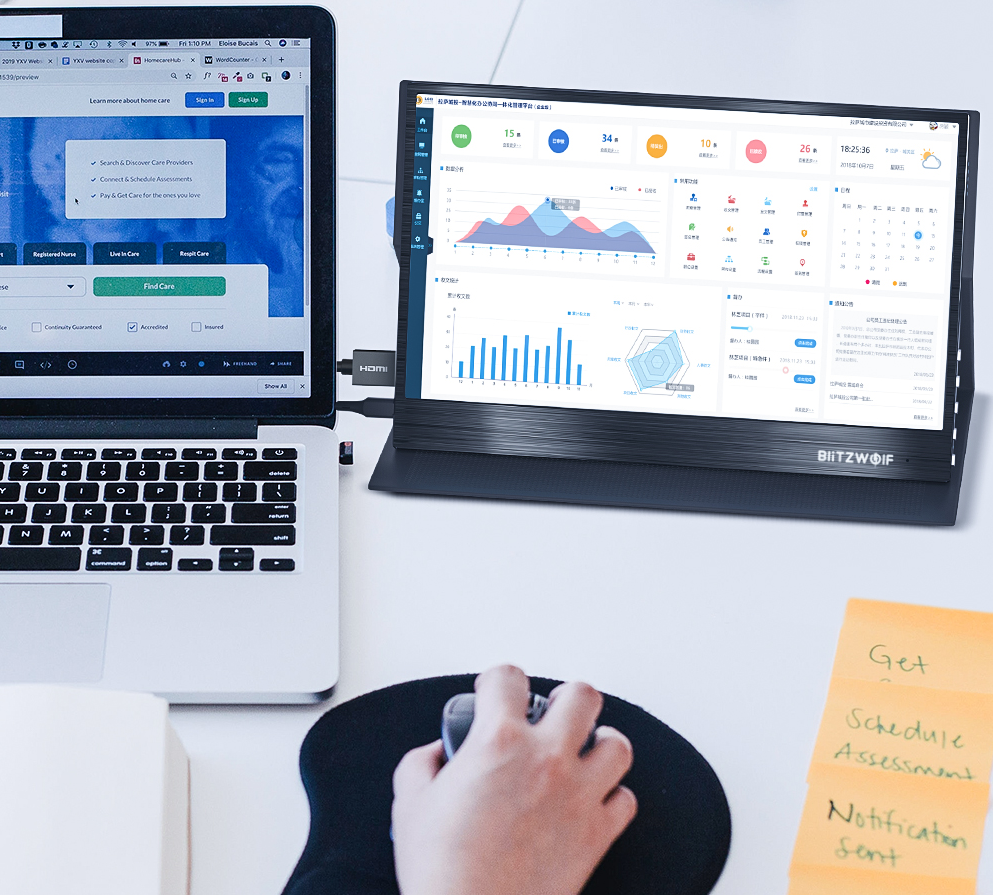 The BW-PCM1 is not touch-sensitive but offers a pair of stereo speakers in addition to a classic 3.5 mm stereo audio jack port. Useful for recovering sound transmitted via HDMI on headphones easily.
The connection system has 2 Mini HDMI inputs so that two sources can be connected in parallel on the screen. A practical solution in sedentary mode with a secondary display that can also be connected to a laptop computer. Also useful for mixing a PC output and the same screen for a console for example. Access to the screen change will be via the buttons located directly on the monitor or via a remote control provided. Note that unlike many models of this type, the display has an OSD adjustment interface to change the display characteristics.
The machine is powered by a USB Type-C socket and a conventional mains charger. I don't know if it can be powered on the move with an external battery, which would be a big plus for this type of mobile solution. The machine comes with a transport and protection bag and a support to position it upright. The BlitzWolf BW-PCM1 measures 26.7 cm wide by 17.1 cm high by 1 cm thick. Its shell is made of black anodized aluminum.